Getting Mesmerized by the Quintessential Crafts of Kutch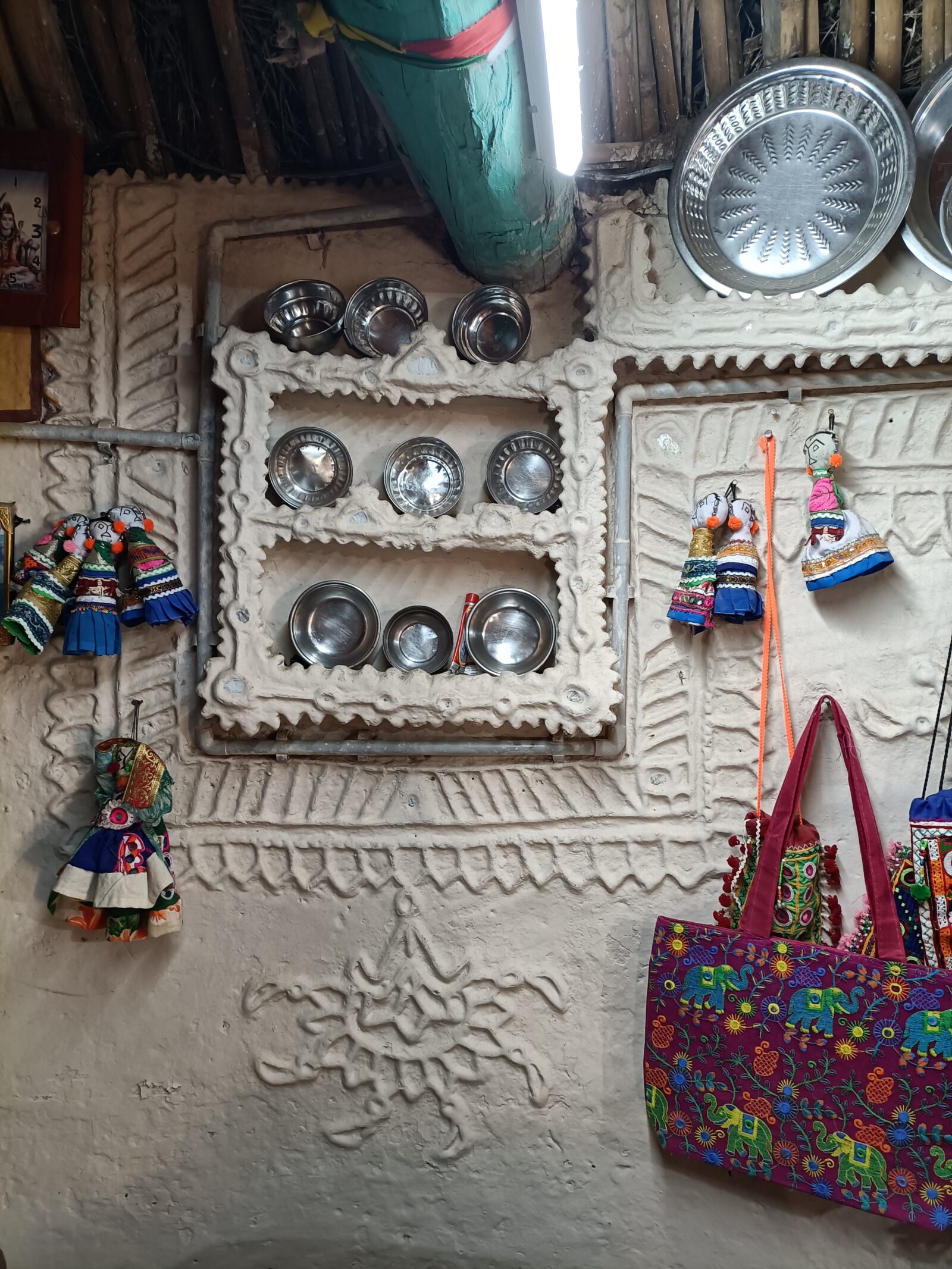 Meeting the artists who make beautiful Kutchi handicrafts by stepping into their perfect home-cum-workplace, Ketki Gadre had a sensuous journey exploring the colourful crafts of Kutch. 
During the trip to Kutch, Gujarat, one cannot help but notice the vibrancy and colours everywhere. The sweet noises of bells from the camels, the giggles of children clad in traditional Kutchi attire and the embellishments on the Bhungas (traditional Kutchi mudhouse) denote that you are in one of the villages of Kutch.
Kutch – where the stark desolateness of the White Rann expresses itself through the vibrant art and craft. The beautiful land of Kutch eats and breathes creativity, thanks to the trade they have maintained across the Arabian Sea for generations. So much so, that every village in Kutch specializes and has its own personal craft which they are proud of. Kutch deserves a visit not only for its salt pans but also for the rich legacy of these hidden treasures.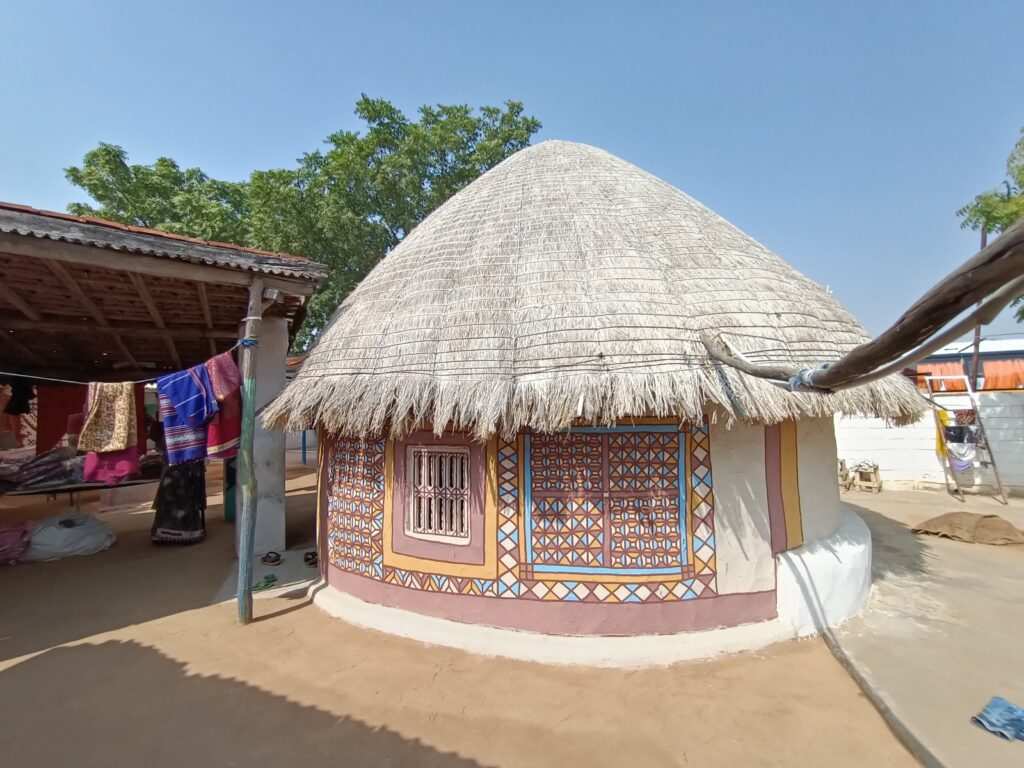 Here are some of the most beautiful crafts of Kutch that deserve a place in your home and make for the perfect souvenir from India to a friend abroad.
Rogan Art
Rogan, a Persian word, is an extremely unique form of art believed to have descended over 400 years ago from Persia. Now practised by only one family in the Nirona village of Kutch, the art requires extreme patience and skills. Rogan art uses natural pigments mixed with the oil of castor seeds which makes an oil-paint like consistency of paint. This paint is then used to draw on different kinds of fabric with a metal stylus, creating lines in a geometric manner. It is done freehand by the artists and usually takes them days and weeks to finish a painting. The paint is known to be extremely long-lasting and does not fade, in spite of multiple washing.
Copper Bell Art
Taking the concept of 'best from waste' to a new level, Copper Bell art uses scrap metals and turns them into bells – a perfect accessory for homes. In early times, theses bells were exclusively made for identifying cattle but, to suit the demands of urban visitors, these have taken the shape of wind chimes and other decorative items. Jhura village and Nirona village practice this art. The family business of Copper Bell art is as old as 300 years and has clientele from all across the world.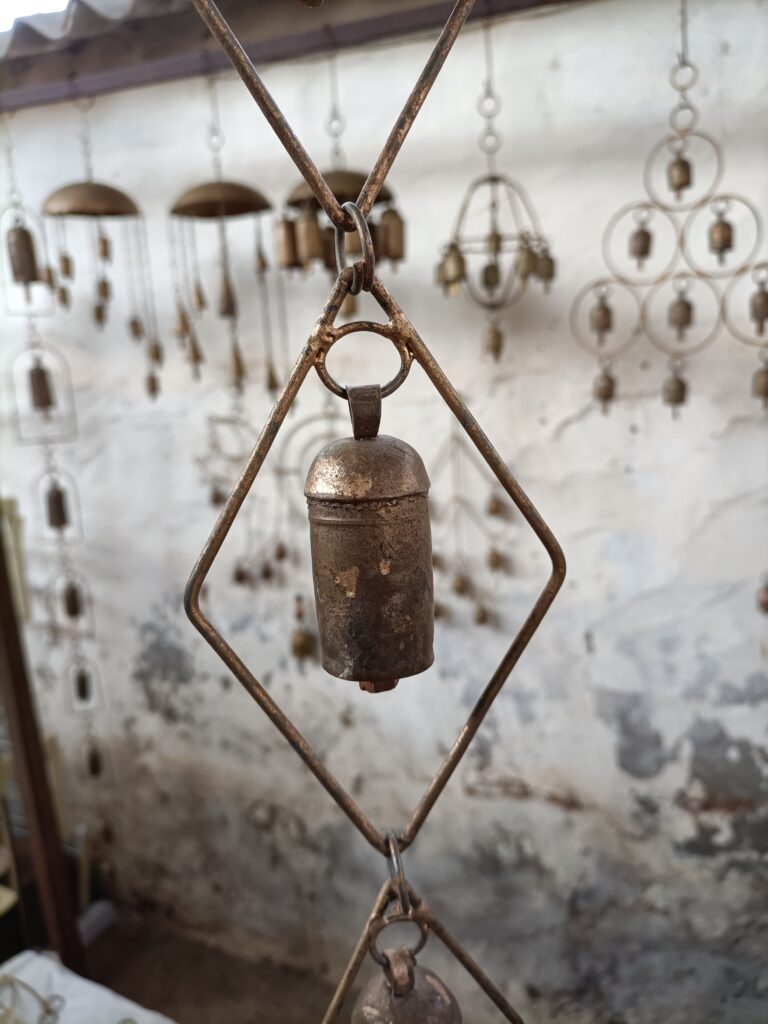 Wood Lacquer Art
Wood lacquer uses tree glue that is extracted and mixed with natural dyes and used as a design on wooden items. The Nirona village is also home to lacquer art. The artists use a small hand-operated lathe and a cloth to colour the wooden items. The items range from wood crockery to showpieces and stand out due to their colourful designs.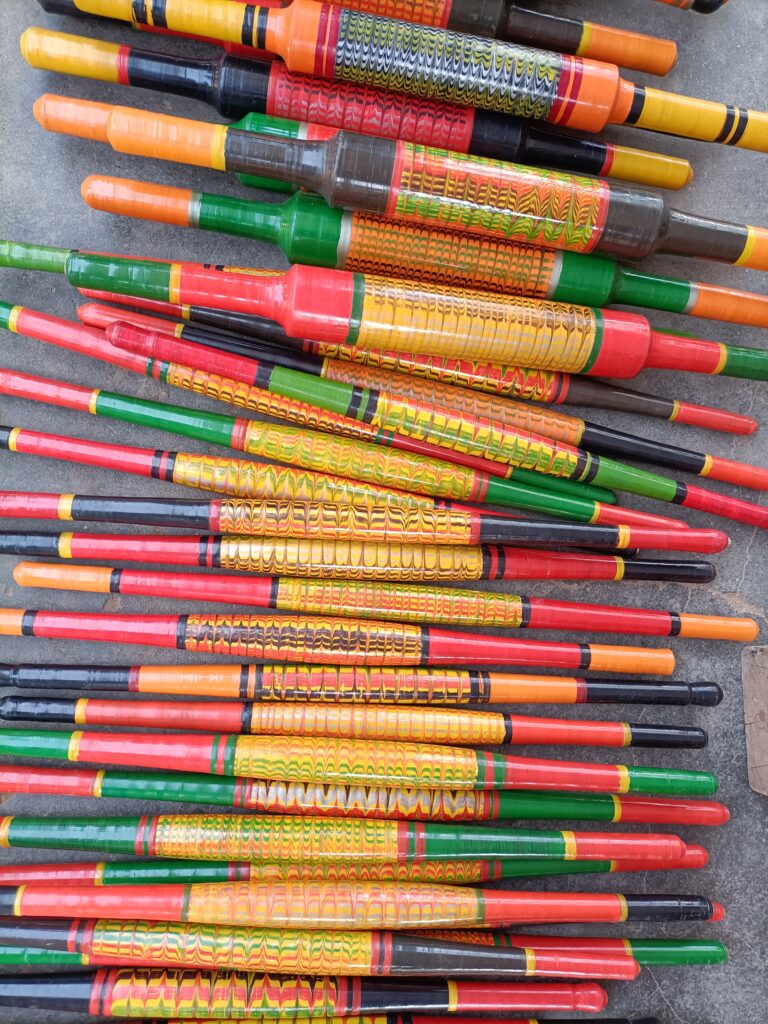 Hand-embroidered Fabrics
Ludiya village, also known as Gandhi nu Gaam, was adopted by Gandhi Ashram, Ahmedabad, post the 2001 Gujarat earthquake. It is as vibrant as any area could get, with beautifully hand-embroidered fabrics being its pride and shine. The Meghwal embroidery is the most famous in this area that includes Neran work and Paku Bharat. The women of the village weave stunning embroidery over various kinds of fabrics using colourful threads and mirrors. These fabrics are then sown into chaniya cholis, quilts, bedspreads and fabric jewellery.
Ajrakh Block Printing
The villages of Ajrakh, Khavda, and Dhamadka have been a centre for block printing for decades. The intricate and painstakingly printed Ajrakh is done by hand using carved wooden blocks. The laborious, 16-step printing is inspired by Islamic architecture and uses geometric patterns and natural colours. Ajrakh prints were traditionally worn by men of the Maldhari and Rabari community of Kutch but have now found love across the world as it is stitched into various outfits and home furnishings.
Handloom Weaving
The Bhujodi village near Bhuj is involved in handloom weaving. The local artisans weave shawls, dhurries and blankets using colourful threads. Each piece is unique, made with intricate woven patterns of motifs using mirror embellishments or embroidery. Handloom weaving is done using many fabrics such as cotton, wool, acrylic and silk.
Lippan Kaam
Lippan Kaam utilizes the local mud and grass and is a traditional mural craft of Kutch. Each Bhunga in Kutch has lippan work on its interior and exterior walls. The walls are further embellished with mirrors, which makes it aesthetically more appealing. The designs in mud work range from local flora and fauna to geometric designs. The local Kutchi artisans now make small frames using Lippan Kaam for home accessories. Lippan Kaam decorations are a perfect souvenir from Kutch for your home.
Bandhej
Bandhej, also known as Bandhani, or tie and dye, is one of the most popular artforms from Gujarat and Rajasthan. The tie and dye technique uses a plain fabric that is tied tightly using thread in multiple locations. Post dyeing results in a complex pattern, comprising of dots, squares, waves, or stripes. The most gruelling and complex design of them all is made using mustard seeds for tying. The pattern is known as Rai Dana Bandhej (tie and dye using mustard seeds). Towns and villages such as Mandvi, Mundra, Anjar, Bhuj, and Nakhatrana are the most active centres of bandhani production.
How to plan a trip to the Kutchi villages?
While the city of Bhuj and Rann Utsav has many haats and shops selling all of the above mentioned items, the joy of actually going to the home of the artist, interacting with them, knowing about the weave and the time taken to handmake them, makes it extremely special. Visitors can hire a taxi from Bhuj city to nearby villages of Khavda, Hodko, Bhujodi and Nirona to experience the crafts of Kutch.