In an exclusive rendezvous with Lipika Varma, Arjun Rampal talks at length about his fitness mantra, future as a producer, and life in the 40s.
Arjun Rampal has come a long way from being an actor to turning a producer. Along with a huge line-up of films releasing in 2021, he also plans to debut as producer on the OTT platform. Work aside, Arjun talks about being a dad at 40, and the secrets to his fitness.
Wellness is a much talked about concept these days. Have you imbibed wellness in your life?
Peace of mind and calmness within is how I would define wellness. And of course, being aware of your body and looking after it. It also involves being around positive energy with your loved ones, and carrying that energy towards whatever direction you are taking.
You've managed to stay at your sexiest best at 40. What is your fitness mantra?
Never skip a day of working out. I kept working-out during the covid period too while I was in Karjat. I think nothing much has changed. I train as hard as I used to train earlier. Maybe, even harder now because as you keep working out your body gets used to a certain workout. So you need to up the ante. I have been able to maintain a very high standard of fitness. But working out is one part of it. Balanced nutrition is equally crucial. What you eat needs to be in the right ratio and at the right time. Being conscious about your eating habits is important. What you are eating and consuming is the fuel for your workout. 60-70% of fitness depends on what we put in out in our body. If you are careful and calculating about your body and your intake, you will automatically feel healthier and better. Seems trivial to mention it, but drink a lot of water.
"Being conscious about your eating habits is important. What you eat is the fuel for your workout. 60-70% of fitness depends on what we put in out in our body."
You've stressed enough on the importance of eating right? What does a balanced diet look like for you?
I eat a lot of greens in a great balance. Proteins for me come mostly from fish or chicken. I also include good fats such as hybocarbo, some peanut butter and oats, all of which are important for cell rejuvenation, and to keep you in shape.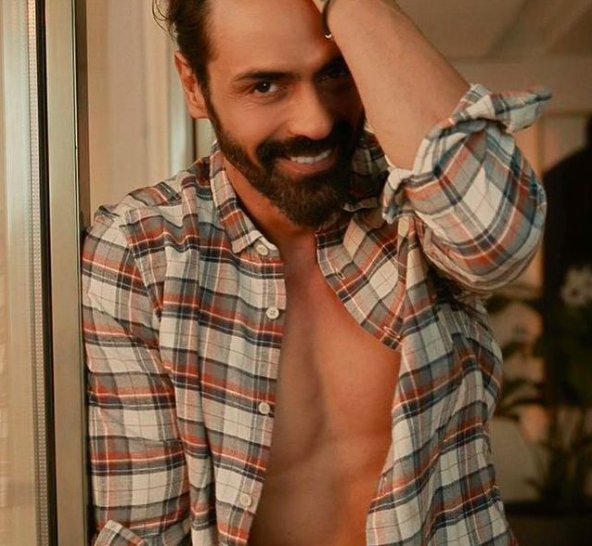 You joined hands with PETA in 2013, and worked on a campaign to ban horse-drawn carriages in Mumbai. How is the progress on that front, and what other tasks have you taken up with PETA?
It's been 7 years now and it's such a great feeling. We got a stay on horse-drawn carriages, and their living conditions improved. We also tried to protect an elephant called Sunder who was captive in a temple. I saw Sunder in this beautiful forest reserve recently, where he swims and is huge. He has got another elephant friend, and he plays around with him.
Apart from being applauded as a versatile actor in the media, you've also been frequently referred to as "Hunk" in the media. How do you take that nickname?
I would not like to be remembered as "hunk." I'd rather be referred to as a versatile actor and be remembered for my work. If I am remembered for that I will be very happy.
"Commercial entertainers aren't for me."
OTT platforms are being hailed for allowing unfiltered conversations on crucial issues. What avenues would you like to explore with this medium?
I think it's a great medium that gives you a lot of freedom. I love history and biographies so I would love to do something in this space. You can see realism in my work, and whatever I do in the future has to have shades of that. I probably don't have the ability to make fantasy or high-octane films. Commercial entertainers somehow aren't for me. There is a biopic, which I would like to produce, and I will share more details once everything is ready.
Between acting, producing and directing, what do you enjoy the most?
Acting will always be my first love. Producing gives a tremendous amount of control over the story you want to tell. You can execute clearly the vision you have for something. I have never tried direction, but it requires a lot of love for the job, and to be able to share that love with the whole team. I learned this from director "Bugs" Bhargava. He gave us so much freedom, love and encouragement. He was like a parent to every single crewmember. If I were to venture into direction now, I wouldn't know what story I'd do.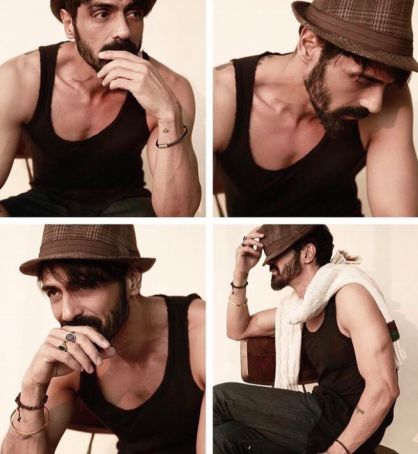 What's on your calendar for 2021?
I have this film, Bhima of Koregaon. We started shooting but had to stop because of COVID. We are 50% done with that film. It has large scenes and requires a big crew, so creating a bubble will be difficult. Nail Polishwas followed by Penthouse with Abbas Mustan. A film with Aparna Sen and Konkana Sen called The Rapist will be sandwiched between two action films, one of which will be shot in London. There's also the web series I will be producing, so it's a packed 2021. 2020 ne ghar par baitha diya tha. Ab toh 2021 mein kam karna hi padega (2020 has made all of us sit at home so obviously will have to work in 2021.)
You are a new dad in your 40's. How has life with little Arik Rampal been like?
Arik is my little buddy. He is a year-and-a-half old and he calls me Da. I do everything for him. Having a baby can only be described as the best feeling in the world. I have been able to spend loads of time with him, which has been amazing.