How Jaipur's Oldest Restaurants Have Withstood the Test of Time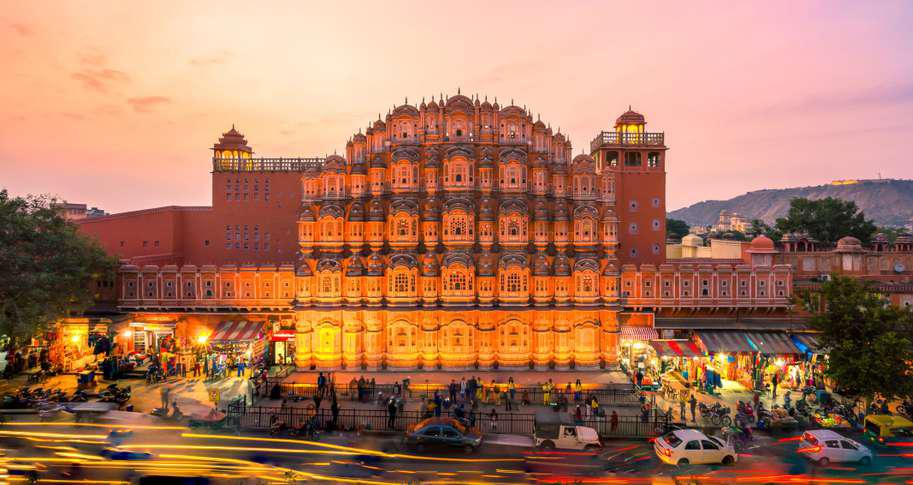 SIDDHANT VASHISTHA takes us through the lanes and alleys of Jaipur on a lip-smacking food trail to be remembered.
From fine dining to roadside grub to the mithai shop around the corner, featured here are some of the most popular restaurants with their best on offer in the city of Jaipur. As old as time, these restaurants boast of serving patrons ranging from the Maharajas to the present-day Chief Minister.
Lassiwala Since 1944
Lassiwala serves spiced and sweet variants of just one thing—Lassi, a cold yoghurt drink made out to perfection with a dollop of malai on top. Set up on MI Road by Kishanlal Agarwal in 1944, the shop has served several generations of Jaipuris. Karan Agarwal, who represents the fourth generation of the family-run business, says that the lassi here is much beloved not just by the locals of Jaipur but also by tourists visiting from abroad and even celebrities like Amitabh Bachchan and Mithun Chakraborty. While the pandemic might have affected sales, business is booming again, helped by the fact that the quality of this quintessential summer drink has never changed since the start of the shop. 
Fresh Kulhads of Lassi
According to Karan, the lassi comes in earthen cups called kulhads. One can have sweet or salted lassi, with sugar-free lassi having been recently added to the menu. The kulhads are of two sizes – 'small' with a capacity of 190 ml and 'large' at 390 ml. 
Address: 312, MI Rd, Jayanti Market, New Colony, Jaipur 302001.
Timing: 7:00am to 4:00pm
Price: ₹35 – ₹70
Natraj Restaurant Since 1967
Natraj Restaurant is one of the stars among the old eateries on Jaipur's MI Road. Its friendly owner, Sudhir Gupta, tells us that the restaurant has been graced by the presence of Rajasthan's Chief Minister of 17 years, Mr Mohan Lal Sukhadia. It was also visited by Mr Jagdeep Dhankar, Governor of West Bengal, on his recent visit to the city. The restaurant has a beautiful traditional ambience, with a lush, marbled interior and comfortable upholstery. A grand mural (pictured) frames the back. The bright gold and dark wood contrast to render a feeling of nostalgia, as one enjoys the authentic Rajasthani cuisine. 
Sudhir Gupta, Natraj's owner.  
Ghiya ki Barfi 
An inside view of Natraj Restaurant 
Quick Bites
Natraj is known for its sweets, especially the oblong Gulab Jamun, a Natraj speciality, and the Ghiya ki Barfi, with the latter costing ₹380/kg, one hundred lesser than the Gulab Jamun, coming at ₹480/kg. The Gulab Jamun, milk-solid balls dipped in thick, fragrant syrup, are soft, sweet, and sinfully delicious. Ghiya ki Barfi, a famous sweet cooked for festivals like Diwali, is spongy and chewy and made from Bottle Gourd (Ghiya), milk, and copious amounts of ghee. 
Address: MI Rd, Panch Batti, C Scheme, Ashok Nagar, Jaipur 302001.
Timing: 10:00am to 10:00pm
Price: ₹700 for two
Laxmi Misthan Bhandhar (LMB) Since 1727
Perhaps the oldest on the list, LMB is as old as the city itself and boasts of having a business that had Maharaja Sawai Jai Singh II, Jaipur's founder, as its patron. According to the owner, the Maharaja had helped people settle in the newly built capital, and a group of halwais (sweet makers) had set shop in Johari Bazar. The present name was given to the shop in the 1940s by Seth Maliram Ghodawat, a descendent of the halwais, and a hotel was set up above the shop. The family business is now led by Ajay Agarwal, who is of the 13th generation.
The restaurant has had its fair share of harrowing history, having survived the passage of time and even bomb blasts—a bomb had exploded in the near vicinity of the restaurant during the 2008 Jaipur serial bomb blasts. 
An outside view of the LMB Hotel 
Quick Bites
LMB is known for serving authentic sweets of Jaipur such as Pheeni, Mishri Mawa, and Paneer Ghewar, an LMB speciality. With sweets being their primary offering, LMB also has an in-house restaurant that offers Rajasthani and Indian food.
Address: No. 98, 99, Johari Bazar Rd, Bapu Bazar, Biseswarji, Jaipur 302003.
Timing: 9:00am to 10:00pm
Price: ₹1300 for two
Niros Since 1949
The journey of Niros has been the journey of Jaipur itself. Founded in 1949 by Ved Prakash Pardal, a Partition refugee and ex-Army man from the Jhelum district in Pakistan, the legacy of Niros owes its continuation to hard work, innovation, and personalised care.
Being one of the first restaurants to serve Chinese and Continental in the city, Ved Prakash had to create a market for himself when Indians did not prefer eating out. However, his vision paid off. Niros has been, for the past five decades, patronized by celebrities, royals, and locals. From when people rode camels and buggies to the present era, the restaurant has not lost its touch.
The spacious interior has a chic, modern decor that celebrates clean lines, natural light, and reflective surfaces and gives off a cosmopolitan feel—no wonder the likes of Naomi Campbell and Ranveer Singh have had food here. The stunning murals by acclaimed artist Satish Gujral showcase Rajasthani kings and queens playing chaupad (a board game). 
An inside view of the restaurant
Niros is famous for its non-vegetarian food and affordable fine dining, along with its menu of alcoholic beverages. It is run by Mr Hamit Pardal, who is of the third generation of this family business. 
Lal Maans on display at Niros
Quick Bites
Lal Maans, Butter Chicken, and Chicken Tikka Masala are Niros's special offerings and have a taste unique to the restaurant. Pindi Channa is a dish whose recipe has remained constant for the past 73 years since Niros's start.
Address: 80, Ashok Nagar, MI Road, Near Panch Batti, Jaipur 302001.
See Also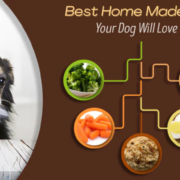 Timing: 10:00 AM to 11:00 PM
Price: ₹1500-₹1600 for two 
Surya Mahal Since 1954
Surya Mahal Restaurant, Ice-cream Parlour, and Bakery, also known as Bake Hut, is an old enterprise known for its vegetarian food, offering Indian and Asian cuisines. The restaurant boasts of a central location and a varied vegetarian menu. Bake Hut was also one of the first bakeries in the city to offer premium eggless cakes. The Jal Mahal ice cream parlour has come up with tantalising flavours like the 'Brownie Waffle,' 'Earthquake Sundae,' 'Chocolate Fudge,' and many more. 
A typical Rajasthani Thali at Surya Mahal
Quick Bites
Surya Mahal's Rajasthani Thali, Paneer Butter Masala, and Special Dal Makhani are top recommendations by its owner Harpal Singh Pali. 
Address: 2nd floor, Surya Mahal Tower, K 44, Lal Bahadur Nagar, Arya Vihar Colony, Income Tax Colony, Milap Nagar, Jaipur 302018.
Timing: 8:00am to 11:00pm
Price: ₹1,000 for two 
Sodhya Halwai Since 1857
Sondhya Halwai is a quaint entry among all of these and is perhaps the most unique in terms of location and the dishes it offers. The shop is found inside narrow lanes of the walled city of Jaipur and can even be a task to navigate without a local. It is your old sweetshop which is down to earth, quite literally, with the halwai making sweets and namkeen in the kadhai,sitting down in front of the customers. The simplicity is not to be confused with a compromise on taste as the Moong Thal by Sodhya is perhaps the best anywhere.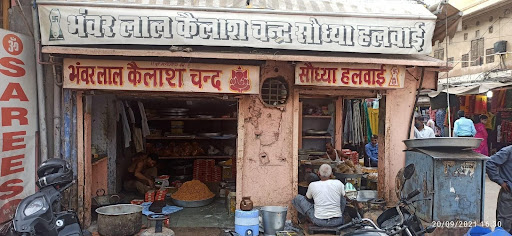 Quick BitesMoong Thal, a tasty Rajasthani sweet, is made of gram flour and flavoured artfully with cardamom and almonds. It is a type of Indian fudge dessert with a delightfully creamy consistency, best served with a cup of hot tea. Namkeen, also a tea-time snack, is a crispy delicacy made of flour and garnished with masala (spice). 
Address: Chaura Rasta, Lal Ji Sand Ka Rasta, Modikhana, Jaipur 302002.
Timing: 7:30am to 9:00pm
Price: Moong Thal – ₹280/kg
Namkeen – ₹220/kg
These are but a few of Jaipur's old restaurants. There are several more, hidden in alleys and by-lanes, well-known hangout spots among the locals and reservoirs of a rich culinary legacy, but sadly not visible to the outside world. To truly be immersed in Jaipuri culture is also to get lost in its tastes and aromas, sample its foods, and let the heady tang of history assault the taste buds.