Navaratri Culinary Extravaganza: 10 Unique Dishes by Renowned Chefs
Prepare to embark on an extraordinary culinary odyssey as we celebrate Navaratri with a tantalizing twist. In this special feature, we have teamed up with ten renowned chefs and bloggers, each bringing their unique expertise to the table, to present you with a delectable array of special dishes that capture the essence of this sacred festival. Each dish is a culinary masterpiece with a unique story and a promise to elevate your Navaratri festivities.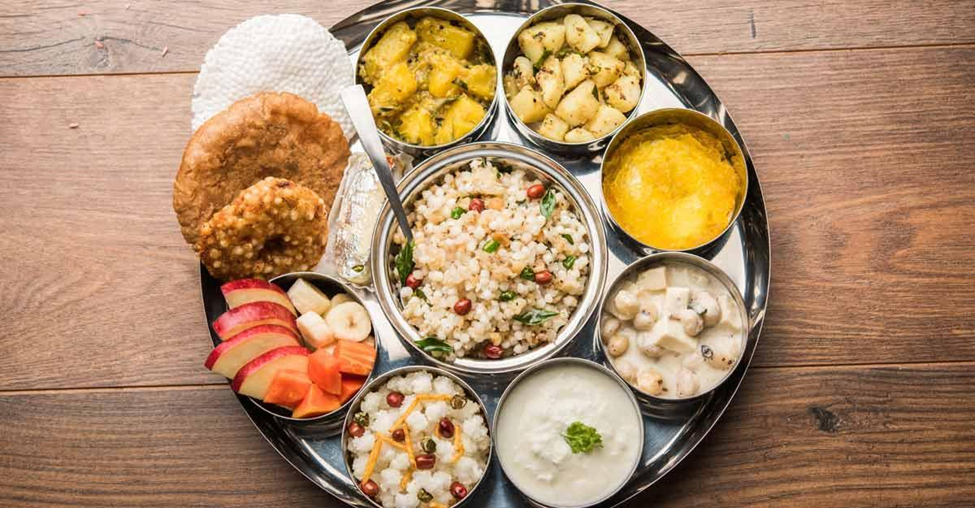 Navaratri Special Sab dana Vada & Sab dana Khichadi
Full name of the creator: Payal Peshne
Social Media handle: bornhungrybypayal
Exploring the culinary world through a vegetarian lens. Payal from Bengaluru is a tech enthusiast by day and a food influencer by heart. She finds joy in crafting unique recipes and capturing the essence through photography.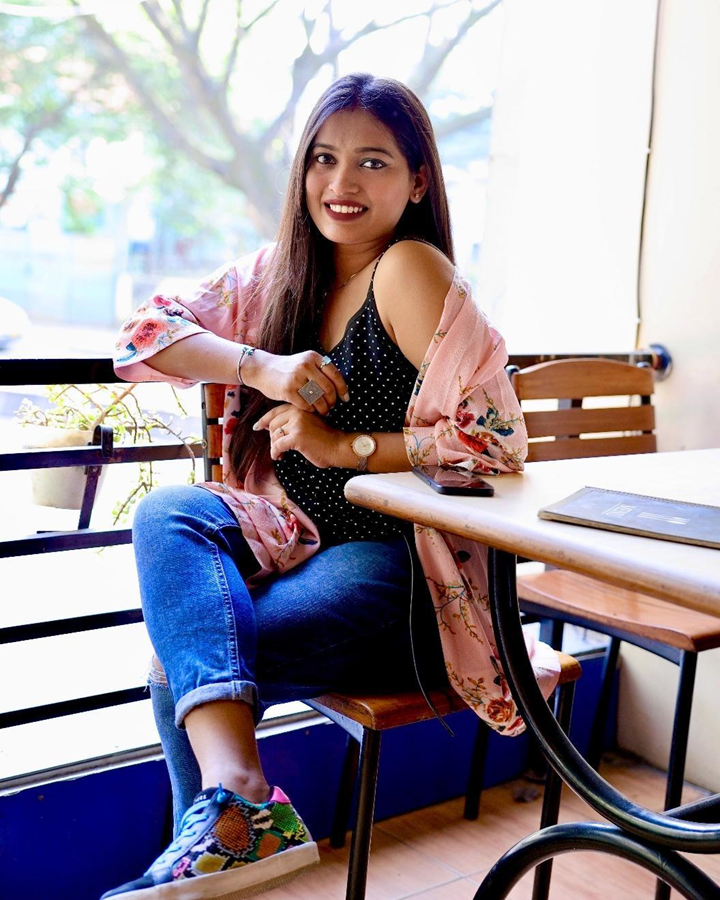 Sabudana Vada are deep-fried crispy patties with a soft and fluffy interior. They are made with tapioca pearls, potatoes, roasted crushed peanuts, spices, and herbs and seasoned with lemon juice, sugar, and salt.
Ingredients:
½ cup (tapioca pearls)
2 large potatoes, boiled
3-4 green chillies, deseeded and finely chopped
¼ cup Peanuts, roasted and coarsely crushed
Salt, oil, and water (to soak sabudana)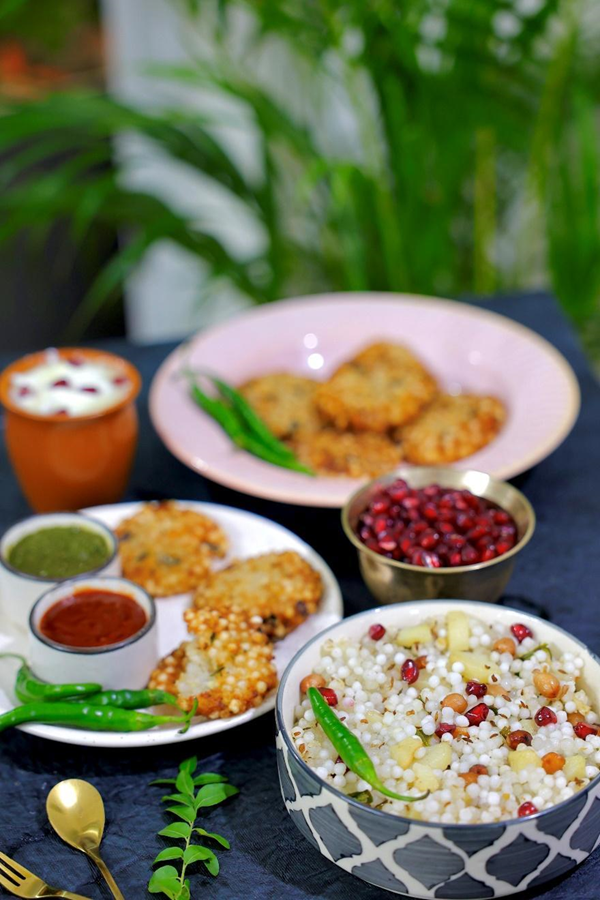 Procedure:
Wash the sabudana and soak them for 4-5 hours. You will notice the size of the sabudana pearl will increase in a couple of hours.
Drain the excess water using a sieve and keep it aside for 1½ hours. This process will make them non-sticky.
Add drained sabudana, boiled, mashed potatoes, coarsely crushed peanuts, chopped green chillies, and salt in a mixing bowl.
Mix all the ingredients well and make a soft dough-like mixture. Divide it into 12 equal lemon-sized portions. Make them round, and flatten them by pressing them between your palms to make a patty. If the mixture is sticky, grease your palms with a small amount of oil.
Heat oil in a frying pan over medium heat for deep frying. When it is medium hot, slowly slide 3-4 patties. Flip them deep fry until golden brown on both sides when the top surface turns light brown. Drain the oil from the prepared sago vada and transfer it to a plate. Deep fry the remaining vadas. Crispy sabudana vadas are ready; serve them hot with tamarind chutney, spicy green chutney, and curd.
2) Quinoa and Apple Kheer/ Payasam
Name of the Creator: K. P. Anupama
Social Media Handle: flavours_of_anupama
K. P. Anupama from Hyderabad is the finalist in Master Chef Telugu Season 1. She is an electronics and communication engineer and one of the directors at Vijaya Health Care Center. Food is her passion and hobby. This passion brought her to Master Chef, and she came to the finals with her unique dishes.
Quinoa and Apple Kheer is a reasonably healthy millet alternative to rice payasam/kheer. The quinoa can be substituted with any millet of your choice.
Ingredients:
Quinoa ½ cup
Milk ½ liter
Milkmaid ½ cup / or jaggery powder as per taste.
Apple
Cinnamon powder, ½ tsp (optional), can also be substituted with eliche powder.
Brown sugar 1 tsp
Dry fruits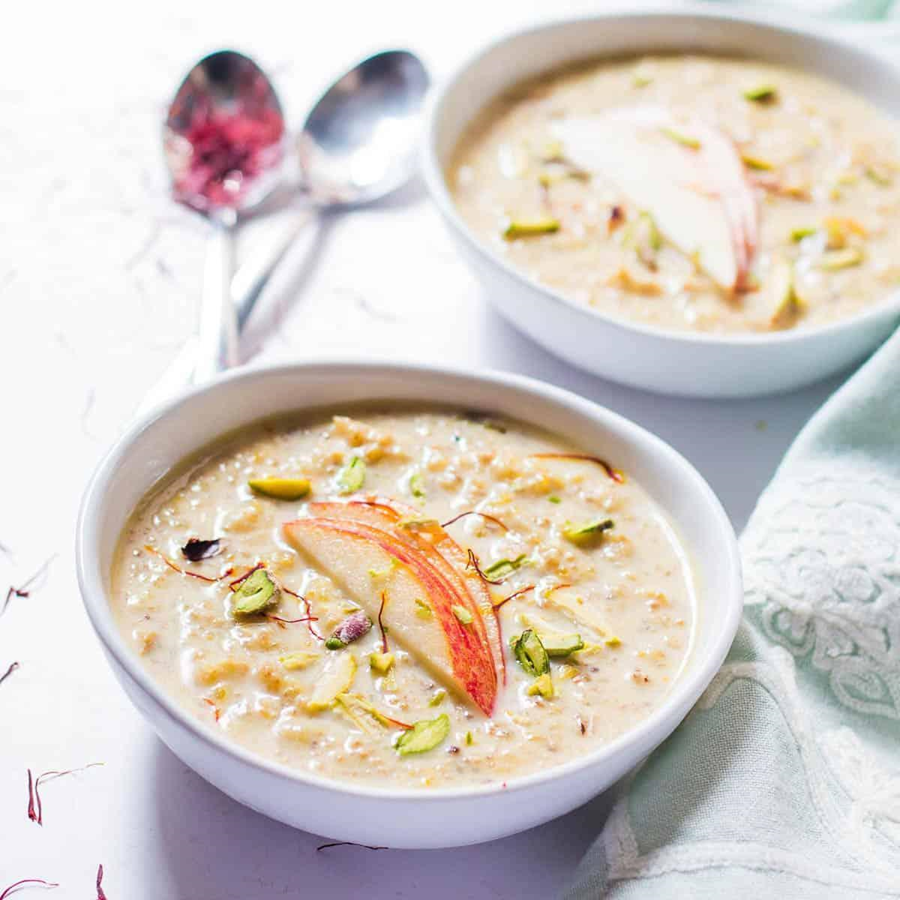 Procedure:
Soak the quinoa for at least 2 hours.
Boil soaked quinoa until it is cooked through.
Add milk and milkmaid into the dish.
Fry dry fruits in a pan with butter and put them into a bowl.
Add peeled and diced apples to the same pan, along with brown sugar and cinnamon powder.
Layer the apple, quinoa, and dry fruits in individual cups and serve
This dish can be served hot or cold as per choice. For the no-sugar version, avoid all sweetening agents and add banana slices.
3) Dal Obbatu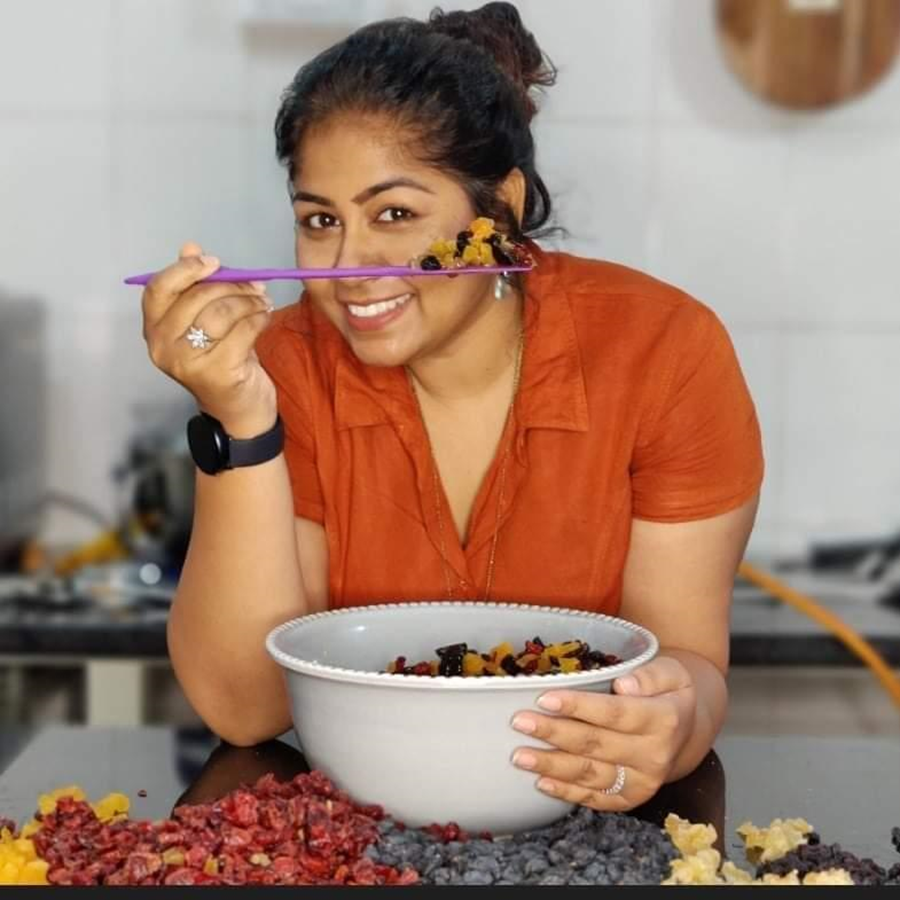 Name of the Creator: Padmavathi Mohan
Social Media Handle: chef.padma.mohan
Padmavathi from Bengaluru is a certificated Professional Pastry Chef. Proficient in working with various pastry techniques, including baking, chocolate work, sugar art, and more.
Dal obbatu is an Indian delicacy. Obbatu has ancient roots in Indian cuisine. Similar sweet stuffed flatbreads are mentioned in Sanskrit, like the Manasollasa, dating back to the 12th century. Obbatu is known by different names; it is Puran Poli in Maharashtra, Obbattu or Holige or Bobbatlu in Karnataka, Tamil Nadu, and Andhra Pradesh.
Ingredients:
Maida-250gms
Water-as per need
Salt- a pinch
Split Bengal gram-500 gms (2 cups)
Jaggery- 500 gms (2 cups)
Dry Ginger- a small piece
Fennel seeds- 1 tsp
Cardamom- 6
Oil- 250 gms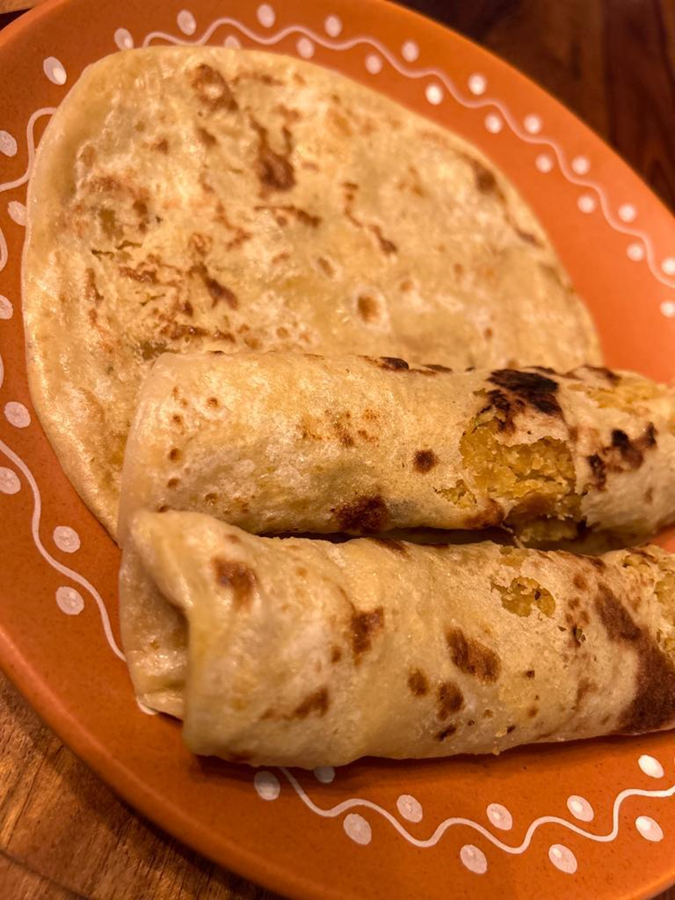 Procedure-
For the Outer layer:
In a bowl, add the maida and a pinch of salt. Gradually add water and knead it into a smooth, soft dough. Cover it with a damp cloth or cover. Generously drizzle with oil on the surface and let it rest for about 30 minutes to an hour.
For the filling (Puranam): Rinse the chana dal thoroughly until the water is clean, and then pressure cook with water for about 2-3 whistles or until it becomes soft and mushy. Drain any excess water.
Transfer the cooked chana dal to a mortar and pestle. Also, add grated jaggery and spices and make a fine paste (without added water).
Move it to a container, make it into a big lemon-size roundels, cover it, and set it aside.
Assembling and Cooking Obbattu:
Take a small lemon-sized portion of the dough and flatten it into a small circle on your greased palm or a clean surface. Place a roundel of the Puranam in the center of the dough.
Carefully fold the edges of the dough over the filling, covering it completely.
Gently flatten the stuffed dough roundel and continue to flatten that with your fingers in a circle to make a thin, round Obbattu.
Heat a tawa over medium heat and cook the Obbatu on both sides until it turns golden brown, using a little oil or ghee.
Remove from the tawa and serve hot with a dollop of ghee if you prefer.
Enjoy your homemade Obbatu!
This recipe combines the richness of traditional flavors with a touch of science in the cooking process to ensure the perfect texture and taste.
4) Yellow Pumpkin Halwa
Name of the Creator: Sourabh Aravind
Social Media Handle: pasourabh
Sourabh Aravind is an architect, designer, and the core designer for the Hyderabad Metro Rail Project. He is a part of MasterChef India Telugu and an avid biker, a teacher, and a nature photographer. He takes pride in owning Aravinda café, where he finds happiness in cooking for others while embracing a minimalist lifestyle.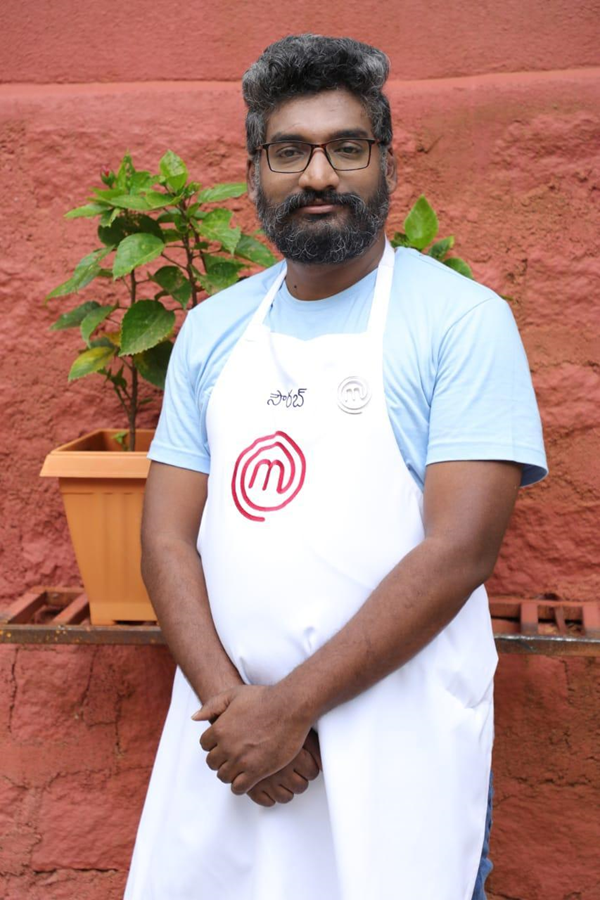 Yellow pumpkin halwa is a delightful Indian dessert made from ripe yellow pumpkins, renowned for its rich, sweet, and aromatic flavors. It showcases a vibrant golden-yellow colour and achieves a harmonious balance of sweetness with subtle earth undertones.
Ingredients:
250 grams of Grated Yellow Pumpkin
50 grams Ghee
15 grams Pumpkin seeds/ watermelon seeds
1 pinch Dry Ginger Powder
100 grams Jaggery
100 ml Milk
Procedure
Peel the pumpkin, cut a desirable portion, and grate it. Allow the grated pumpkin to rest for about 10 minutes.
Squeeze the water out of the grated pumpkin using a cloth. This step reduces the time needed for water evaporation during cooking.
Add two tablespoons or 20 grams of ghee in a non-stick pan and roast the pumpkin seeds until golden brown. Set them aside.
Add the remaining ghee and the squeezed pumpkin in the same pan. Sauté the pumpkin for a few minutes until it releases a pleasant aroma.
Add milk to the sautéed pumpkin and mix until it reaches a desirable consistency.
Before removing the pan from the heat, add a pinch of dry ginger powder and the roasted dry fruits. Mix well to incorporate the flavors.
Your pumpkin halwa is now ready. Serve it either slightly warm or cold, depending on your preference. Enjoy!
5) Vrat Wale Aloo
Name of the Creator: Malvika Hada Kumar
Social Media Handle: The Spicy Story
Malvika Hada Kumar from Bengaluru, the face behind 'The Spice Story,' is a recipe developer and content manager by profession and has been working in the food industry for the past nine years. After working for seven years for other bloggers, she decided to follow her passion for cooking and food styling and start 'The Spicy Story,' where she develops easy and quick recipes that help her followers plan their weekly meals easily and make them delicious and exciting at the same time.
Ingredients:
1 tbsp. oil
½ tsp cumin seeds
1 or 1 ½ ginger finely chopped
2 green chillies, finely chopped
1 cup tomato puree
Salt, to taste
1 tsp Kashmiri red chilli powder
½ tap cumin powder
1 tsp coriander powder
2 tbsp. curd, beaten
2 potatoes, boiled
1 cup hot water
2 tbsp. coriander leaves, finely chopped
Instructions:
Heat oil in a pan; add cumin seeds, ginger, and green chillies, and cook for about a minute.
Add tomato puree and cook for a few minutes.
Add salt, Kashmiri red chilli powder, cumin powder, and coriander powder, and cook until the masala leaves oil.
Add yogurt and cook for 3-4 minutes.
Mash the potatoes and add in the masala.
Mix well, add hot water, and cook for 3-4 minutes.
Garnish with coriander leaves and mix well.
6) Apple Jalebi
Name of the Creator: Shreya Joshi
Social Media Handle: its_shreyajoshi
Shreya Joshi from Odisha is a food stylist and self-taught cook, and she is passionate about baking and kitchen gardening. She started blogging in 2020 by writing restaurant and café reviews. Later, she decided to convert to writing food recipes that are simple to prepare. She is a full-time creator who enjoys exploring street food and attempting to recreate it in her style.
It is a tradition to have jalebi on Dussehra, as it's a favorite sweet. So, let's make Jalebi with a twist.
Ingredients
Apple: 2 pcs
Plain flour: ½ cup
Curd: ¼ cup
Cardamom: ½ tsp
Water as needed
Eno: 1 tsp
Oil for frying
Sugar syrup for soaking jalebi
Sugar Syrup Ingredients
Sugar: 1 cup
Water: 1 cup
Orange food color: 1 drop
Saffron
Cardamom powder: ½ tsp
For Garnishing
Silver Vark
Vanilla Ice cream
Flavoured Rabri (optional)
Biscuit crumbs
Dry Fruits
Procedure
Cut the apples into thin slices and remove the seeds by making holes using a cookie cutter.
In a saucepan, add sugar and water with all the above mentioned ingredients to prepare sugar syrup and cook until it gets slightly sticky.
Once it gets slightly sticky, turn off the gas and keep it aside.
Now, in a bowl, add all the other ingredients to prepare the jalebi batter. Mix it well, coat the thinly sliced apples with jalebi batter, and deep fry it in oil until it turns crispy. Make sure you don't overcook the jalebis.
Now, soak the fried jalebis in the sugar syrup and serve the apple jalebi with ice cream, flavoured rabri, biscuits crumbs, and dry fruits.
Tips & Tricks
Prepare the sugar syrup before preparing the jalebi batter.
Make sure the sugar syrup is warm enough before soaking apple jalebi into it.
Don't overcook the jalebi while frying; just fry for a few seconds.
Add water slowly to the Jalebi batter to avoid a runny batter.
No need to rest the batter, as it's an instant recipe.
Can also skip the garnishing part and have the jalebi as it is.
7) Modak
Name of the Creator: Dharmik Rajesh Dharji
Social Media Handle: the_temptationalley
Dharmik Ramesh Dharji is an HR professional in an MNC. He is from Mumbai and is very passionate about cooking. He fell in love with cooking as he used to watch his mother cook. He made his recipes and started a page in 2020, which has grown immensely. Dharmik loves to feed people, is passionate, and loves to eat.
Recipe-
Ingredients:
For stuffing
1 tbsp. ghee
2 cups grated coconut
1 cup jaggery
½ tsp cardamom
Pinch nutmeg
2 tbsp. nuts of your choice
For Rice Dough
1 cup + ¼ cup water
1 cup rice flour
½ tsp ghee
Salt- a small pinch
Steam for 10-12 mins
Procedure:
First, in a large kadai, heat 1 tsp ghee and salute 2 cups of coconut. Saute until the coconut turns aromatic.
Now add 1 cup of jaggery and mix well. Keep cooking on medium flame until the jaggery melts. Continue to cook until the mixture thickens and remains most
Now add ½ tsp cardamom powder and mix well. The stuffing is ready; keep it aside.
How to Make MODAK DOUGH:
Firstly, in a large kadai, take 2 cups of water, ½ tsp salt, and 1 tsp ghee. Mix well and bring the water to a boil.
Further, add 2 cups of rice flour and mix gently. Mix until the rice flour absorbs all the water.
Cover and rest for 3 minutes.
Now transfer to a large bowl and knead the dough; wet your hand to prevent it from burning.
Knead for 5 minutes or until the dough turns soft. Wet your hand and knead if the dough seems dry.
8) Millet Litti
Name of the Creator: Ritu Khemka
Social Media Handle: thehealthyrasoi
Ritu Khemka lives with her husband and two beautiful daughters in Chandler, Arizona, USA. She has been extremely passionate about cooking, recipe creation, and food presentation since she was young. She learned cooking from her mother while growing up in India. The lockdown allowed her to share her passion with the community, particularly on social media. She started with a primary goal to pass her cooking knowledge and recipes to her daughters just like her mom did and found what better way to preserve than to share on social media and online blogs.
Millet Litti is a nutritious and delicious Bihar, Jharkhand, and UP Special litti with Jowar ka aata. Replacing wheat flour with Jowar ka aata, but it tastes the same.
Ingredients:
For Stuffing:
2 cups sattu/ roasted kala chana flour
¼ cup onion
1-inch ginger, minced
3-4 cloves garlic, minced
2-3 green chilli, finely chopped
¼ cup coriander leaves
½ tsp carom/ajwain seeds
½ tsp nigella/Kalonji seeds
2 tbsp. mustard oil
1 tbsp. lemon juice
1 tsp salt or as per taste
1 tbsp. achar ka masala
1-2 tbsp. water
For the dough- (Makes 14 littis)
2 cups Jowar/sorghum flour
2 cups water
1 tsp ajwain/carom seeds
½ tsp salt
2 tsp ghee
Pinch of baking soda
Procedure:
Heat water in a pan, then add rest of the ingredients and mix well. Knead into a soft dough (use a spatula, as it will be hot). Cover and let it rest for 15 minutes. Take a small portion of dough, press the edges, and form a cup. Place around 2 tbsp. of sattu mixture, seal the edges gently, and lightly roll the ball to make it round.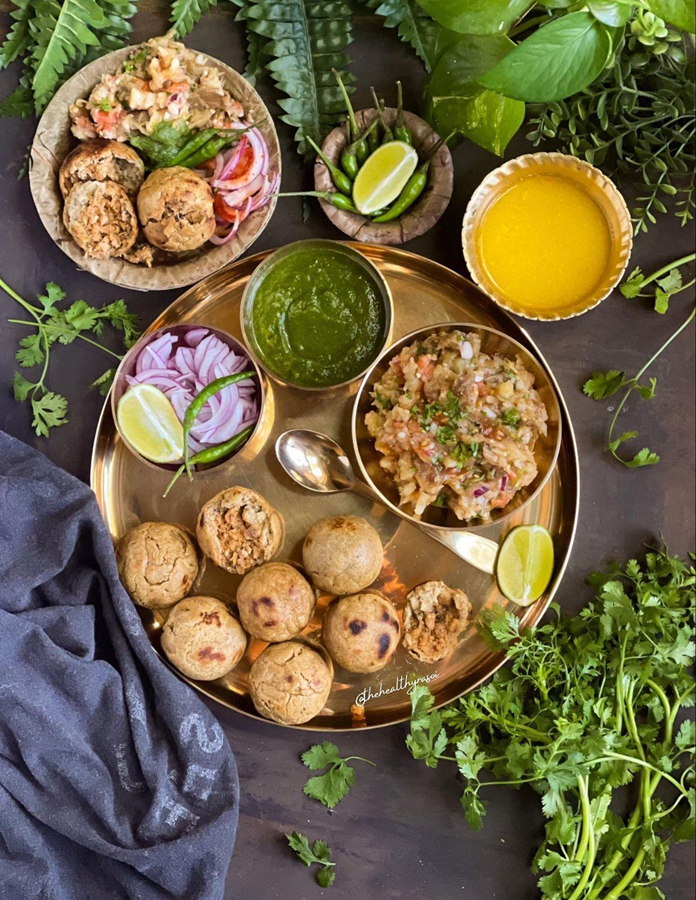 (For the wheat dough: Except for heating the water, make a semi-hard dough using all the same ingredients. Use water as required.)
Heat an appe pan or kadai. Grease with some ghee or oil and cook them until golden by flipping. (For baking:- preheat oven to 200 C and bake them for 15 minutes or until golden). (For cooker:- brush some ghee on cooker bottom and heat on low medium heat. Place litti, remove whistle and rubber. Close the lid and cook for 5 minutes, then open the cover, flip, and cook). Dip in hot ghee and serve with chokha and chutney. Enjoy!
9) Vrat ki Makhana Dry fruit Kheer
Name of the Creator: Meghna
Social Media Handle: meghnasfoodmagic
Chef Meghna is a banker turned baker, food blogger, recipe developer, and TEDx speaker. She is from Mumbai; her handle, Meghna's Food Magic, is quite popular on Instagram, YouTube, and Facebook. She's trying to make home-cooked and healthy food a preferred choice over dining out. She is known to present complicated-looking dishes, cakes, and desserts more straightforwardly with affordable and available local ingredients. She's the winner of the Instagrammer of the Year award of Livin Foodz, is ranked 98 in Fortune 500 Digital Creators 2022, and is recognized by the Ministry of Finance as 1 of India's top 75 cultural ambassadors.
Vrat Ki Makhana Dry fruit Kheer
Ingredients-
2 tsp Ghee
100 gm Makhana
7-8 Almonds
7-8 Cashews
1 liter Milk (full fat)
4-5 Cardamom Powder
Few Saffron Strands
Approx. more than 1/4 cup Sugar (or as per taste)
Finely chopped Pistachios, Almonds & Cashews
Method:
Heat the pan and add 2 tsp ghee.
Add 100 gm Makhana and roast it on medium heat; roast until it turns crunchy, and transfer it to a bowl.
Take a mixer jar, and add 7-8 almonds, 7-8 cashews, and 7-8 roasted Makhana churn to make powder.
Again, heat the same pan, and add 1 liter of full-fat milk, 4-5 cardamom powder, saffron strands, approx. More than 1/4 cup Sugar, stir continuously until the milk is reduced.
Now add the churned mixture and keep stirring.
Add roasted Makhana, finely chopped pistachios, almonds, and cashews. Cook for 5 min on medium heat and turn off the heat.
Serve the Kheer in a bowl and garnish with chopped almonds and pistachios. Enjoy this Amazing Makhana Dry fruit Kheer!
Tips:
1. Always roast Makhana on low to medium flame.
2. While making any kind of Kheer, stir continuously to avoid the Kheer from sticking to the pan.
3. Keep some chopped dry fruits aside for garnishing.
4. Although this is a fasting recipe, you may have it at any time of the year, not just during Navratri or fast.
10) Motichoor Shots
Name of the Creator: Parul Gupta
Social Media Handle: Kraviings
Parul Gupta from Jaipur is an IT professional turned food blogger and recipe creator with over 100k + followers covering different cuisines across India.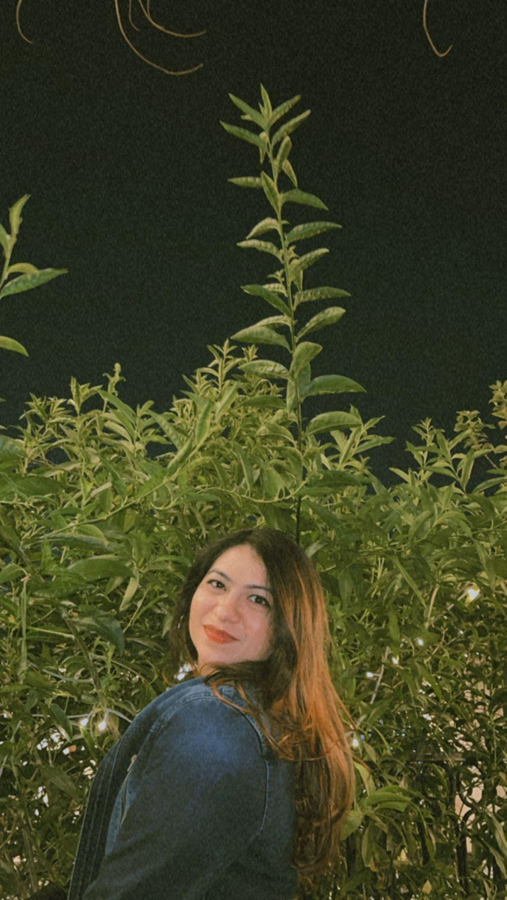 Motichoor Shots
This is the easiest recipe, which is tasty and festive. It is an absolute delight and fusion dessert that only takes 15-20 mins to make with irresistible flavours; this will be perfect for your next festive recipe.
Ingredients:
3 rusk/1 small packet of parle-g biscuits
3 tbsp. melted butter
1/2 cup whipped cream
Motichoor ladoo
Dry fruits for garnishing
Procedure:
Crush either the rusk or Parle-g biscuits, based on your preference. To it, add melted butter and mix well.
Layer it by adding a layer of whipped cream, then a layer of motichoor ladoo.
Repeat the layers if required and then garnish with pistas. Enjoy!
Tip:
To whisk the whipped cream, use a cold bowl to get a light-textured cream.
Conclusion:
These dishes pay homage to tradition and elevate the fasting experience to a whole new level. Each one tells a story of culinary expertise and devotion, bringing together the essence of Navaratri in a delectable form. Whether it's the aromatic spices, the vibrant colors, or the perfect balance of flavors, these dishes are a testament to the richness of our culture and the joy of celebrating together.