Nani starrer Telugu movie Dasara directed by Shrikanth Odela is a pan- India release in Telugu, Tamil, Kannada, Malayalam and Hindi languages. Nani is all set to spread his wings in the North. In conversation with Lipika Varma, he talks about how he doesn't yet consider himself a pan-India star, his new film and more.
You are a pan-Indian star, does the responsibility increase?
I am not a Pan India star yet. I wish audiences across the country will watch Dassra in theatres, after that you can call me a Pan India star. My popularity is because people have watched the dubbed version of all my films till today on various platforms and on YouTube. Let Dasara film be a huge hit, only then I will consider myself a Pan Indian star.
How has the experience of promoting your film Dasara been, as it's your first pan India release?
The experience was very tiring, generally, people would say we had a great time. It was like a picnic. But I would say it was healing. [smiles] This film was a tode bahut mushkil tha promotions karna. But we are happy we have made a great film; we all have given our 100 percent.
How did you transform yourself into a coal mines labourer?
The script itself was inspiring. I had to take a four month break to grow my hair and beard. Once we got there into the coal mines area, we all became one, like the people from the mines. Once we wore those kinds of clothes, our body language also changed. In coal mines, people drink alcohol as it takes away the heat and they are able to take that dust. Drinking makes them work easier; they don't drink just for pleasure.
What do you have to say about the comparisons of Dasara with Pushpa and KGF films?
These are all rooted stories with a small village background. We don't wear jeans and T-shirts out there; we all wear lungi and banyan. So, if the attire is the same, what can I comment on comparisons with these two films. It's a different story, in KGF we witness a lot of dusty atmosphere and here it's a coal mine backdrop, so it's obvious that we will witness dust even in this story. If you see dust in Dassara and KGF –Toh main bhi kuch nahi kar sakta hoon, comparisons are baseless; it doesn't make the film in the same genre.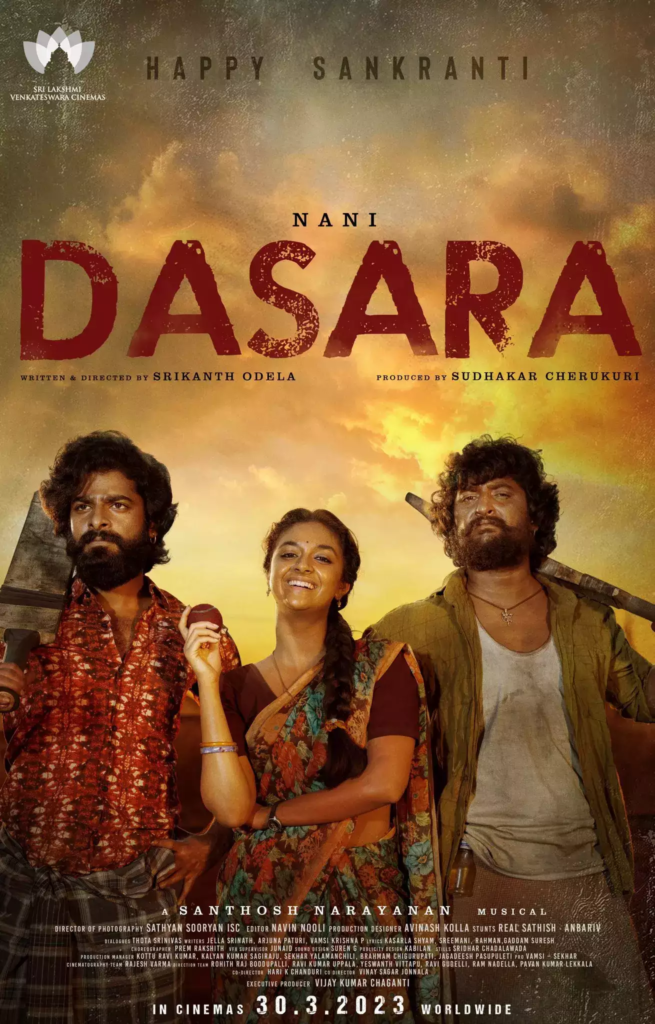 RRR has received accolades at the Oscars; it is a proud moment for all of us. But as per reports their team had to pay for their entry into the Oscars. What do you have to say about shelling out such a huge amount just to be at the Oscars?
I absolutely don't have any idea about it. When I got to know that we won the Oscars, I felt awesome about the news. Who told you about the RRR team buying tickets to be at the Oscars? Has someone from the RRR team said so? If it is coming from outside people, then we don't need to believe it.
What do you have to say about the Tollywood success at the Oscars, Rajamouli sir didn't say it's an Indian film but said it's a Tollywood film? How would you justify this statement?
I have to put this right–If we made the film in Mumbai and if it is made for everyone, but if they ask where it is made, then we will have to specify the location–Mumbai. So, RRR is a Tollywood film because it is made in Tollywood. However, it is made for all of us to watch it. It is not only for Tollywood audience; it is made for India. There is a small difference-for e.g. I can't say –This was made for India but we only shot in Telugu, then it will sound stupid. What I will say, it is a Tollywood film but we are confident people across India will love it. When I am coming to promote here-Will I tell you guys don't own it, instead I will say–It's your own film, watch it.
Age's back South makers/actors looked upto Bollywood to be recognised on the global map, but now it's vice versa, Tollywood is bringing India onto the global map. What would you like to say?
I have watched DDLJ, Kuch Kuch Hota Hai and many other films from my childhood days. All south Indians would watch Hindi films. The south films are now being watched by everyone in the country, so now we are equals, we are like brothers. So now the competition will be about who makes a great film?
Do you believe in competition?
Competition is good as we are like siblings. Earlier there was unfair competition for e.g., before we all used to watch Hindi cinema. In the North, nobody used to get south releases, so we could never put them on the same pedestal. Now we can put them on the same pedestal. We will not fight about B.O. numbers and not fight about who is greater, but we are going to fight about who is going to make the next best film. This is the greatest benefit for the audiences as everybody will be competing to make a good film. Eventually, it has come down to the audience liking or disliking a film.