MALLIK THATIPALLI, in an exclusive interview with RATI MALAIYA, author of the recent release A-Z of Indian Cities.
Tell us the story behind the book. How and when did you decide to write it?
My travels have always included a visit to local bookstores. Over the years, I came to notice that there were beautifully illustrated children's books dedicated to countries and cities from all over the world, but I never found such a resource for India. Almost as if it were destiny, my son Advait had to make a poster on Indian cities during the Independence week activities. I immediately turned to Google to help him make it. After that he always wanted me to "Ask Google" everything. This came as a huge reality check for me, and it was then that I decided to create this book.
How difficult is it to write for children? Can you tell us about the process behind it?It's very difficult! I think everyone has his or her own process. This was my first attempt at writing, and I really did not have a process. I just had an idea and I wanted to see it on paper. A-Z of Indian Cities is an information treasure trove. This required me to do tonnes of research. Since it is for kids, the illustrations had to be eye-catching and engaging. For me, the key challenge was to bring myself to a child's level of reading and understanding. My kids turned out to be great guinea pigs to test out the content!
Any interesting story or anecdote that you can share about the book…
When the book came out, my kids would proudly show it off to all visitors with a special emphasis on the author's bio, because their names were mentioned there! Another incident that comes to mind is when we were reading about Hyderabad, the boys were very upset with me for not having shown them the Charminar! They made me write a promise note to make them see all of Hyderabad's beautiful monuments on their next visit to Nani's house.
How can we encourage kids to read?
I believe that kids emulate what they see. The only way to raise readers is to be one!
Include reading as part of their bedtime routine
Make a special reading corner
Have bookshelves in their room
Take trips to the local library
Read yourself!
HOT ON THE STANDS!
See Also

The Illuminated by Anindita Ghose
An extraordinary first novel, this superbly nuanced, intricately detailed tale is a study of two women, a mother, and a daughter, who drift apart and reconnect even as their lives unravel in the wake of a family tragedy and the all-too-righteous world around them becomes increasingly intrusive
Radiant Fugitives by Nawaaz Ahmed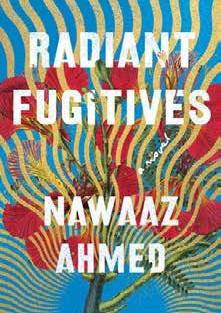 A decade in the making, this debut novel takes place in Obama-era California, where Seema, who was exiled by her father after coming out, now works as a consultant for Kamala Harris' attorney general campaign. Now pregnant, she reconnects with her mother and devoutly religious sister in this complex novel about three generations of a Muslim Indian family – all told from the point of view of her child at birth.