Naad Wellness: Luxury getaway from Delhi
Located in Sonepat, Haryana just a stone throw away from Delhi, Naad Wellness is a must visit for anyone who wants to experience holistic wellbeing, tranquillity and rejuvenation. Sinduri Vuppala shares her three-day experience at this luxurious getaway…
On a short business trip to Delhi, I signed up for a three day experiential at Naad, not knowing what was coming my way. As an editor and journalist, my life has always been fast paced with constant shoots, travelling, long hours behind the screen, deadlines, stress, and a perpetually strained neck, one of the most common issues faced by everyone these days. This experience at Naad was everything I needed to unwind!
When I received a call a day prior to my arrival, I was pleasantly surprised. The Naad team wanted to know my Kurta size, to which I responded, not fully understanding what it really implied. Finally, after winding up a two-day hectic shoot, I made my way to Naad. As I entered the gates, a sense of calm set in. The centre is surrounded by beautiful flowers, green lawns and manicured pathways. After a quick hand wash
at the entrance you are welcomed with a traditional Aarti, Tikka and a Rudraksha mala. Spread over 3 acres with 39 rooms, every element of Naad is tastefully done to help you disconnect, heal and reconnect. With plenty of greenery, every corner of the retreat is lit up with aromatic diffusers and soft music, designed to encourage and enhance relaxation and meditation.
Once checked-in, we were given a fresh pair of white kurtas and slippers. The guests are expected to wear these fresh starched kurtas that are replaced every morning throughout the stay, which was my favourite part. Apart from having a very calming effect, just the idea about not having to worry about what to wear each day was a pleasure.
The program begins with an in depth consultation with a doctor, which is used to plan and design your customised treatment and meal plan. Thankfully, I did not suffer from any major issues and my treatment plan was instantly delivered to the room. The day starts off at 6:30 am with oil pulling, an ancient practice that involves swishing oil in your mouth to remove bacteria and promote oral hygiene. Followed by a 7:00 am morning walk and a morning drink, post breakfast your therapy for the day begins. Depending on your medical history, the treatment can
range from a plethora of treatments ranging from simple aromatherapy, deep tissue massage to Abhyanga massage or Udwarthanam therapy where a special therapeutic scrub in which organic herbal powders or choornas are massaged all over the body in upward strokes. This scrubbing action is performed in seven postures, which generates heat, melts away excess fat and improves the texture of the skin considerably. It is recommended for cellulite reduction, obesity control and
enhancement of immunity.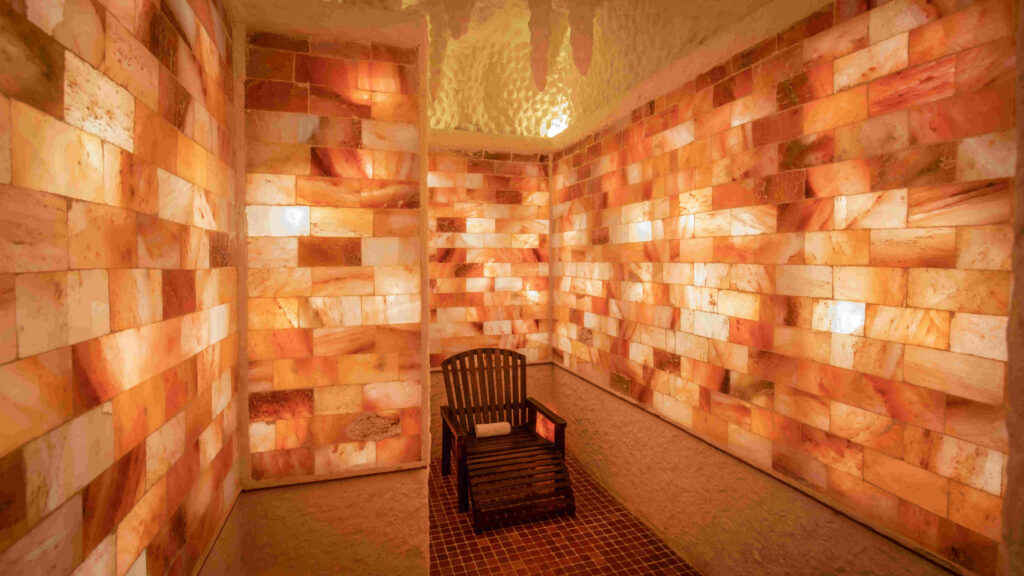 Yoga and meditation is also conducted each day in their beautiful well-equipped yoga hall. From hygienic mats, perfect music, water bottles to fresh hand napkins, every element is taken care of in detail. All meals are served at Ahara and every guest is given their own customised meal based on the doctor's recommendation. What surprised me the most was the variety of food that was being served, from millet pasta, veggie sizzlers to extremely healthy halwa, all meals are prepared in
accordance with the tridosha style of cooking which helps balance bioenergies. The ingredients are sourced from nearby farms and from their very own vegetable garden. Dining at Ahara is like a master class in healthy clean cooking. Unlike many wellness centres that starve the guests, Naad serves healthy food that is filling and sustainable and can be easily incorporated into our daily routine. Another USP at Naad is their Himalayan Salt Caves. Here, two caves are created with microclimate salt. When heated, the salt is inhaled into the respiratory system and removes toxins from the lungs and respiratory tract. From simple detox plans to more profound treatments for hypertension, sports injuries and PCOS, Naad uses a combination of
ancient principles of Ayurveda, yoga & naturopathy, to restore balance and health.
Days at Naad simply slip by and before you know it, you fall into a certain mindset and discipline. Cell phones are not allowed in common areas, which is great because you can use their facilities like the swimming pool, reflexology walking track and a fully equipped gym to keep yourself busy. With two library zones and activities like
badminton, tennis, night mini golf, this retreat will give you the time and space to unwind in a profoundly relaxing way whilst inspiring you to implement positive and lasting changes to your daily life. With active and restorative yoga sessions for all levels, delicious cuisine that will replenish your gut biome, and expert therapeutic practitioners, Naad is not so much a holiday as a total reset of your mind, body
and spirit.
See Also
Price: Starting at 60,000 per night
● Distance from Indira Gandhi International Airport : 48 Km
● Distance from Gurgaon : 65 Km
● Distance from Noida : 64 Km
Address:
Naad Marg, Ansal Sushant City, Kundli, Sector 62, Sonipat, Haryana
Phone: 0124 603 0400