Naaz Joshi – India's first Transgender Model wins hearts around the world!

Naaz Joshi is one of the most unique transgenders who bares it all when she speaks about the ordeals of her life. You can hear her zest for life in her voice. She opens her heart out to Canta Dadlaney; from being a transgender, a sex worker, an award-winning beauty queen (the first Indian transgender) and now a mother!
On the eve of 1985, the Joshi's (Delhi) were blessed with their first child, a boy. Little did they know, their joy would turn into sorrow, as he turned out to be a transgender. Born to a Punjabi father and a Muslim mother, Naaz (her chosen name), even as a child, was cognizant of the fact that she felt discomfort with the anatomy of a male.
Her two siblings, brother and sister are 'normal beings' as her mom would put it. "She may have guessed that I was different and she hated me." That maternal hatred made Naaz more determined to make her life meaningful. You can discuss anything under the sun with Naaz -from Nazia Hassan, the singer after whom she changed her original name to Naaz, to Caitlyn Jenner (earlier, William Bruce Jenner). Her natural fashion design skills enabled her to work with the likes of Ritu Beri. She has walked the ramp, represented India on a global platform and her head has adorned many glittering crowns but the journey so far had its fair share of difficulties.
The 5' 10" Naaz is intelligent, and beautiful and is India's first international Trans Model. From being the Ambassador to Miss United Nations in 2016 to winning Miss Universe Diversity (2017-18 and 2019-2020) in 2020, Naaz has been awarded a string of impressive awards. From Dubai and Jamaica to Mauritius, Singapore and New York, she has been acknowledged and was even awarded in Lesotho, in South Africa. In 2018, Naaz adopted a girl child albeit under her parents' family name as per the requirements of the law. "It was one of the most fulfilling and beautiful moments of my life."
Though her brother and his wife are lawyers and her sister and brother-in-law are doctors, Naaz has made her presence felt in numerous ways. There isn't a day, perhaps, when she is not approached to preside over a beauty contest or give a motivational talk.
Naaz states, "My journey has just begun. I want to work toward society respecting the transgender community. They need to be educated, provided with jobs and allowed to live with respect, as part of everyday society."
At what age did you start feeling you were not meant to be a boy?
From a very early age. I loved playing with dolls, dancing like a typical damsel, applying lipsticks and wearing dupattas instead of wearing shorts and suspenders. If I would accompany my mom somewhere, the neighbourhood kids would pass rude comments and it was my mom who became the butt of jokes. By the time my younger brother was born, my mom, fed up with these wisecracks, decided to send me to her cousin in Mumbai. My parents gave him a lot of money for my upbringing and to at least complete my 12th standard. In retrospect, they didn't want to expose me in Delhi, or perhaps they were ashamed of me, I think it was the latter.
How were the years growing up in Mumbai?
In Mumbai, I lived in a compact place, with six other kids. My mom's cousin enrolled me in a school but I decided, even then, to earn some money for myself. My uncle allowed me to work at a Dhaba next to Film City. I would work for half the day there and the other half, attend school. I was a happy, 11-year-old kid even if I was far away from home. I remember meeting all the big stars of the Hindi film industry and they all treated me well.
Were you abused and confused during those years?
Yes, I was abused at a tender age. It's all fuzzy now but I do have some memories. One day, after I returned home from school, my cousins were entertaining some of their friends. They asked me to join them. I refused and started doing my homework. They forced me to drink with them, telling me 'Mard ho jaoage' (you will become a man)! I recall it was a very cold drink and I woke up in a hospital! I immediately knew that something had gone wrong but couldn't put a finger on it. I was given a lot of glucose, and my uncle told me I would have to stay there for a few days and left. Four days later, the ward nurse told me I was good to leave. I stared at her in disbelief because where was I to go?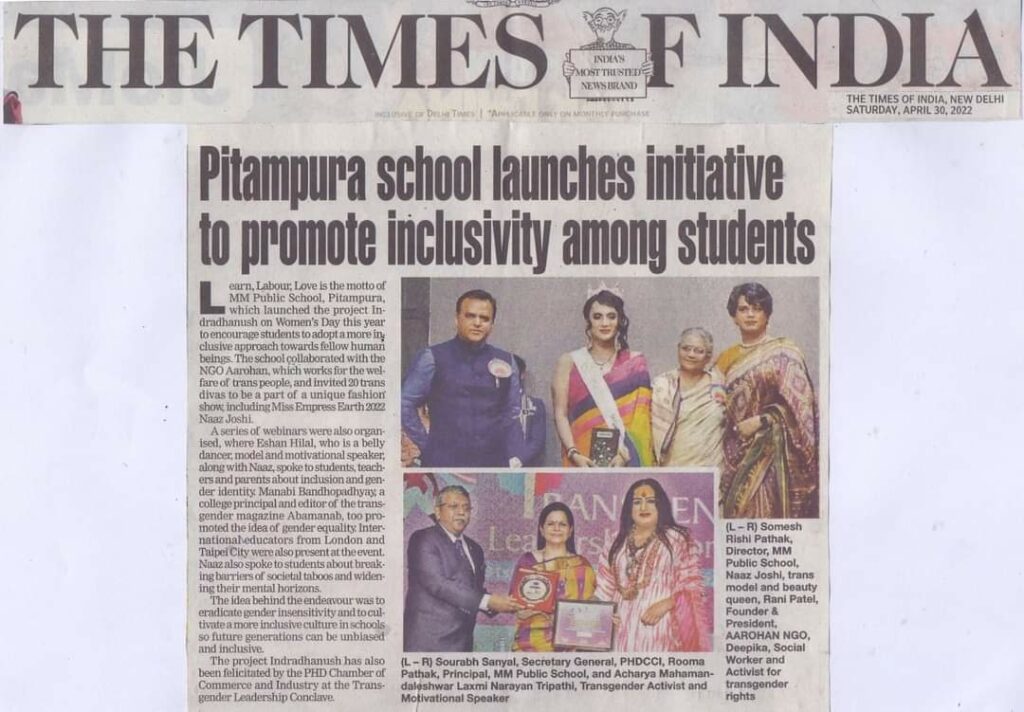 Indeed, you could have gone back to your uncle's place?
As I stared at the nurse, I found two men who were receiving treatment in the same ward listening to me attentively. They were from the Hijra Samoday (Kinnar community). They assured me they would look after me, and they did treat me well. They trained me how to beg at traffic signals by clapping in the traditional hijra way and beg for money. I found that utterly derogatory and they sensed that. Their Guru-maa (Head of the community) told me not to get dismayed for if I worked dedicatedly, I would earn a lakh of rupees a month, by the time I reached her age, but I refused! They were kind enough to find me a job in a nearby dance bar. The owner was a Yajman (host) of the Kinnar community and respected transgender people immensely. I poured my heart to him. I had already lost a year of academic studies. He put me back on the education track – something I can never forget!
You also started dancing in his dance bar, is that right?
Yes. I didn't want to depend on his kindness. I wanted to earn money though he was adamant as I was very young. But with the help of the other individuals from the Kinnar community who used to dance there, I set foot into this new phase of my life. They taught me the art of applying make-up and the latest dance moves as well. Things then changed for me. These dancers then asked me to indulge in sex work.
And you did! Why?
I was a dance bar girl! I had to have cosmetics. I remember, it was the era of Shanaz Husain and L'Oréal and I was determined to buy their products but didn't have money. But honestly, I was very keen to complete my education and I needed money for my Class 11. I had my first sexual contact at the age of 14!
Is it true Orkut change your destiny?
In 1999, I bought my first Nokia phone and then came Orkut. Orkut was an instant hit with everyone. One day in 2002, I came across an image of Viveka Babajee (who later became a well-known model) and myself! It was a childhood photo but I recognized myself. I connected with her through Orkut and we met in Bandra, where she was living. She was very hospitable and allowed me to stay with her. That was a turning point in my life. Once, she had to go to a party organized by Rocky S and I designed a gown for her, from my past design sketches (scrapbook). When she realized I had that natural gift she encouraged me to become a fashion designer. After her passing away, I decided to carry forward her dream of becoming a famous model.
Was that on your agenda? Walking the ramp?
I applied to NIFT and passed with flying colours. I worked for a month in the design department and the Director mentioned an opportunity in Delhi to enhance my skills. I discussed this with Viveka, and she assured me that my course and hostel fees would be  managed by her, which I will always cherish. However, to finance the projects, I started work at Wimpy. At NIFT, Delhi, I felt at home, as I met so many others who were just like me, especially after Gauri (originally Gaurav) started taking me to LGBT parties. For the final examinations, I managed to get Swarovski to sponsor my collection of lehengas and cholis, with 10,000 Swarovski crystals! Noyonika Chatterjee and Laxmi Rana were some of the many famous models of that time!
Walking the ramp was a passion but after her NIFT success, Naaz obtained campus placement to work with none other than Ritu Kumar. However, most of the tailors and their seniors were homophobic at heart. They mocked her and often told her they disliked taking orders from hijras. This treatment was meted out to her during her employment with Ritu Kumar and her tenure with the Femina Miss World team. Once, at a party, she met Edna, a transgender who counselled her and asked her to go to NIMHANS and that led to hormone therapy.
Hormone therapy is an expensive process? How did you manage that?
It is! But I was fed up with being ridiculed and was determined to achieve the obvious, I indulged in sex work again. It was at one such SPA, where I met Taneja who was doing a series of images for an exhibition abroad. It involved some extremely bold images but I did it for my hormone therapy. By 2010, I experienced the feminine changes in my features and was thrilled. Real modelling started from there. After that, I was involved in various modelling assignments for Monte Carlo, and Odini and in 2013, I walked the ramp! With the money I made from modelling, I finally got my surgery done.
In 2015, you appeared on the cover of Tehelka and got interviewed for a (documentary). What was that like?
My dad was heartbroken seeing the documentary but my mom wasn't! She was angry upon my return, no sympathy, nothing! Dad gave me a fully-furnished room and was furious to hear about my uncle's treatment of me but I told him it wasn't worth it. My siblings welcomed me well and I felt relaxed except for my mom's behaviour. The domestic help of the house sympathized with me and we often had long chats. They urged me to start something like 'Mrs. India homemakers.' I started the Mrs. Universe pageant (Homemakers), I groomed the participants and helped them participate in pageants abroad. In 2014, I started 'Fashion Gurukool'. Through this school, I started teaching everything related to modeling. I had 5-6 students and would make about 25-30k a month.