View Gallery
Noya Restaurant Terrace and Bar, which opened on the 12th floor terrace of Avasa Hotels in Madhapur, is trending for its al fresco ambience, gourmet modern Indian fare and fabulous skyline vistas. Swati Sucharita gives you a lowdown…
Nightlife in High-Tech City revved up in the New Year, with Avasa Hotels unpacking its new F&B offering, Noya Restaurant Terrace and Bar recently. As the name suggests, Noya has a restaurant, terrace and a bar over three floors, with a contemporary, smart and relaxed ambience. Right at the top is the 12 th floor terrace-level bar, with an alfresco seating of about 60 covers and offering the most fabulous views of High-Tech City, including the sparkling lights of an illuminated Durgam Cheruvu, and the Metro bustling by on the other side. 
The terrace has an open to the skies bar with a fine dining restaurant located on one side of the massive terrace, with about 40 covers. While the terrace ambience is informal with comfy chairs around low tables and bar stools with high tables, the restaurant is plush and yet minimalistic, with turquoise-hued upholstery contrasting with dramatically red chandeliers. Noya is also spread over the 10 th and 11th floors with a more formal, indoor bar seating and a DJ console and dance floor on the 10th floor. The interiors are designed by Ed Poole, the same architect who designed the rest of the hotel, when it launched in 2012.
In focus at the terrace with its open-to-the-skies bar and giant projector screen on a huge wall, is the splendid food curations by Noya's partner chef Vignesh Ramchandran, who has already created vibes with his modern Indian plating at Once Upon a Time. "We have tried to cater to both the exclusive as well as more popular palates at our bar, as the idea is to relax and unwind and that can be done only with your favoured drink and food, right?" explains chef Vignesh, who counts former boss and mentor Manish Mehrotra, the founder of Indian Accent, India's arguably best-rated restaurant, as his inspiration behind his food innovations.
The spirit of the evening was set by Noya's signature cocktail Qubani Fizz, a delightful concoction of apricot puree, gin, ginger ale and a sprinkling of fresh juniper. With the famed Hyderabadi dessert at its core, this is a drink, which will be claimed by the city's spirited folks, for sure. The Sparkling Ilaneer Inji (vodka, ginger, mint and tender coconut water) and Masala Chaitini (vodka, tea decoction and Indian spices) were also great drinks.
The food menu is extensive, with micro, small and large plates, as well as a Ceylon Parotta 'Bar', a Taco(parathas) Bar and a section for mains, staples as well as desserts. From the micro offerings, I could not have enough of the kaffir lime dusted cashews, they were just so delicious! Small plates, which are starters, can be shared easily among four persons, and the Hyderabadi Mezze Platter was a great conversation-cruncher with rajma falafel, masala pita breads, paneer triangles, and with a great array of dips including a salsa, sour cream and khubani chutney.
The Butter Chicken Pakoda and Byadgi Chilli Prawns (which you can pair with buttered pav) were great micro choices too. Chef Vignesh who is from Chennai, has a natural leaning towards Sri Lankan cuisine and the Ceylon Parotta with Butter Chicken filling was a perfect example of his contemporary food plating, which brought the flavours of two distinct cuisines, Punjabi and Sri Lankan together.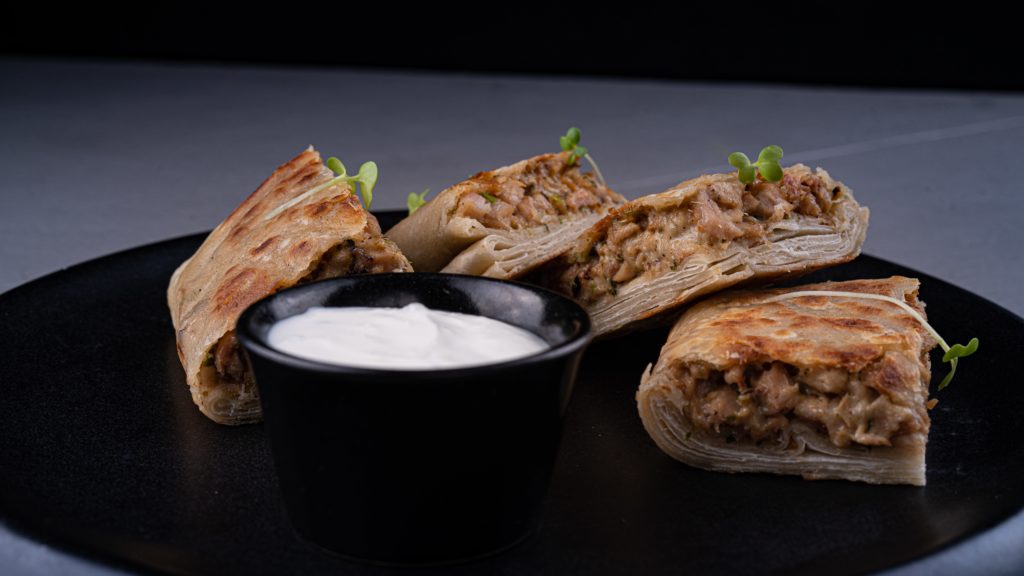 I also tried Tingmo with Chicken from the mains, and the gravy, tossed in green fermented sauce (made of green chillies and coriander paste) felt supremely fresh on the palate. From the staples, chef sent out the Tawa Coconut Mutton Rice with a fried egg as garnish, though truth be told, I could only try a spoonful. The creaminess of the coconut wonderfully complemented the peppery tones of the dish, which I could see was a seller too. For those with a sweet tooth, the Rabdi Tres Leche is an excellent choice. Noya definitely comes with our recommendation for a relaxed evening out with friends and family.
Address: Avasa Hotel, Sector -I, Huda Techno Enclave, Madhapur, Hyderabad
Tel: 040–67282828
Timing: 6 pm until midnight
Price Points: Rs 195 to Rs 575
Meal for Two: Rs 1500 ++ (without drinks) and Rs 2500 ++ (with drinks)
Our Pick: Qubani Fizz, Byadgi Chilli Prawns, Butter Chicken Ceylon Parotta