Rahul Sharma, the founder and driving force behind Farishtey, an NGO for animal care is an Image accountant in Prowess Image Consultant by profession and has a passion for photography. He and his family are guardian angels for stray animals who are tortured, hungry or ill on the streets. Every day his family goes out and feeds 200-300 strays in Mumbai. Cats, dogs, cows, pigeons, and squirrels are taken care of by his mother, Kalawati Sharma, and sister Princy Sharma. In an exclusive with Surabhi Goel, he speaks about his work and his NGO.
1. Being a consultant and a veteran photographer, what sparked your interest in Farishtey?
One day I came across a puppy on the street who met with an accident. I brought him to my home and got him treated by a vet. I felt that they were a part of society and deserved to live. That was what piqued my interest and I started to care for these dogs. It all started with three to four dogs under my house. Now we are a family of 300. It fascinated me to a level that even my whole family is into Farishtey now.
2. What is the procedure for rescuing and feeding the animals?
Homeless animals struggle and often go hungry or get into accidents in search of food or shelter. So, to make their lives a little easier we provide food to them and tend to the injured by providing them with free ambulance services with spot treatment regularly. If needed send them to foster houses for treatment with all the expenditure paid by Farishtey. Once the animal is recovered, we send them back to its original place. 
My mum cooks 10 kgs of rice in the morning. We collect the bucket full of leftover food from the colony that is placed outside people's houses. Mix all that leftover food with the milk brought by us and feed them to the animals. From 8 in the morning to late in the night she takes 30 to 40 kgs of food with multiple trips on a two-wheeler within a radius of 3-4 kms. Be it a storm, or COVID restrictions, she stood like a mountain without missing a day to help these animals.
Being a fashion photographer, I tend to meet many celebrities. I research whether they are animal lovers and then I ask them to record a video with them to post on social media. It helps in connecting more people and NGOs to aid our vision. My sister and I look after the funding of Farishtey without any monetary help from the government.
3. What was people's reaction to helping the stray animals? Was there any opposition from people or certain communities?
The eight-year journey was not easy as helping strays was not accepted and we faced a lot of opposition and demotivation from society. However, we continued to feed our passion by centering on it. My mum who carries 20 kgs of food on the two-wheeler daily within 3-4 km of our house was once stalked by street people. She was abused, persecuted, and attacked also. This all has become a part of our life. Even people complained about us feeding the stray animals and dirtying the place. Rahul on an angrier note said, "People neglect the trash or garbage near their houses, but feeding homeless animals makes the place dirty."
4. How has it affected you in your daily life?
Out of 24 hours, I give 3-4 hours for Farishtey as I record daily for social media. Through social media, I teach people how to take care of animals and spread my contact details so that people can get connected wherever they come across an injured animal. Every day I get 10-15 calls about a cat, cow, or dog being injured. If that area is out of my reach I try to connect with the nearest NGO. I never leave them unattended. For nine years, our full family has not been on vacation after Farishtey was born. 
See Also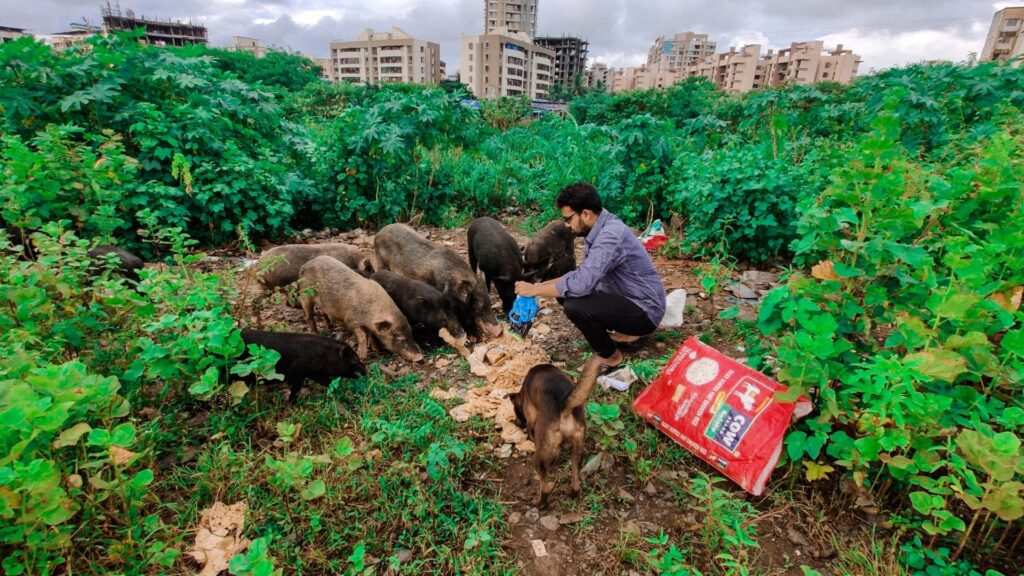 5. What are your plans to expand and grow Farishtey?
I am planning to build a shelter home for these animals where they can grow in a safer environment. I am thinking of buying a sanctuary or a piece of land for these creatures so that they are saved from the cruelty of human beings. They are beaten, butchered, and thrown acid on. Whenever I find an injured animal, I feel like keeping them to myself forever. To help them, we are starting an Ambulance service to provide timely treatment for animals in pain. Also, we are hoping to open a veterinary clinic to treat and vaccinate them regularly. Also, to run an awareness centre for kids to teach them about the importance of animals in society.
6. Who has been your inspiration for this ethical cause?
My mum is the sole motivator of Farishtey. What I admire in her is her enthusiasm for unconditional love and help for these animals. I rarely hear from her about being tired or complaining about something.
Conclusion: If you find an animal in need of help, ensure to give a call to any nearby pet rescues who would aid the animal. Check out Farishtey's social media and support this good cause.