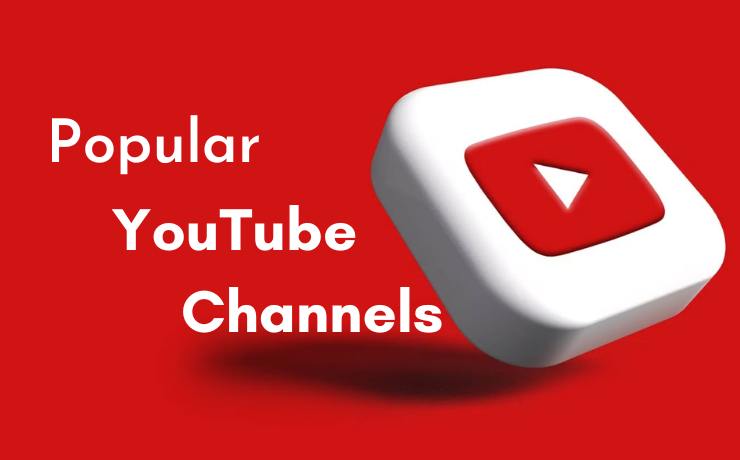 YouTube channels are a popular way to create content. It is used as the second most search engine in the world. There are many YouTube channels in various languages that provide content to different audiences based on their liking. YouTube channels are also useful for increasing brand awareness, building a community, and creating a connection with the viewers. Each creator has their unique style, and the way of presenting their content, whether it's a comedy video, entertainment, cooking, education, and reviews is quite excellent. Let us have a look at the most popular YouTube channels.
Popular YouTube Channels
CarryMinati
One of the most well-known YouTube stars in India is CarryMinati. His real name is Ajey Nagar. He handles two channels on YouTube that are CarryMinati which has 37.5 million subscribers, and the other channel is CarryisLive which has 11.5 million subscribers. Some of his most popular videos are 'The Film the Fare', Yalgaar, and the roast on the Bigg Boss reality show.
Technical Guruji
Gaurav Chaudhary who is known for his amazing reviews on the latest technology started his channel 'Technical Guruji' in 2015. Every day he posts two videos on the latest technology and tech topics on his channel. His videos about the latest technology, smartphones, laptops, and new gadgets are very informative. This channel has 22.7 million subscribers. In the year 2017, he started another channel, Gaurav Chaudhary Official which has 5.18 million subscribers. In the year 2021, he started his third channel that is TG Shorts which has 540K subscribers.
Study IQ Education
Study IQ education is one of the most popular YouTube channels in India in the Education niche. The channel has more than 13 million subscribers and every month it receives more than 70 million views. The focus of this channel is to train students for different exams like SSC, UPSC, Bank Exams, Railway exams, and more. The content that is related to the subject is shared and watched across the country.
Varun Vagish
Varun Vagish is a travel vlogger, and he started his journey of exploring new places in 2017. Till now he has covered more than 20 countries across the world and captures his experiences through his vlogs. He has shown in his videos that we can travel across the country and around the globe with budget-friendly plans. His channel has 1.54 million subscribers.
Nisha Madhulika
Nisha Madhulika is a popular YouTube content creator who won the award for India's Top YouTube chef in 2014. She has created her channel in 2014, and her cooking videos are amazing to watch for all the food lovers out there. Her cooking videos have been appreciated and loved by the audience, and she also writes cooking blogs. There are 13.2 million subscribers to her channel.
BB Ki Vines
Bhuvan Bam is a multi-talented person. He is a YouTuber, singer, musician, and writer with a great sense of humour. His popular channel 'BB ki vines' has created a sensation across the country. He plays all the characters like father, mother, son, best friends, and uncle. His recent series 'Dhindora' got an amazing response from the audience. Right now, he is busy working on his new web series Taaza Khabar which will release on OTT. His channel has 25.6 million subscribers.
Ashish Chanchlani Vines
Ashish Chanchlani started his channel in the year 2009. He is known for his amazing videos that are filled with comedy, and some message-oriented ones as well. People showered him with love for his amazing content on realistic topics that are based on exams, festivals, and functions. Ashish is a huge fan of Marvel movies, and they allowed him to interview the lead actors. This channel has 28.9 million subscribers.
Sadhguru
Indian yoga master and Isha foundation's founder Sadhguru. In most of his videos, we see him talking on various topics that are based on health, spirituality, mental well-being, and yoga methods. He has also started various campaigns like Cauvery calling, Rally for rivers, and save soil. He is also seen interacting with various celebrities and discussing various topics about life. The channel has 10.8 million subscribers.
Total Gaming
Ajay also known as 'Ajju bhai' is a gaming lover and he is one of the popular gaming YouTubers in India. He started his first channel in 2018 and it turned out to be a super hi. Right now, he has five channels in which he showcases various games and playthroughs. His channel has more than 34 million subscribers.
Sandeep Maheshwari
Sandeep Maheshwari is a popular entrepreneur, photographer, motivational speaker, and also CEO of the ImagesBazaar. He is very popular amongst the youth. He is also listed in the Guinness book of world records for the most viewed self-education videos on YouTube. His website ImagesBazaar has more than 1 million photographers. Right now, his channel has around 27 million subscribers.
Conclusion
These are some of the most popular YouTube channels that are known for their amazing content. Apart from this many other YouTube channels are giving tough competition and providing some good content to the audience every day.