5 PLACES TO VISIT IN UTTARAKHAND
Travel has become an eccentric part of our lives. Not just recently, but for the past few years, travelling has been in vogue. When people ask, why travel? We have a lot of unspoken merits. Visiting several places, understanding their heritage and cultures, their way of life – render an understanding and perception of life that nothing else can offer. Travel makes you assertive and confident. 
Well, all the travel enthusiasts, this piece is for you, we present to you a list of enticing destinations in Uttarakhand. Then what's the delay, get reading and add them to your travel list. 
TOP 5 PLACES TO VISIT IN UTTARAKHAND:
Uttarakhand, a predominantly hilly state nestled in the altitudes of the Himalayan mountainous regions, is generally known as Devbhumi, meaning, region of Gods attributed to the prevalence of major Hindu historic sites. Apart from Rishikesh, Kedarnath, and Badrinath, Uttarakhand does have a lot to offer. Here are a few of the places to visit in Uttarakhand.
Dehradun:
Dehradun, the capital of Uttarakhand is a vibrant city enveloped by picturesque vistas of Mussoorie's hills. It is one of India's oldest towns, set like a jewel amid the lower Himalayas mountains. Located 240 kilometres from Delhi, set in the winding Doon Valley and also at the Himalayan foothills, is flanked by beautiful mountains and thick Sal woods and is at a height of 435 metres. It has both enthralling heritage and interesting folklore.
Dehradun is without a doubt among the most popular attractions in Uttarakhand. This city is well-known for its environment which is salubrious and delightful all year. It has been also designated the title 'Educational hub of Uttarakhand.'
Best time to visit: March to June
Nature enthusiasts will find Nainital to be a haven. The scintillating city of Nainital is praised for the gorgeous Naini Lake, where it has acquired the moniker 'Lake City.' It is situated at a height of 2,084 metres above sea level. It is one of the most popular hill stations, owing to the wonderful nature with crisp pure air, and the wilderness.
The town of Nainital attracts both domestic and foreign visitors. It glitters like a gem amid the Himalayan Range, accompanied by streams and nature's wealth.
Best time to visit: March to June
Mussoorie, often renowned as the 'Queen of the Hills,' is one of the popular attractions. It is an enticing sanctuary for solo travellers and newlyweds and is an ideal summertime getaway. Mussoorie is popularly known for its breathtaking scenery and the most delectable varieties of Maggie.
Mussoorie is situated at an altitude of 2,000 metres above sea level on a 15-kilometre-long circular hill. It provides magnificent scenery of the Himalayan peaks in Western Garhwal from the vantage point.
The Bala Hisar Museum exhibits the province's historical legacy in many art forms. Other destinations include Dhanaulti, Gun Hill, Mussoorie Lake, Happy Valley, and the Dalai Hills.
Best time to visit: April to June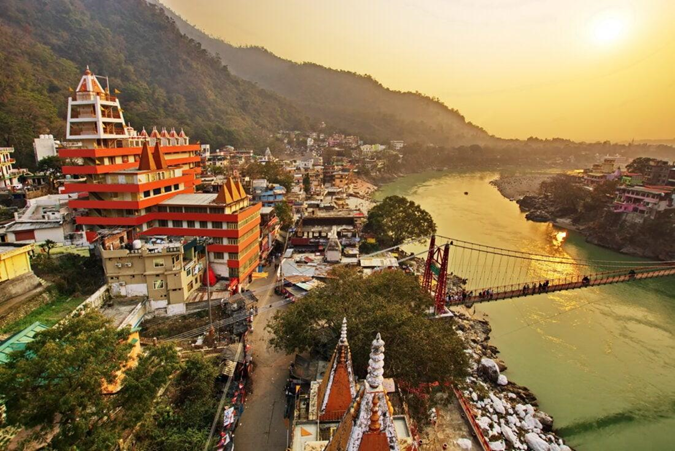 Rishikesh is often considered the 'World Yoga Capital.' The historic town of Rishikesh, situated against the background of the Himalayan alps and with the immaculate Ganga streaming past it, is among the touristic attractions and religious destinations in north India, with visitors from all over the world in pursuit of calm.
See Also
Rishikesh is home to several ashrams, several of which are recognized worldwide as intellectual research centres, yoga centres, and other historic healing practices. The location is filled with guests who come to practise yoga and meditation. Rishikesh is also known for its small cafés, which serve both local and foreign delicacies and are frequently crowded with travellers.
Another attraction of Rishikesh is adventure activities, river rafting being the popular one.
Best time to visit: February to mid-May
Auli, India's leading ski area destination, is indeed a modest yet picturesque village. Located roughly 2,800 metres above sea level and bordered by areas of oaks and pine woods, Auli provides spectacular panoramas of several of India's highest mountains.
Another feature is Auli's constructed lake, which is among the world's largest man made bodies of water. Correspondingly, Chattrakund and Chenab Lake are two additional reservoirs in Auli recommended viewing. Auli is also renowned as 'India's skiing heartland,' which illustrates how successfully the sport can be experienced here.
Best time to visit: December to February
Conclusion : These are the top 5 places that one must see when in Uttarakhand. Beat the heat, get trippin' and explore these exquisite beauties!