Weaving is an ancient method of producing textiles and fabrics. It is important that people become more aware of their local weaves in order to preserve traditional work and to continue to urge others to purchase these designs and live a more sustainable lifestyle. These are some of the popular weaves of India and their history.
1. Kanchipuram
Kanchipuram sarees are considered one of the most beautiful sarees across the country. These beautiful sarees are made with a beautiful blend of colours, and thick fabric with a touch of gold. Kanchipuram weaves have a history of more than 400 years and it is said that the two major weaving communities Devangas and the Saligars came from Andhra Pradesh and settled in Kanchipuram, utilizing their weaving skills by weaving silk sarees. Kanchipuram fabrics are considered one of the strong fabrics because the saree is made of three silk threads twisted together.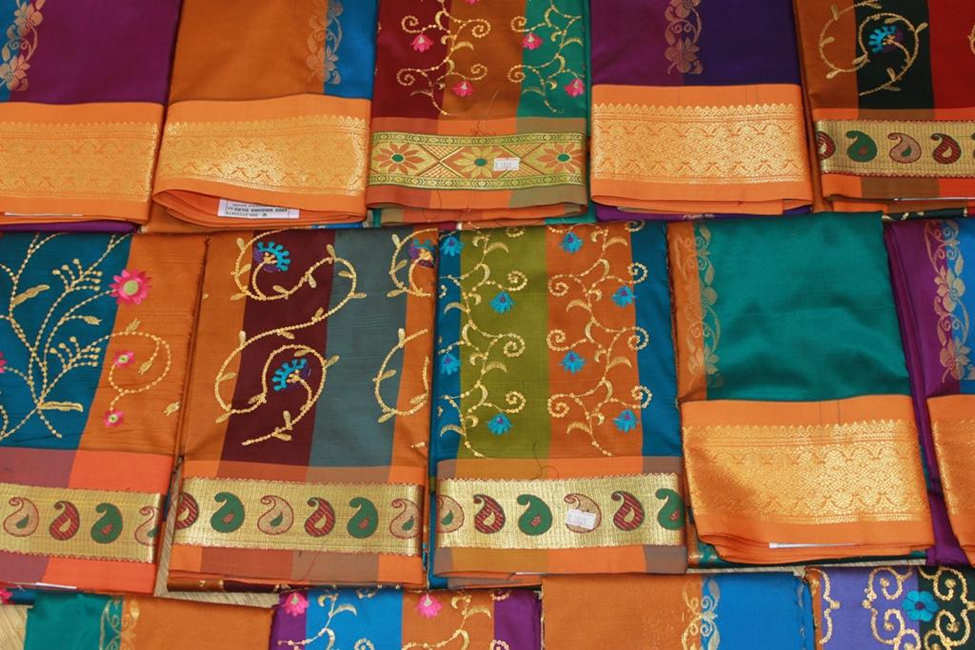 2. Chanderi
Chanderi is a small town in Madhya Pradesh that practices the handloom skills of weaving cotton and silk with zardozi work. Chanderi sarees are soft and elegant in cotton. It is believed that Chanderi town was the centre for weaving and it rose to a prominent position and became an important trade route for the traders. There are three major chanderi fabrics which are pure silk, Chanderi pure cotton, and silk cotton.
3. Venkatagiri Saree
Venkatagiri sarees are famous and they are one of the most durable sarees in India. Venkatagiri sarees are known for their fine weaving. They are suitable for all climates, and the most unique feature of a Venkatagiri Saree is the big Jamdani designs of peacock, parrot, and swan in the pallu. The unique zari designs of the sarees make them the perfect choice for royalty. The sarees were produced at Venkatagiri and the weavers used to weave these sarees only for the royal families.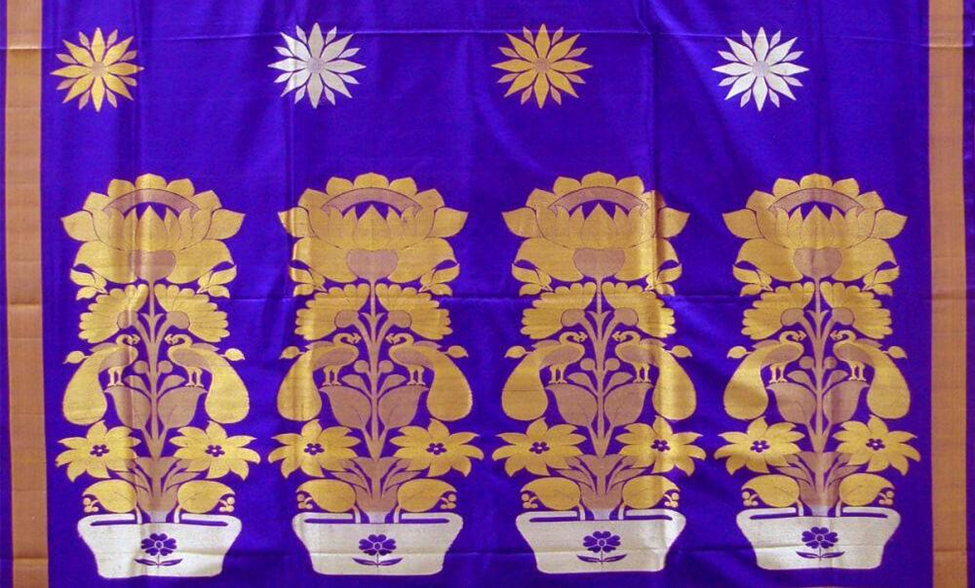 4. Gadwal Sarees
Gadwal sarees are one of the popular sarees across the country. They are a combination of cotton weave fabric with gold zari weave designs. Gadwal sarees are woven in Telangana and most of the traditional designs include lotus, roses, and other flowers. This saree is known for its unique designs on the borders. One of the best things about these sarees is that the weave is so tight that it can be packed in a matchbox. Every year, Tirupati Brahmotsavas begin with the deity's idol being decorated with Gadwal saree.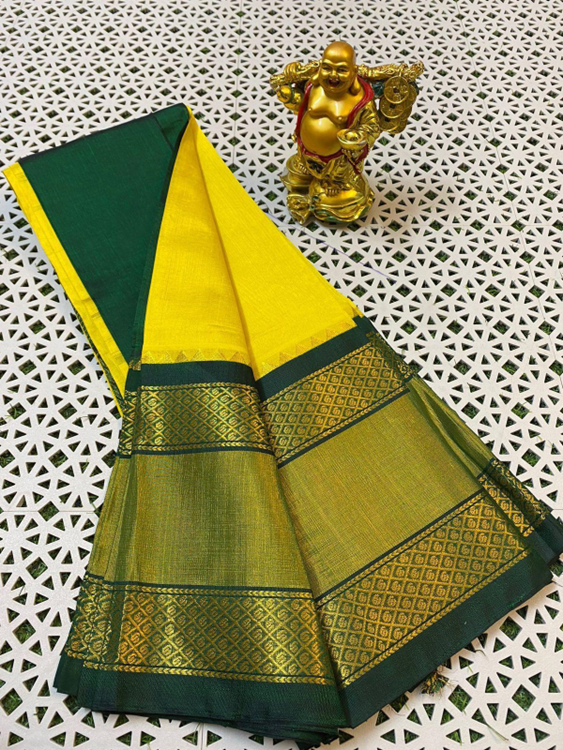 5. Banarasi.
Banarasi sarees are among the finest sarees in India and are known for their silver and gold zari, fine silk, and opulent embroidery. The special features of the saree are floral, bel, and other designs. Most of the sarees are made from woven silk and decorated with amazing designs. From the 19th century itself, Banarasi sarees were popular. The history of this weave began in 1603 when silk weavers from Gujarat migrated to Varanasi and started silk weaving there and developed excellence with their amazing craft.
6. Pochampalli
Pochampalli Ikat is a type of silk that comes from a small town in Telangana. Pochampalli also known as the Silk City of India became popular when a small group of weavers in the town started weaving the classic fabric. Very soon the place became popular and competed with every silk manufacturer in the country. One of the amazing designs of the saree is the mesmerizing geometric pattern that spreads all over the garment which gives a perfect outlook. Now, as machines are introduced into the weaving work, Pochampalli Ikat sarees are produced faster without any error, with amazing precision, and perfection that is hard to find anywhere else.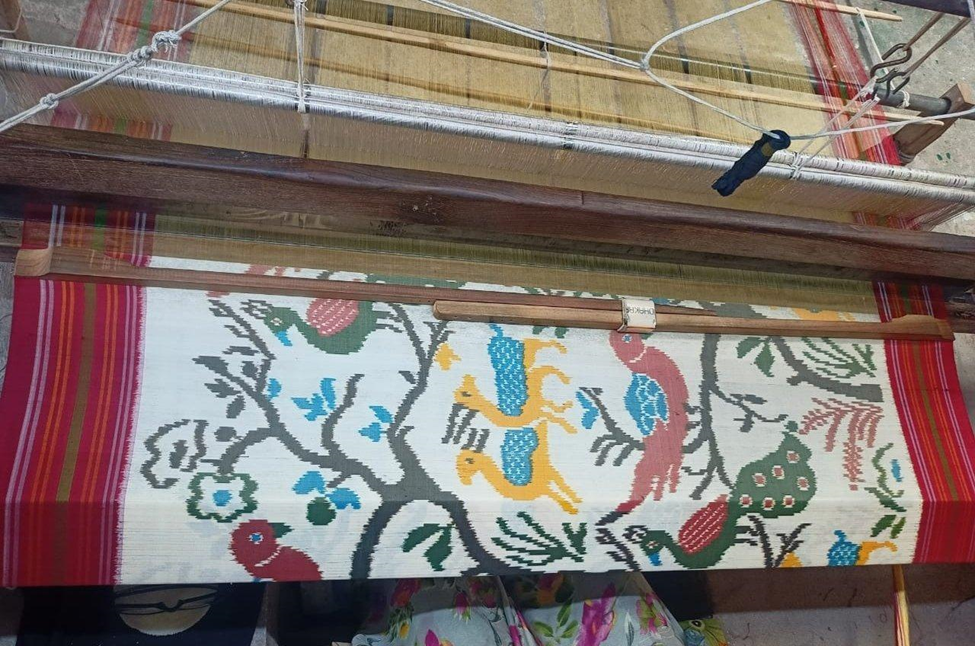 7. Patola
Patola work is very popular and expensive because it takes six months to one year to make one saree. Patola is a double-woven Ikat saree made from silk in Gujarat. Patola weaving is a closely guarded family tradition and it is only taught only to the sons. The process of preparing the saree is quite a long process. Each strand is separately dyed before weaving them together. The history of Patola began when Salvi silk weavers from Maharashtra chose Gujarat as a home for their outstanding work, very soon the work was broadly accepted and the sarees became a sign of royal status among Gujarati women and girls.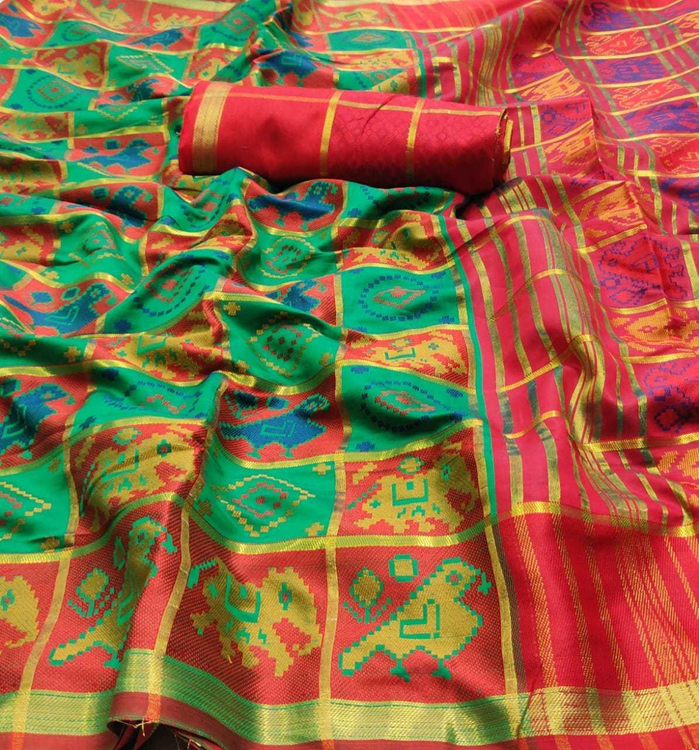 8. Mysore Silk.
See Also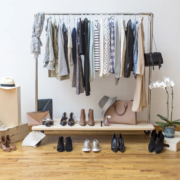 Mysore is the land of sandalwood and also one of the producers of fabric. Mysore silk is also known as mulberry silk because the silk cultivators use mulberry leaves for silkworms to feed them for abundant silk. The shining sarees of Mysore are a gem in the crown of the Mysore Maharajas. Mysore silk sarees are known for their extraordinary shine, zari work, and lightweight fabric. Silk is mainly produced under KSIC. The growth of the Mysore silk industry began during the reign of Tipu Sultan and it became so popular that it competed with other imported materials.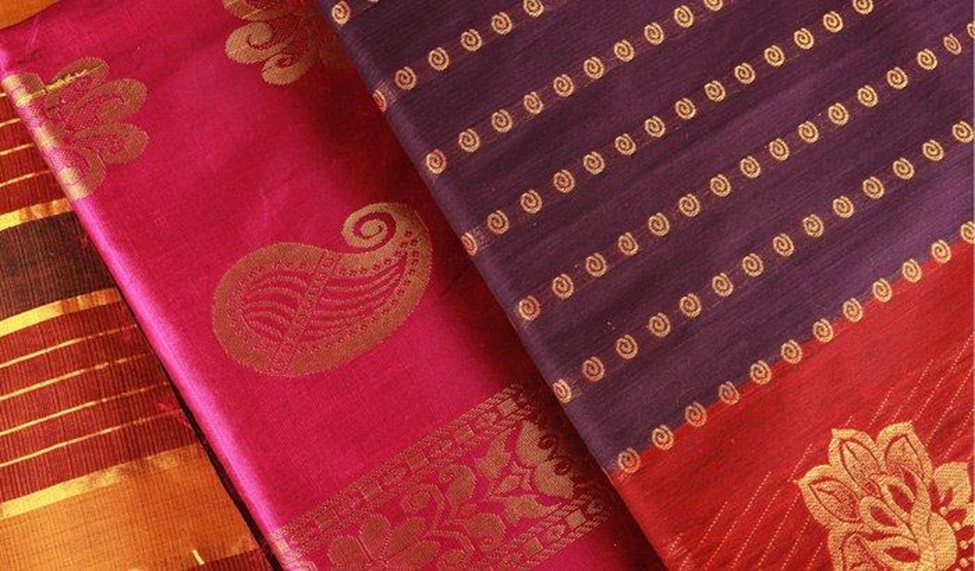 9. Narayan Peth Sarees
Narayan Peth sarees are very popular around the regions of the Sholapur district. The traditional Maharashtrian sarees are designed with a contrasting zari border with a unique silver-lined pallu. Narayan Peth sarees are lovely, light, comfortable, and budget-friendly. The history of Narayan Peth sarees began when Maratha King Chatrpathi Shivaji travelled to Narayan Peth and camped for a few days. A few weavers stayed back and produced silk sarees with a unique style.
10. Mangalagiri
Mangalagiri sarees are produced by performing handicraft weaving with the help of pit looms from combed yawn by warp and woof interlacing. After that, the fabric undergoes the process of dying. Mangalagiri sarees are unique, woven from cotton, and have the most amazing features like zari on the border. The weaving began in Mangalgiri when some people shifted to this place because Qutub Shahi increased taxes. After they settled down in Mangalagiri, the weaving work of these sarees began and became popular across the state. Mangalagiri sarees are also used by  devotees for Lord Narasimha.
Conclusion
These are some of the popular weaves of India. Every weave works unique, beautiful, and has historical significance. Traditional weaving work should be encouraged, and weavers should be recognized for their unique abilities.