We have been travelling across many states and cities, and something we always wanted to experience is the minimalistic living standards. Sadhana Forest is a vegan community and a non-profit centre for reforestation, water conservation, and food wastage management centre in Auroville.
Nikita Biswas & Abhishek Dubey
A community history
Travelling across India has introduced us to many different cultures and communities; however, Sadhana Forest is more than just a community. It is a place where we learnt to unleash minimal living standards and accept eco-friendly ways of life. This is a way to co-live with wild animals surrounded by forests on all sides.
Sadhana was started by Aviram Rozin and Yorit Rozin from Israel 18 years ago, on 19th December 2003. They started their journey in India as they believed that this place was their calling and they participated in many volunteer opportunities in Rishikesh and Auroville.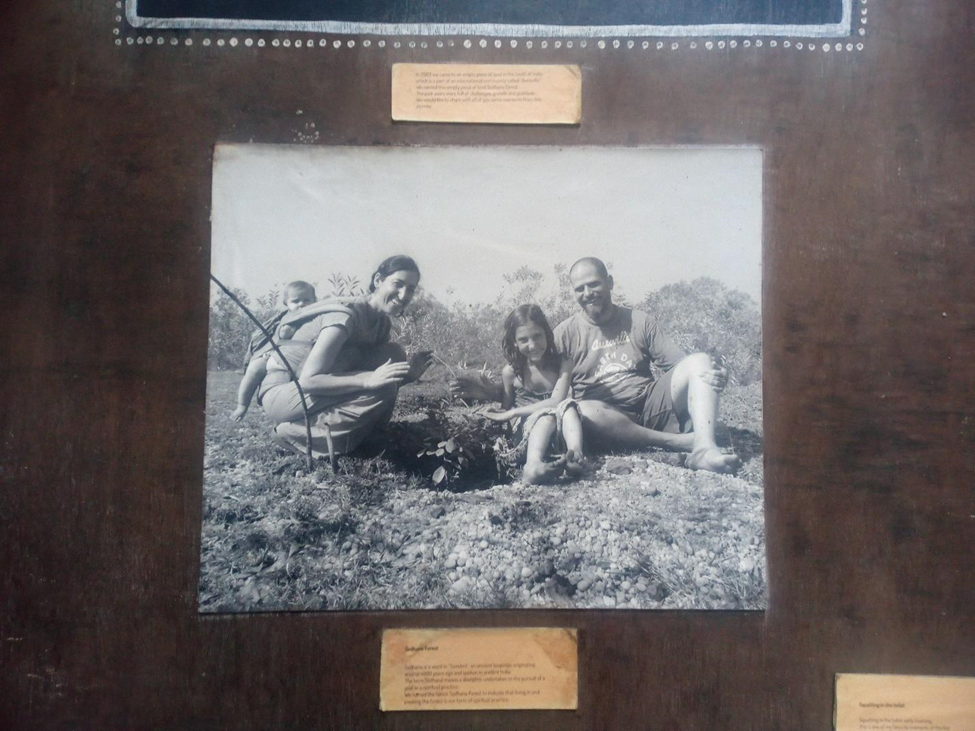 While they were working through these volunteer opportunities, they weren't happy with the values and principles that others had. This led them to build Sadhana Forest as this was where they could follow the values they resonated with and could relate to. Auroville offered land of 70 acres to Aviram and Yorit Rozin to build this place. However, this land was a little far from the main centre of Auroville and many others had already rejected the land in the past as it was a dry and barren piece of land. This family connected to this piece of land and did not want to reject it like others. On the other hand, their purpose of growing or regenerating a forest was a lost cause.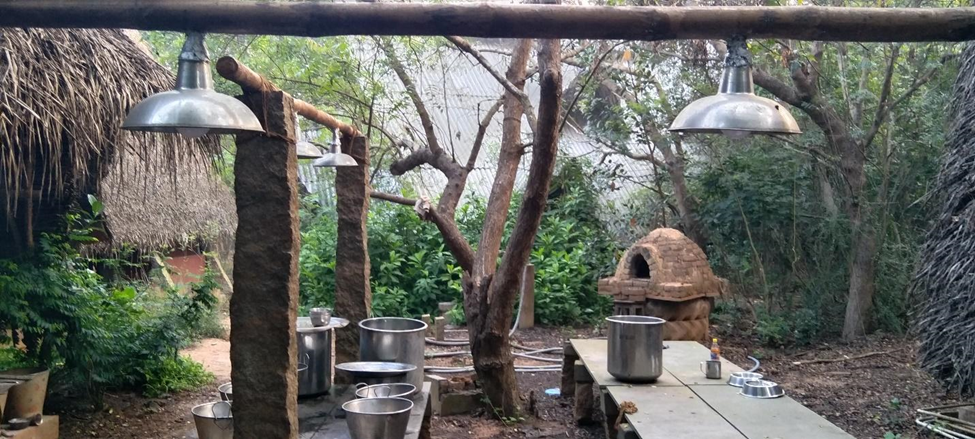 With time they worked on various water conservation projects and got help from many other people thus leading to a beautiful forest, that's now termed Sadhana Forest. Their first sapling was planted 18 years ago and many volunteers came across to help them through this process of planting and building the forest from nothing to a green lustrous forest now. The restricted plantation here forced them to only build a forest with indigenous trees which are native to this place thus enabling the microorganisms and animals to not get confused with a new type of plantation. The basic idea of growing a forest is to stick to the indigenous trees to ensure a better space for animals and organisms.
Now the forest is thriving from being a barren land to a fertile land housing more than 2 lakh plants. The research that was conducted in the year 2020, found more than 91 species of birds living in the Sadhana Forest.
Sadhana Forest is all about reforestation, water conservation, and low-impact living and they have not just done this in Auroville but also in Kenya and Haiti alongside India.
The forest has been accommodating volunteers from across the globe who happen to co-live with the microorganisms and animals inside the forest. This lifestyle is also popularly known as minimal or low-impact living. The volunteers come here and perform various tasks to lead a minimal living standard. They have a set regular schedule including making all three meals for the day at different hours, taking care of the rescued cows in the cow shelter, cleaning the area, and taking care of the daily washroom compost. One of their major works is the exclusive design of their restroom. This is built to ensure the usage of the waste as compost and this includes waste from the washroom, kitchen, and other areas of the forest.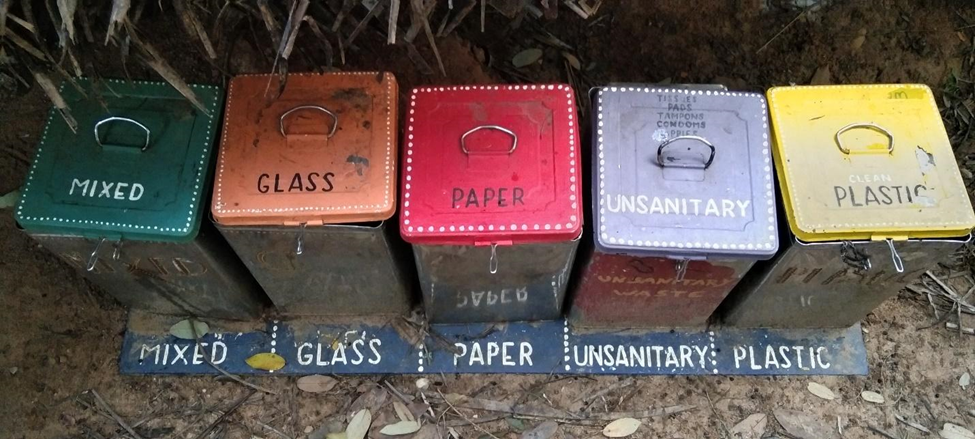 Sadhana Forest also organises events every Friday that include a forest tour, and an eco-film, followed by a beautiful vegan dinner absolutely free for their visitors. They even have a free bus service from Auroville, Solar Kitchen that takes you to the forest and drops you back. We were mesmerized by the dedication and hard work of these individuals, that has kept the place safe and green. They have no doors or windows at Sadhana Forest as they live in huts made of bamboo. Be it their amazing organic vegan breakfast to their segregation of waste, Sadhana Forest has been doing a great job in making this concept a success.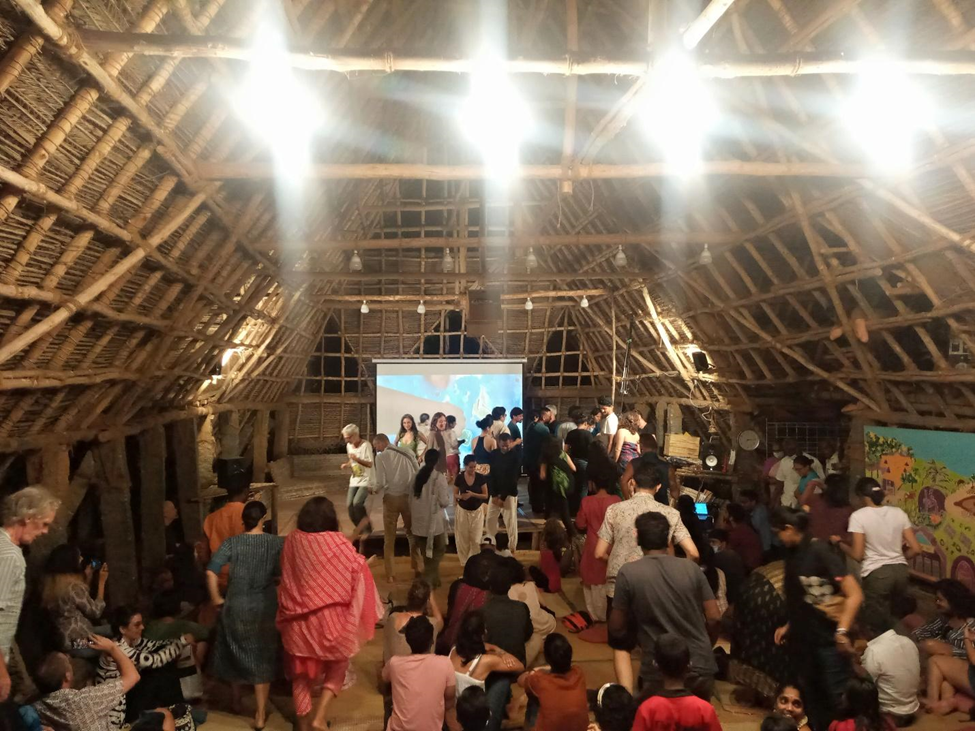 Our Experience at Sadhana Forest-
We joined them for a morning stretch where they happen to do some early 5:45 am exercise session standing in a circle and ending the session with happy hugs and smiling faces to start the day.
We spoke to Piyush who has been volunteering in Sadhana Forest for over six months. He was handed the task of taking care of the cows and their food on the morning we visited Sadhana Forest. He rightly quoted that being a vegan community, Sadhana Forest does not believe in milking cows. Piyush also mentioned that the cows are all rescued from unfavourable conditions created by the prior owners. Many of these cows are sent to the slaughterhouses when not in use and Sadhana Forest saves them from such situations. He also mentioned that Sadhana is a community with a noble idea of living a sustainable life. The idea of covering the earth with more forest area and making the land more fertile is something that he wishes to see in the future. Alongside he wanted to enjoy the time of living together as a community sharing food, space, and lots of laughter which is somehow lost in today's time.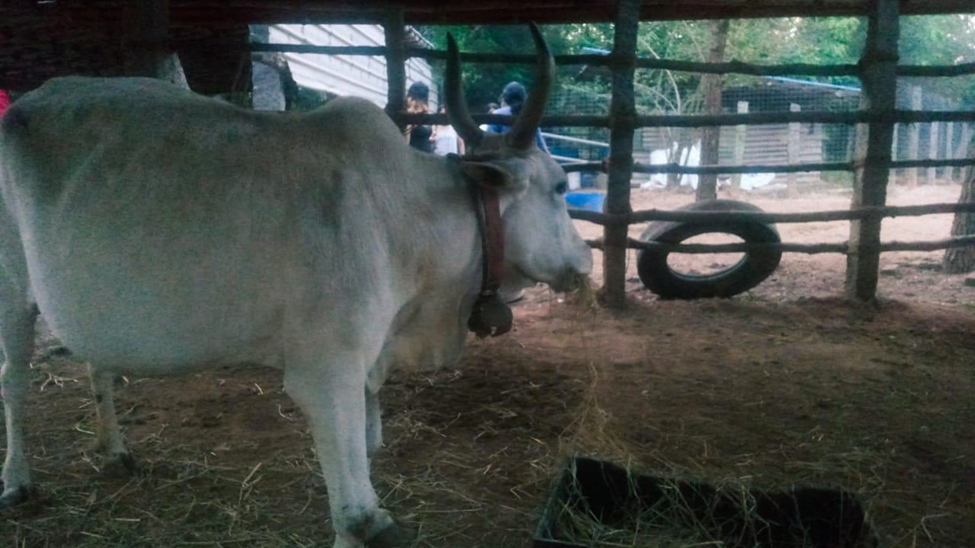 Arvind is a volunteer leading the Kitchen area and had a lot to share. He has been volunteering for over 2.5 years starting with just the idea to help develop the forest; however, with time he took charge of the kitchen and managed it. His typical morning starts at 6 am managing breakfast, lunch, and dinner. He likes the fact that the community kitchen is a major practice here as it saves a lot of time and everyone gets to eat the same meal together. He also mentioned that they believe in keeping things healthy which means not allowing refined or processed food to be a part of the community. The kitchen is also vegan and cruelty-free leaving them to live a much healthier life.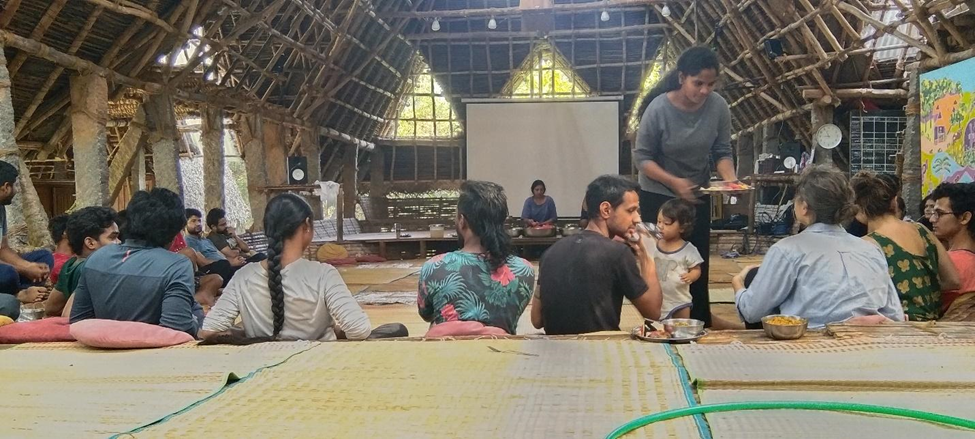 Next time when you visit Auroville, think about doing something different at Sadhana Forest, contributing to mother earth.
Connect With Sadhana Forest –
Address – 1, Sadhana Forest Rd, Auroville, Tamil Nadu 605101
Website – https://sadhanaforest.org/
Volunteer – https://sadhanaforest.org/india/get-involved-india/getting-involved/
How to Reach –
One can take a train or flight either directly to Pondicherry or Chennai. If arrival is in Chennai, you can take a government/private bus or hire a cab directly to Sadhana Forest. A typical government bus charge is Rs. 200 and private service is anything between Rs. 1000 to 1500. A hired taxi can charge up to Rs. 2500. If you plan to visit Auroville, it's best to avail of their Friday event bus service from the Solar Kitchen absolutely free of cost.
Suggestion – It is a better choice to connect with them beforehand if you are planning to volunteer!