Special Themed Restaurants in Hyderabad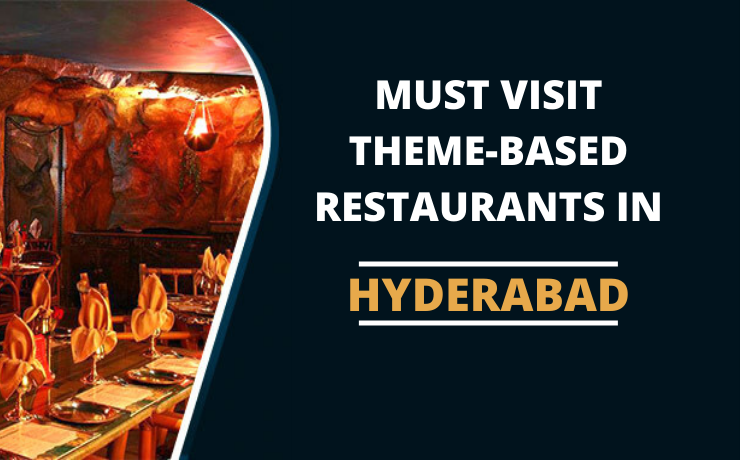 Hyderabad is a foodie's paradise. To make the experience more than just food, P Manisha provides you unique themed Restaurants and Cafés where the ambience complements the cuisine, creating an entirely new world to explore.
Ohri's Group of Restaurants
With over 40 years in the restaurant industry, and managing at least 22 restaurants, the Ohri's group certainly is the pioneer of concept eating in Hyderabad.
Their collection comprises the Ohri's Gufaa which transports you into a dimly lit and spooky feels cave-themed restaurant. Take use of your wild and adventurous side and embark on an extraordinary dining adventure.
Visit:
Door No.5-9-30/16-20, Ohri's Cuisine Court, Opposite Old Gandhi Medical College, Basheer Bagh, Hyderabad, Telangana-500029.
Call:
+91 98667 78006, +91 80089 04328.
Cuisine:
North India
Another one in the collection is the Ohri's 70mm, "naam toh suna hoga." Enjoy a dining experience in Bollywood style, where you can dine while listening to the latest Bollywood songs in a cinematic ambience.
Visit:
Ohri's Jalavihar, Necklace Road, Khairatabad, Hyderabad, Telangana-500068
Call:
+91 87908 77588; +91 98666 93539; +91 99594 00038
Cuisine:
Multi-cuisine – Continental, North Indian, Chinese
All of Ohri's collections are a must-try, do check out your favourite one among these themed restaurants compiled on the webpage; Ohri's themed restaurants.
This dhaba-themed restaurant is an ideal getaway for anyone tired of the city's hustle and bustle, offering a change of scene, a soothing ambience, and a delectable menu.
Visit:
Image Garden Road in Madhapur, Hyderabad.
Call:
040 3516 5185
Cuisine:
North Indian, Chinese, South Indian
This restaurant is a wonderful spot for individuals looking for a vacation mood in ambience and seafood for appetite. It is a Goan restaurant both in theme and authenticity of the meals. A must-try for anyone who enjoys the beach.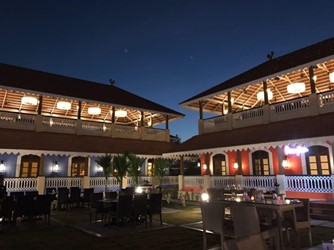 #9-1, Sy. No. 304, ISB Road, Financial District, Gachibowli, Hyderabad – 500077
Call:
+91 9100332244 / +91 9100666616
Cuisine:
Goan cusine, Bar.
A socially responsible and conceptual restaurant where diners may experience the aromas and flavours of the cuisine in complete darkness. Want to enjoy an out-of-this-world experience? This concept restaurant will lead you to your one-of-a-kind feast, with the greatest part being the surprise menu. This is the place to go if you're up for a culinary challenge.
Also, check out their Begumpet branch.
Visit:
Level 5, Inorbit Mall, Inorbit Mall Road, Software Units Layout, Vittal Rao Nagar, Madhapur, Hyderabad, Telangana 500081
Call:
040 6746 0020
Cuisine:
SURPRISE!
The Robot Kitchen, a restaurant that will undoubtedly take you to a sci-fi universe with its robot-waiters, is a once-in-a-lifetime experience. Expect to have a jaw-dropping encounter with robots wishing you a "Happy Meal" with the low light atmosphere, faint music, and robots zooming past your tables.
Visit:
2nd Floor, alcazar mall, Rd Number 36, Jubilee Hills, Hyderabad, Telangana 500033
Call:
096184 82233
Cuisine:
North Indian, Indi-Chinese, Thai
Sahib Sind Sultan – Journey 1853
This Vintage railway-themed restaurant that takes you to the British Era, is a perfect place for a family dinner. The classy atmosphere is a pleasant distraction from the equally great food blended with Nizami flavours. The beautiful seating is made to look like royal railway carriages.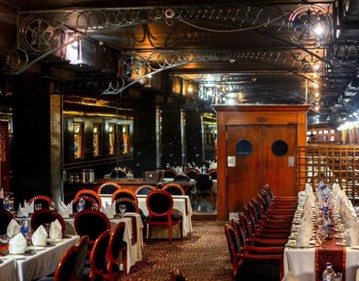 Visit:
5th Floor, City Center Mall, Road 1, Banjara Hills, Hyderabad, Telangana 500034
Call:
040 6668 3337
Cuisine:
North Indian, Mughlai
Khaidi Kitchen is the place to go for eccentric gastronomers looking for a fun experience. Get your meals served in a lockup cell and enjoy a dinner of confinement yet freedom of varied flavours in a prison atmosphere with waiters and managers costumed as Khaidis and jailers.
Visit:
286/A, Main Road, MLA Colony, Banjara Hills, Hyderabad, Telangana 500034
Cuisine:
Continental, Italian, North Indian, and Chinese dishes – Veg Only
As the name depicts, a wholesome authentic Telugu-style meal is the highlight of this village-themed restaurant. Get nostalgic with memories of your birthplace and deliciously cooked meals served in traditional banana leaves, dried leaf bowls, and a spot adorned with bamboo chairs and lanterns.
Visit:
See Also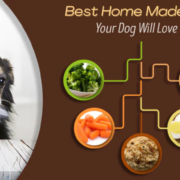 MIG-423, Rd Number 4, K P H B Phase 3, Kukatpally, Hyderabad, Telangana 500072
Call:
084658 16845
Cuisine:
Biryani, Andhra Cuisine
With an all-pink atmosphere and a fantastic location for Instagram-worthy images, a floral-inspired café is constructed that presents a perfect environment for a date or a romantic trip. The food and beverage selection compliments the café's ambiance while also pleasing foodies.
Visit:
Plot 32 , second floor, Rukminipuri Colony, Sainikpuri, Secunderabad, Telangana 500094
Call:
040 3559 2634
Cuisine:
Café, beverages.
Consume Confetti is a dessert café that aims to transport clients back to their childhood memories by allowing them to not only be surrounded by but also eat confetti. The concept is so intriguing that it has attracted the attention of numerous influencers; visit this fantasy world café and click amazing pictures for your Instagram profile. If you enjoy sugary treats, this is a must-visit.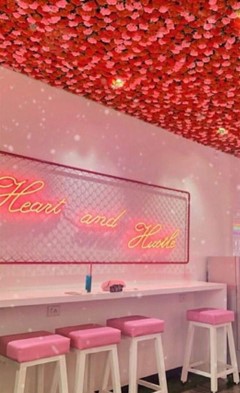 Visit:
Plot No.57, Road No,72, Prashashan Nagar, Jubilee Hills, Hyderabad, Telangana 500033
Call:
096666 41577
Cuisine:
Ice creams, cakes, beverages and candy floss.
Special Mention:
Cloud Dining
Cloud eating warrants a spot on this list, despite being a touch off-kilter from themed restaurants. Cloud eating is a touch pricey, but it's a worthwhile adventure and once-in-a-lifetime event that will undoubtedly earn a spot on your bucket list. The feature of this restaurant is a three-course meal served with 25 other people at 160 feet above the ground and a lifetime of cherished memories.
Visit:
Survey No: 68 ABC, Hitech City Rd, opposite Shilparamam, HITEC City, Madhapur, Telangana 500081
Call:
+919154026385
Cuisine:
3-course Veg/Nonveg Meal fixed menu