Tasteful Decor: Incorporating Swings In Your Home
Adding a swing to your home can amp the décor aspect several notches higher, as these experts tell you. Bindu Gopal Rao writes on the long-lost interior item of Indian homes.
Swings, once a staple in traditional Indian homes, have slowly lost their relevance when pit against modern interiors. While swings are deemed to be the most ideal when used in an outdoor balcony or a garden, a swing within the house adds a playful note and brightens up the space.
Swing It
Plan it Right
A swing is an element in decor that requires more than just spatial planning. Its oscillating movement must be thought of while planning the location. "An ideal way of optimising its required area would be providing swinging space along with an additional walking area. In semi-covered spaces such as courtyards or balconies, a swing with a backrest is preferable, whereas indoors, one without a backrest comes to an advantage. When placed in an aloof corner of the house, this swing can work as a place to meditate and contemplate," says Meena Murthy Kakkar, Design Head and Partner, Envisage Projects.
With respect to positioning, swings placed in the central part of a room enable additional accessibility from both sides. However, the placement of swings in the main circulation areas could turn out hazardous for people as accidents are least expected inside homes.
Family Files
Swings become part of the conversations at homes, acting as social spaces. "Key to families, swings add life, character, and fun to the entire space that makes it a great interactive element for kids. For the outdoors, an interesting arrangement would be a swing placed below a pergola or a gazebo, embraced by dense greenery all around," says Shalini Chandrashekar, co-Head at Taliesyn.
Indoor swings are a great way to add alternative seating and a fun element to the interior spaces. While the indoor swings and the outdoors one work the same way, the safety issues need to be emphasised more. Wooden swings can be added as a visual separator or for additional seating in the living room or balcony. They are available with or without brackets and have proven to be versatile seating in one's home.
Material Matters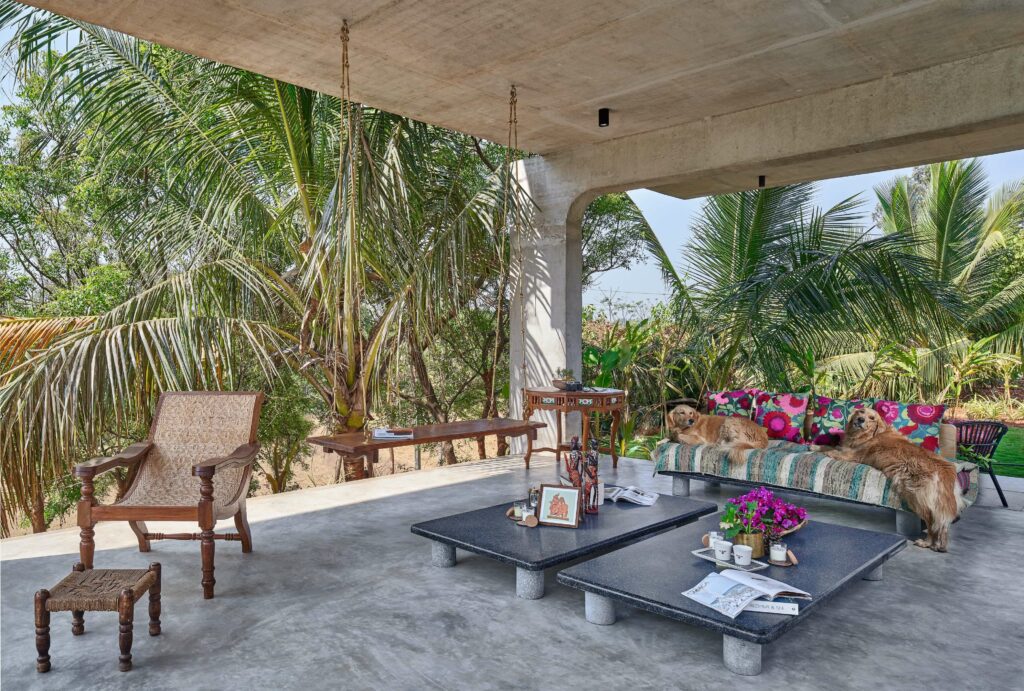 Wood is an ideal material for swings. It is a balanced mix of strength, stability, and weight. Combinations that go well with wood are cane, metallic supports, and upholstery. Various swing types such as traditional swings, cane swings, and flip back swings can be designed with wood as the primary element. Indoor swings are usually made of teak wood. They hold adjustable brass chains supporting the central swing with a curved backrest and hand rest. They come with fabric padding on the central portion to offer easy and comfortable seating. Unless one swings from an exposed beam, install eye screws into a ceiling joist that is secure for a swing to be mounted from. Using a half-inch diameter screw helps distribute the stress over a wider area while a thinner screw may adequately support the weight of a swinging person. Inspect the eye screws and ceiling beams for signs of wear or movement on a regular basis.
Advantage Factor
Swings are a way to exercise one's knees. They provide physiotherapy to the legs as well as craft the perfect space for some self-time. When designed with suitable materials, supports, and aesthetics, they add a vital sense of belonging to the house.
Shaily Ganatra, Founder and Principal Designer, The Auura Interior Design Studio says, "It can be added to the meditation space, or one can use it as a part of home-bar seating. Swings included in corners help induce an artistic touch to the room. When added to the bedrooms, they offer a whimsical quality to the space.  The inclusion of a swing in the living room also helps in uplifting the interior space. One can make the upholstery to be in a vibrant contrasting shade to make it stand out or use the same colour scheme to let it blend in." Swings are also nostalgic and associated with childhood memories, so when you add a swing, it can add more than a décor element in your home.
Understand the style of your interiors and location while choosing a swing.
Heavy metal swings may seem bulky in a contemporary house. The use of minimal light weight swings can be chosen for newer homes.
Consider the weight capacity of the swing as well as the user group. The requirements of a swing for a child would differ from that of an older adult.
Never place a stand-alone swing on the terrace. In rough weather, there is a high possibility of the swing flying off condos.
Do not place swings with heavy stands inside the house as the stand occupies twice the space.
Avoiding curvilinear swings will work well for one's body posture in the long run. Curved swings affect the back with continuous use.