The versatile Saba Poonawalla –  Love knows no boundaries in the world of animals

From leading a team at a Chennai-based bird census in the recent past to having a marvel of a dog which paints its own portrait, Saba Poonawalla ,a animal trainer, dog cognitive developer and behaviourist has one message for all: "Treat the mute with love and they shall cherish you forever." Canta Dadlaney gets into a delightful and engrossing conversation with on her journey with pets and more…
For those who feel a 24-hour day isn't enough, think again! Saba is a certified animal trainer, dog cognitive developer and behaviourist and an avid lover of nature. She has studied dog training under the aegis of India's renowned gold medallist, Ragnath Tamboli with whom she worked for three years. She has also successfully completed a course on the rescue and rehabilitation of snakes from the Kalinga Centre for Rainforest Ecology (KCRE). Her love for animals can be traced to her childhood when she discovered her oneness with them at the tender age of eight, whether it was dogs, cats, birds, or even reptiles. She kept them close to her heart as a child, and she continues to do so now. Her dedication and focus allowed her to pursue her passion, which has since been the source of her happiness.
As young as eight years old were distracted by animals…
Yes! I started camping at that age and that's how my tryst with the animal kingdom began. Animals infused a sense of belonging within nature, and in me. The feeling is indescribable, I always felt comfortable and experienced a sense of calmness and peace in the company of nature. This affinity towards nature and animals further strengthened through my teenage years, by then, I was determined to pursue my passion to the hilt.
Snakes, dogs, birds, and more… did you lose friends or gain friends?
The latter(she smiles). When the ones who had all kinds of animal phobias realized how sublime wildlife is, my bandwagon of animal lovers grew in size.
Most parents would object to your preferred choice of a career. How did your parents accede to it?
Call it sheer coincidence, but my parents and my in-laws have been very supportive. My parents have always revelled in the peace and beauty of nature, and they have been extremely supportive. I never faced any pressure to pursue an academic career of their choice.
How did your start working with Ragnath Tamboli?
I had taught my dog Theodore to open a storage unit and get me a bottle of water. I have always believed that animals are extremely intelligent. A lot of love and patience can make them do wonders. Ragnath Tamboli sensed this in me and let me accompany him. I did, for 3 years, and those were wonderful years for me. He is an incredible tutor, exemplary by all standards. He played a vital role in nurturing my passion for animals. For the first function of my wedding, he and I were engrossed in one of many such training sessions for the first half of the day!  A big day in my life but I was quite nonchalant as my dog training took precedence.
You are one of the few Indians who employs positive reinforcement methods with dogs. What exactly is that?
The training methods adopted in India are still quite archaic. You don't have to use a baton or shout orders at a dog to perform a task. Positive reinforcement methods are reward-based play techniques which enable dogs to obey you. I resort to them when it comes to my own pet dogs. And believe me, they work wonders.
Can you share an incident or two to understand this better?
A four-year-old mixed breed dog was adopted by a loving family. Unfortunately, the dog had a history of abuse, which made it react when taken outdoors. The couple resorted to a shock collar which enabled them to distract her, whenever she became reactive. When I was asked to assist them, I used the necessary positive reinforcement techniques. Things worked out perfectly and the family dispensed off the undesirable shock collar. As a trainer and behaviourist, this was one of the most rewarding experiences for me.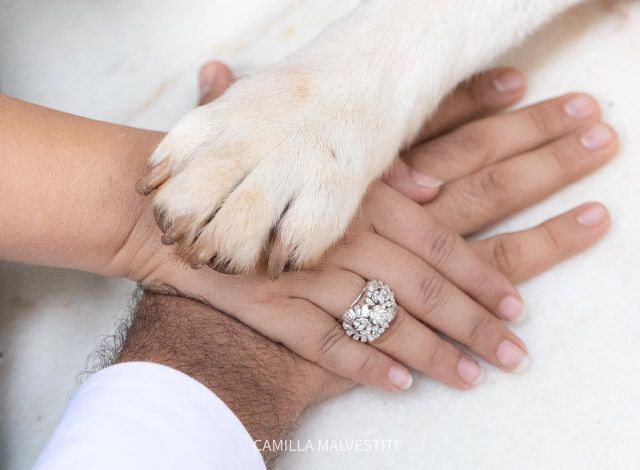 Have you ever felt emotionally drained by such incidents, especially the ill-treatment meted out to animals? How do you cope with it?
I do, in fact, I struggle with it consistently! Just because animals are mute and can't cry out for help does not give anyone the right to abuse them. Look at the manner in which materialism continues to deplete the natural resources of the earth. The imbalance between the animal kingdom and human beings keeps increasing. Their natural habitat is being harmed mercilessly. I try not to get affected and endeavour to save as many of these wonderful creatures.
Has animal cruelty ever made you re-think your decision about caring for them?
It has strengthened my resolve to work for them even more. In the recent bush fires which occurred in Australia, I made special pouches and sent them to the care givers/volunteers, to help baby kangaroos (Joeys), Wombats and Koalas. Whenever possible, I feed almost 200 animals.
Rapid-fire:
Retirement plan: I would love to set up a shelter for all animals- dogs, cats, snakes, hyenas, crocodiles, elephants, leopards, and even tigers.
Name a few favourites:
Birds: Paradise flycatcher, Crows, Indian Pitta, Vigor's sunbird, Malabar pied hornbill, Vultures, as many as I see…
Dogs: Indies, Labrador, Retriever, Jack Russell Terrier, Weimaraners, Belgian Malinois.
The road: To recreate forests and sustainable environments for animals. I want to walk in the footsteps of my mentor.
Role models: Ragnath Tamboli, Steve Irwin