Top 10 Tile Design Ideas of 2023 for Your Living Room
Tiles bring life to every nook and cranny, telling a tale of style and refinement with a symphony of alluring hues, fascinating patterns, and welcoming textures. The tiles are more than simply decoration; they reflect your personality and hobbies. They range from quiet minimalism that soothes the spirit, to bold and passionate patterns that spark the imagination. Isha Tandon, a flooring consultant expert, explores a seamless mix of creativity and invention that goes beyond the ordinary and turns your home into a haven of modern beauty with home tiles.
Texture-design Tiles
Textured tiles are growing in popularity as they provide any space with depth and personality. Various patterns and surface treatments, including rough, embossed, and 3D designs, create an eye-catching aesthetic impression. Textured tiles can be used on floors or walls and are frequently effective in spaces where you want to provide a mystery or focal point. These tiles are aesthetically attractive due to their tactile character, adding a sensory aspect to the design.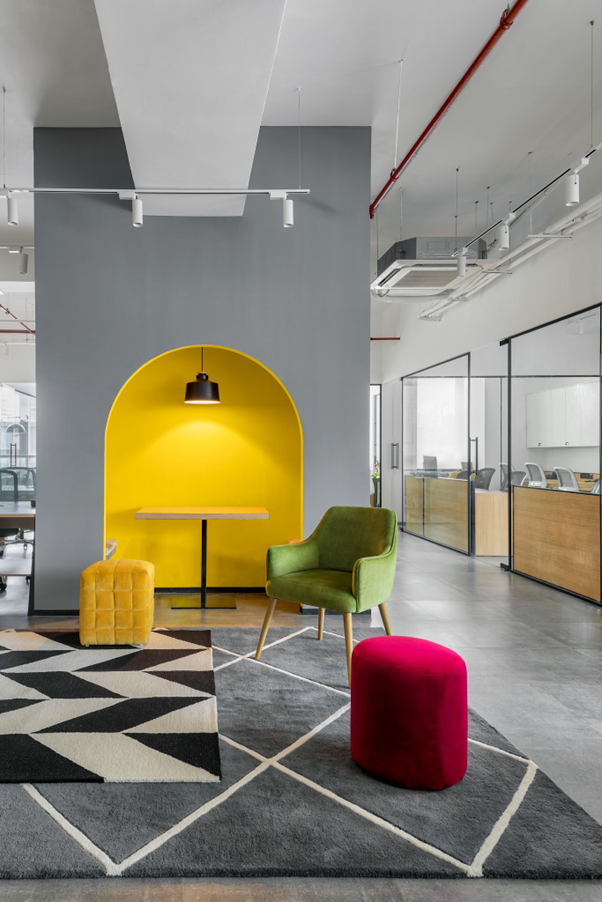 Natural Stone Tiles
Natural stone is the top choice for famous wall and floor tile designs. They can easily enhance your space, be it marble, granite, travertine, or limestone. These stones can be used for flooring, bathroom walls, and kitchen counters.
Natural Colour Schemes
Earthy and natural colour schemes have recently gained popularity in the latest wall tiles design. Warm browns, relaxing blues, gentle greens, and earthy neutrals are just a few examples of colours drawn from nature that provide a living area with a peaceful and harmonious atmosphere. The atmosphere in the space is calmer and more connected to nature thanks to these colours, making it seem cosier and more inviting.
Large-Format Tiles
Large-format tiles have revolutionized the design industry when considering floor tiles for homes. Fewer grout lines create a smooth and spacious appearance. Particularly in small spaces, large-format tiles can make it appear more spacious. They also provide a modern look that blends nicely with different design trends.
Deep Hues
Deep navy, rich burgundy, and dark forest green are just a few examples of warm, deep colours that have recently been popular in the home floor and wall tiles designto make a space seem cosy and private. Any space becomes more comfortable and sophisticated with the addition of these colours, giving it depth and refinement. Warm, rich colours can provide a gorgeous and visually arresting room when combined with lighter accents and sufficient lighting.
Natural-wood Look Tiles
The visual appeal of natural wood and the durability and ease of maintenance of tiles are combined in wood-look tiles to provide the best of both worlds. Thanks to developments in printing technology, these tiles can accurately simulate the appearance of numerous wood species. There is a wood-look tile to suit every preference, whether you prefer the appearance of rustic oak, exotic teak, or weathered driftwood. They are a great alternative to natural wood in spaces with a lot of dampness, such as bathrooms and kitchens.
Striking Floral Design 
Floral motifs are returning as the latest wall tile design. Modern, striking abstract flower patterns have replaced obsolete, too-cluttered, traditional floral patterns. The latest floral designs are more subdued, creative, and elegant.
Moroccan Design Tiles
Moroccan tiles are getting popularised with their extensive and bright style. These tiles have solid and warm colours throughout the design, which create a welcoming and dynamic mood. These tiles can provide aesthetic appeal and cultural depth to any interior space.
Classy Onyx Design
Onyx tiles are an affordable and robust alternative to natural onyx, which is quite expensive and delicate. Best known for its beautiful veining and transparency, these tiles work best on countertops, backsplashes, and feature walls. They replicate the mesmerising design of natural onyx, quickly giving your living room a sense of luxury and refinement.
Aesthetic Brick Design
Brick tiles resemble exposed brick walls and look great in modern and vintage-inspired designs. You can find brick-design tiles with any wall tiles manufacturer as they give interior spaces a rustic or industrial character. Brick tiles can be used in various spaces, including the kitchen and living room, and even as a feature wall in your bedroom.
Conclusion
These latest tile trends will transform your living room into a stylish and warm area. Whether you go for the natural beauty of stone, the cosiness of warm hues, or the intricate patterns of Moroccan themes, these trendy tile trends from different floor tile manufacturers in India can help you create a modern and traditional home.