Summers in India are quite hot and people love to escape to the northern parts of India to have a relaxing and adventurous vacation for fun. In recent times Skiing has become an interesting activity. Ski resorts are providing basic training for beginners to learn this sport. There are only a few destinations in India that provide these great adventure activities for their guests. Many also include other winter sports in their package.
10 Top Ski Resorts in India
We have listed out the 10 Top Ski resorts in India where you can witness India as a winter dreamland.
1) Khyber Himalayan Resort and Spa
Located in the Pir Panjal Range, Khyber Himalayan Resort and Spa is a luxurious ski resort with royal interiors, a homeopathic spa, and multi-cuisine offers for the guests. Some of Asia's finest slopes are here for you to ski. The Khyber Resort is a paradise for adventure seekers and you will get to experience this grand paradise by traveling through the beautiful meadows and slopes covered in forest.
Average Price Per Night: Rs 37,318/-
The best time to visit: Late December to February
Official website: https://khyberhotels.com/
2)Cliff Top Club
Cliff Top Club is a beautiful destination with wonderful facilities for a great family vacation. Located in Uttarakhand amid the Garhwal Himalayas, this place is a paradise for winter sports like skiing, skating, and sliding. Training and equipment for winter sports are available here. Every year, the National Winter Games are conducted here. The guests can witness the magnificent sight of the vast snow Himalayas and the resort looks like a small dot in midst of the grand Himalayas.
Average Price Per Night: 16,520/-
Best time to visit: December to March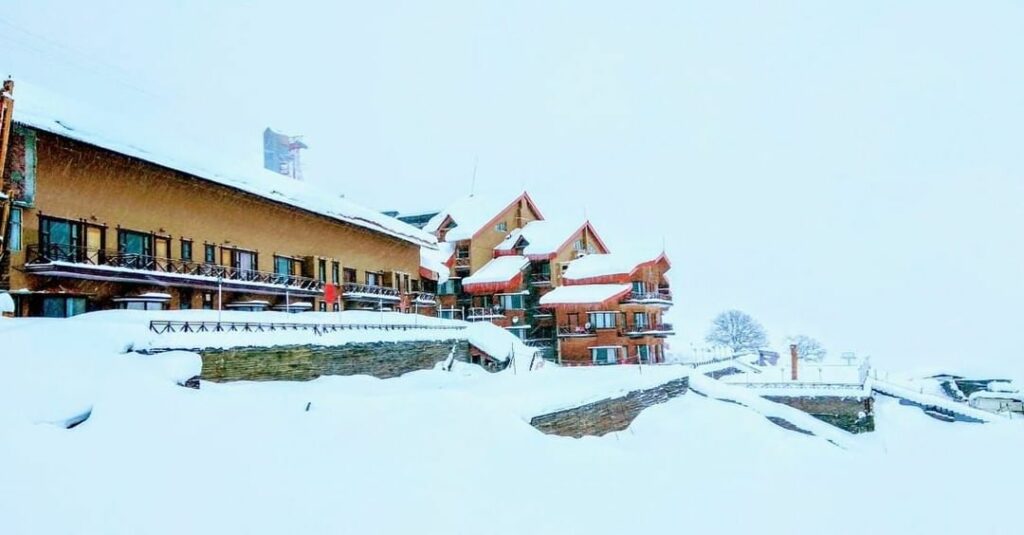 3)Hotel Highlands Park:
Hotel Highlands Park is a heritage ski resort located in Gulmarg. The hotel has modern facilities for winter activities. You can witness a great view of the Apharwat range. One of the toughest places for skiing, you can also learn with the help of Heli-Skiing here. This place is highly recommended for premium travelers to Gulmarg and one can witness a grand view of the snow-capped mountains.
Average price: Rs 5,600/-
The best time to visit: 2nd Week of February to March
Official website: https://highlandspark.in/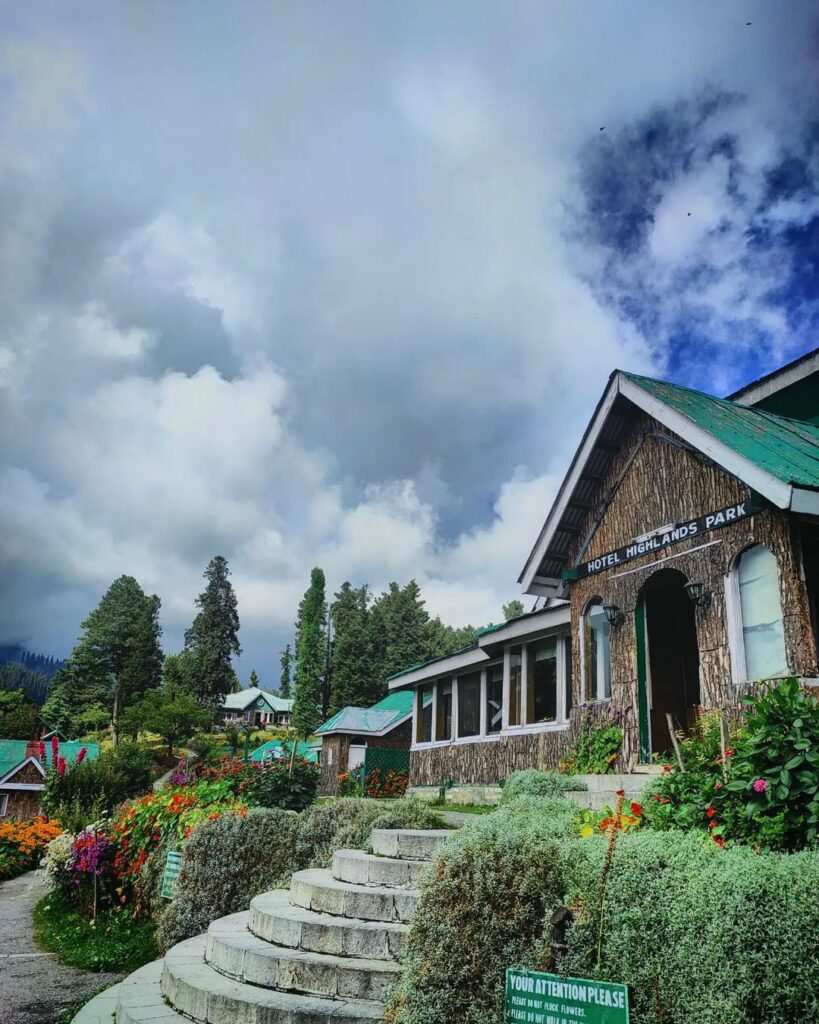 4)Solang Valley Resort
The Solang Valley Resort is located on the banks of river Beas. This luxurious ski resort is surrounded by snow-packed mountains and star gazing at this place is the best. The place provides modern amenities like hi-tech rooms and adventurous outdoor activities for guests. Located at a distance of 3kms from the popular Solang Valley and 12kms from the Hadimba Temple in main Manali town, Solang Valley Resort is one of the sought-after destinations in Manali.
Average Price: Rs 8732/-
The best time to visit: April to December
Official Website: https://solangvalleyresorts.com/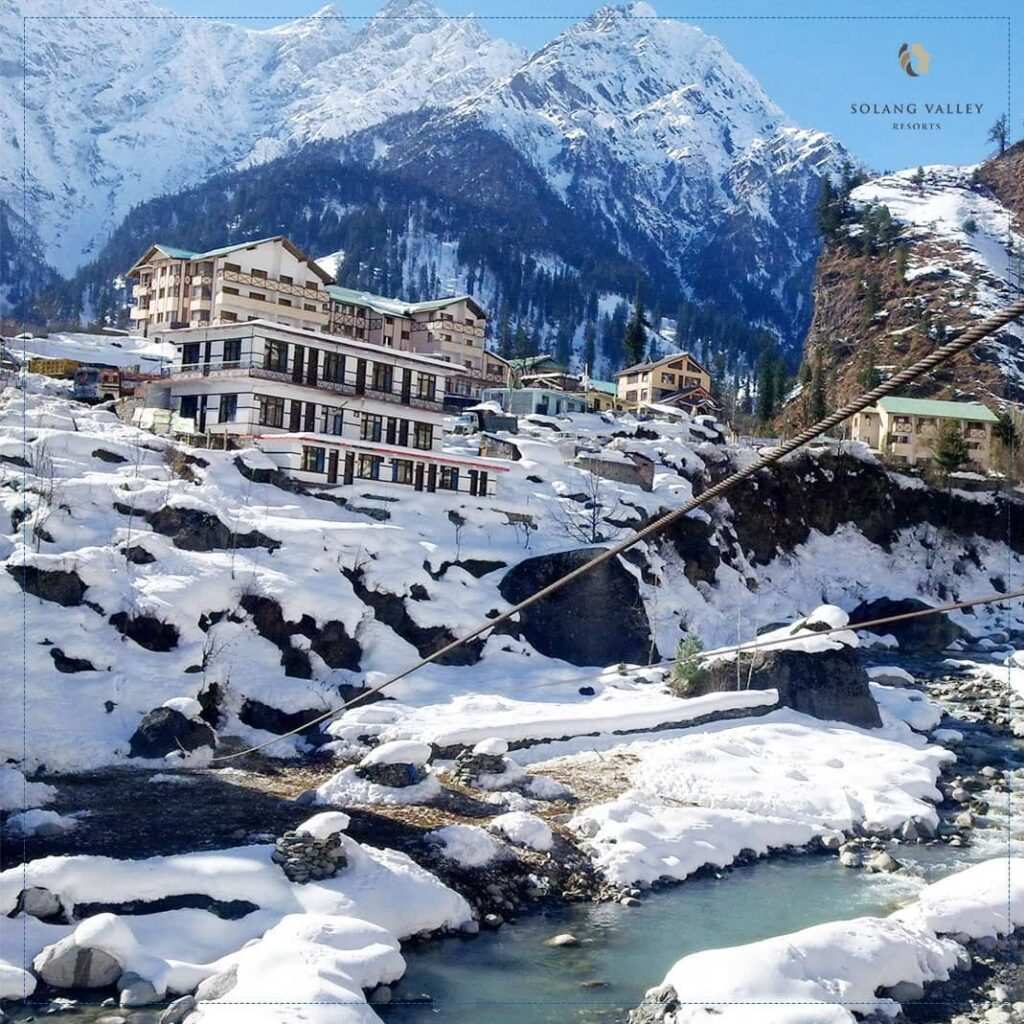 5)The Vintage
Located at an altitude of 2739 meters in Gulmarg, The Vintage Resort is an adventurous place with a view of Kashmir's valleys and the meadows. The rooms are made of oakwood. There are some wonderful activities here for the guests like skiing, heli-skiing, snowboarding, and ice skating.
Average Price: Rs 11116/-
The best time to visit: October to March
6)Negi's Hotel Mayflower
Negi's Hotel is a comfortable vintage ski resort with wooden interiors dating from the British era. The hotel provides travel assistance, car on rent, trekking, adventure activities, and has a restaurant with great cuisines. This place is surrounded by snow and is perfect for snowboarding and skiing. The hotel is located amidst the mountain slopes of Manali with breathtaking views and beautiful streams along the way.
Average Price: Rs 6,400/-
The best time to visit: December to March
7)The Oberoi Cecil
The Oberoi Cecil is a luxurious ski resort in Shimla located at an altitude of 2,134 meters in the Himalayas. The resort offers beautifully designed furnished rooms with Burma teakwood, a fitness center, and spa, along with a heated swimming pool indoors. There is also a separate activity room for children. This is a great place with luxurious amenities to have a wonderful vacation time with family. The Oberoi Cecil is near the city center, and railway station. While going to the resort we can also witness cultural highlights of Shimla like the Army Heritage Museum, and the Sankat Mochan temple.
Average price: Rs 13,000/-
The best time to visit: October to March
See Also
Official website: https://www.oberoihotels.com/hotels-in-shimla-cecil/
8)Fagu Ski Resort
Fagu Ski Resort is located at a height of 2500 meters above sea level and is a famous spot for adventure sports in Shimla. The place is surrounded by greenery, is rich in flora and fauna, has snowcapped mountains, and clouds all over. There are some beautiful apple gardens, potato fields and it is a must-visit place for nature lovers and trekkers.
Average Price: Rs 2,100/-
The best time to visit: October to April
9)Manuallaya Resort
Manuallaya Resort in Himachal Pradesh is a stylish luxury resort with modern designed rooms, cottages, and open gardens. The resort promotes local arts and crafts and has an exclusive library with a wide collection of books. Snow sports for all age groups is available here. Travel through the beautiful Kulu Valley and take in the view of snowcapped mountains and spectacular slopes.
Average Price: Rs 6,630/-
The best time to visit: October to February
Official website: https://www.manuallaya.com/
10)Himalayan Castle Resort
The Himalayan Castle Resort in Manali is one of the leading luxury resorts in India. Built in a Victorian-gothic style, the resort is situated at a perfect place where you can overlook snowcapped mountains and waterfalls.
All cottages have beautiful gardens, balconies, and great mountain views. There are some wonderful modern amenities here like bar, restaurant, outdoor activities provided for all age groups, an elaborate spa, and a boardroom.
Average Price: 11,500/-
Best time to visit: October to February
Official website: https://www.thehimalayan.com/
These are some of the best ski resorts in India. Grab your boots and get ready for a great adventurous vacation!