Travelers' Day Out Dumboor Lake, Tripura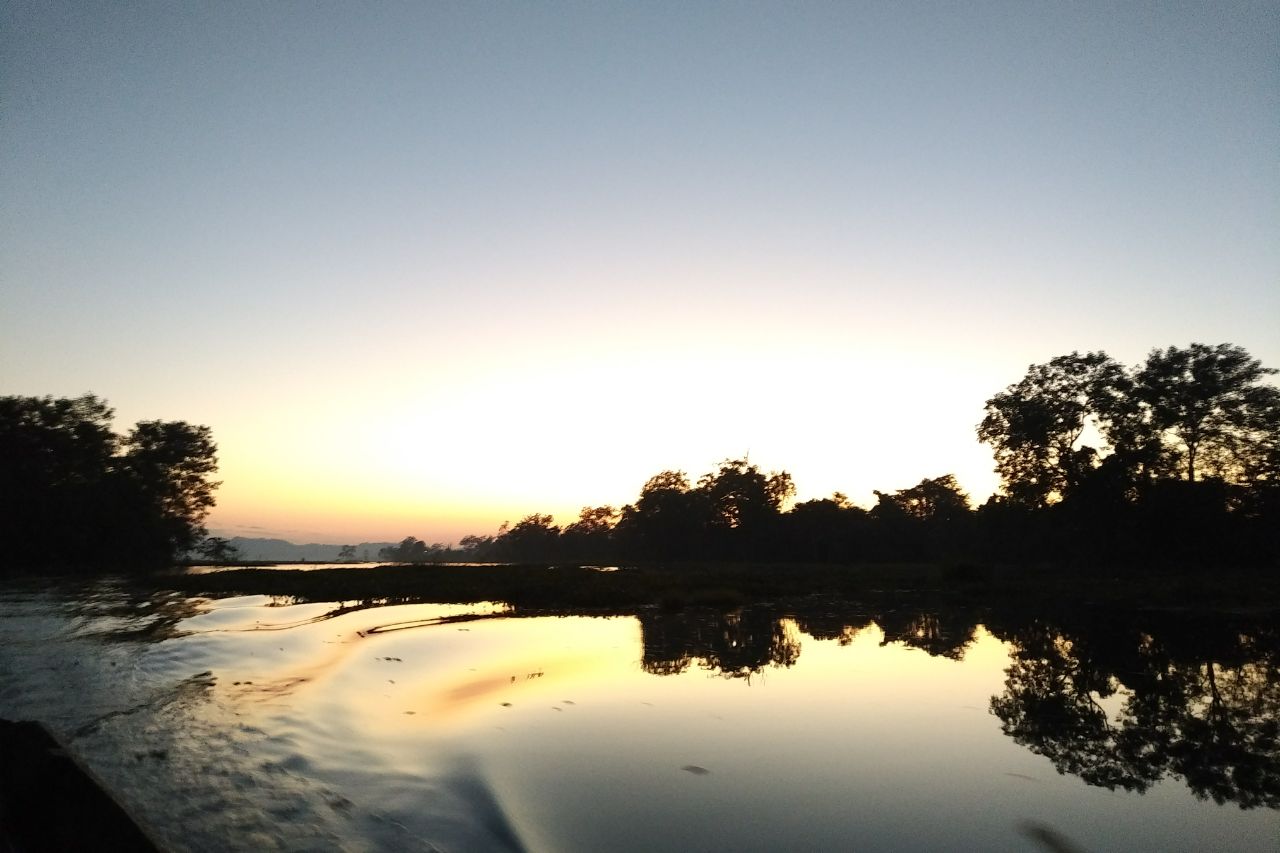 Avid travelers NIKITA BISWAS and ABHISHEK DUBEY recount their recent experience, travelling to Dumboor Lake, Tripura, and the island called Narkel Kunja.
A trip has been long on the cards, the pandemic making the wait only longer. We finally set out for Tripura, masks on and safety precautions completely in hand. It has truly been an experience like no other…
The journey to Dumboor Lake
Tripura is a beautiful state. Our excitement could hardly be contained. A long drive was to be undertaken in an SUV – and yet, the 3-and-a-half-hour-long journey did nothing to quench our thirst for adventure. Tripura is a state with a huge Bengali population, a testament of which can be seen on the billboards, signboards, and sweetshops around the state. We experienced a good, pleasant weather, something that was unexpected considering the ongoing heavy showers. Since we undertook this journey during Independence Day, we were fortunate enough to join the convoy of the tourism minister, accompanied by other dignitaries. It is this convoy that took us to the junction from where we could journey the resplendent Dumboor Lake in a boat.  
Best for:
Group Tour
Adventure Tour
Family outing
Weekend Outing
Romantic Getaway
Ride to Narkel Kunja
Dumboor Lake is surrounded by mangroves on all sides and was a truly a sight for sore eyes. Our boat ride allowed for a view of the lake and its surrounding like no other and gave us the opportunity to film our experience as the eye sees. We were able to see how the lake is used by the locals in their everyday lives, ferrying across in hand rowed boats.
The experience, however, was only beginning. We were informed that the occasion of Independence Day saw a tribal boat race occur, where men and women would race each other in friendly competition.
Our destination however, was the popular coconut island, known locally and officially as Narkel Kunja. The islanders met all visitors warmly, and we found ourselves swept up in the hustle and bustle of a happening and lively day. It is through our interactions with the locals that we found that there are around 14 islands in the area itself, and Tripura Tourism provides the resources and amenities for their upkeep and promotion, aiding the living standards of the tribes of the region by boosting economic growth. 
Of Coconut Islands and Boat Races
A Spirited Boat Race
Hooting, cheering, and whistling signalled the start of the boat race. With a total of 272 participants, this was clearly an event much awaited. Each longboat was composed of rowing team members. Men's team would have 7 members while the women's would have 9. For all those who enjoyed the closing ceremony at the Tokyo Olympics, this boat race was no less. The sight seemed to have jumped out of a period Hollywood movie, all gearing up to win for the sake of honour and of course, prize money!
See Also
Any further and we risk giving you spoilers for a journey that is meant to be experienced first-hand. Our photographs and videos hardly do the lake and its scenic beauty justice, least of all in encompassing the warmth of the people around us. For those looking for a short trip out of town, we strongly recommend this experience of a lifetime.
Cost
Hired car: INR 6000/night
Boat: INR 7000 for complete reservation. Boats here accommodate 15+ people.
Island stay and activities charge: Seasonal, depending on tourist influx
How to Reach
By Train – one can book a train from any location depending on the availability as lesser number of train travels in this route. However, a train from Kolkata is easy to book and take less time to reach Agartala, Tripura. One can then book a cab from Agartala Railway station to Dumboor Lake. The cab shall take 3.5 hours to drop you to the start point of the boat journey. From here, you hire a boat (1.5 hours) to reach Narkel Kunja island.
By Flight – This is the easiest way to reach Tripura. One can book flight from almost any airport to Agartala's Maharaja Bir Bikram Airport. From here, book a cab to your destination. The cost ranges from INR 4000-INR 8000.
By Road – Road travel is currently closed owing to COVID-19 and usually requires a passport and permit, owing to the shared border with Bangladesh.
Highlights:
Although open all season, it is best to travel during the winters for Dumboor Lake a wholesome experience.
We recommend booking your trip through the Tripura Tourism website for easier access and better pricing.