7 Food bloggers you should be following
From kitchen hits and missed to street food discoveries, social media is buzzing with food posts. There are thousands of food blogs, but only few manage to catch the eyeballs. In conversation with Avanthika Reddy famous food bloggers across India share their magnificent stories on how their exploration in the world of food began.
1. @foodiekashif
Kashif Tanwar, a celebrated food blogger, with over 667K followers, started his food blogging journey 10 years ago. Back in the day when Kashif started blogging, the dimension of the digital blogging world was still not in the limelight. It was not easy when he had started, as he was a student and couldn't afford restaurant bills. Coming from a middle-class background meant that pocket money was very little. "Whatever small money I saved, I used to spend it on paying the restaurant bills so that I can create content for FB, Instagram and Zomato," says Kashif. As things progressed his posts on Instagram started receiving traction. Today, Kashif has made his mark in the food blogging industry and has collaborated with some of the best big brands globally. Despite receiving a lot of fame and recognition, Kashif stays true to his humble nature and does his best to try and promote small food businesses in Mumbai as well.
Kashif's food recommendations in Mumbai:
Shalimar bhendi bazar for non veg delicacies.
Baba Falooda for its Falooda.
Kashif Tanwar, 27, digital marketer and food blogger.
2. @justtt_food
With over 337k followers, this enthusiastic food blogger from Bangalore started blogging for a surprisingly different reason, "I started the @Justtt_food page on Instagram in February 2018, right after I received my degree, it was my dream to start a themed restaurant with my money before I turned 30," says Deepthi Atluru. Before starting a restaurant, she wanted to learn the best and worst of the food industry so that it would help her gain experience in setting up the restaurant of her dreams. Today her eagerness to learn has landed her in Bangalore's most celebrated food bloggers.
Deepthi's top recommendations to try out in Bangalore
1. Naati style Biryani from Shivaji Military hotel
2. Uncle Angadi Egg Rice.
Deepthi Atluru, 24, Network engineer
3. @foodiesafarii
A hospitality industry genius from Delhi turned into a professional digital marketer with 115k followers on Instagram who is diligently chasing his immense love for food & travel. "To sum up, I am a backpacker who loves to roam, dreaming about what to eat next," says Bineet Singh. When it comes to choosing your favourite food, it's always going be a tough choice, but not anymore, foodiesafarii brings you the best, and the most delicious food heavens across the city. From being just a food lover to a food blogger and an influencer, Bineet had a lovely & drooling journey of more than 4 years. Every time you visit his Instagram page, you will start craving all your favourite, as he likes to say it foodiesafarii has a thousand ways to make you drool! His idea behind starting foodiesafarii can be traced back to the year 2013, when he was pursuing his graduation, he shaped his dreams of sharing the love for food and travel through Instagram, in 2018 during his time in MBA. One fine evening on 1st Feb 2018, foodiesafarii came into existence & since then he has not looked back.
Bineet's top 2 recommendations from Delhi would be
Chole Bhature from Giani di hatti, Chandni Chowk
Qureshi kebab and Aslam butter chicken from Jama Masjid
Bineet Singh, 27, Campaign Manager.
4. @Juvelladgamaofficial
With 70K+ followers, Juvella D'Gama is easily one of Goa's top Instagrammers and lifestyle bloggers. Starting out as a fashion blogger, Juvella's love for creating content encouraged her to explore the world of travel and food blogging. "I love creating content that gives people reasons and ideas to take inspiring pictures themselves when they are on their vacation," says Juvella. Her feed is an epitome of aesthetic, and her food recommendations are the perfect guide for a tourist in Goa.
Juvella Dgama's restaurant recommendations in Goa:
Frida Cantina
Moyo Goa

Juvella Dgama, 25, Executive Supervisor.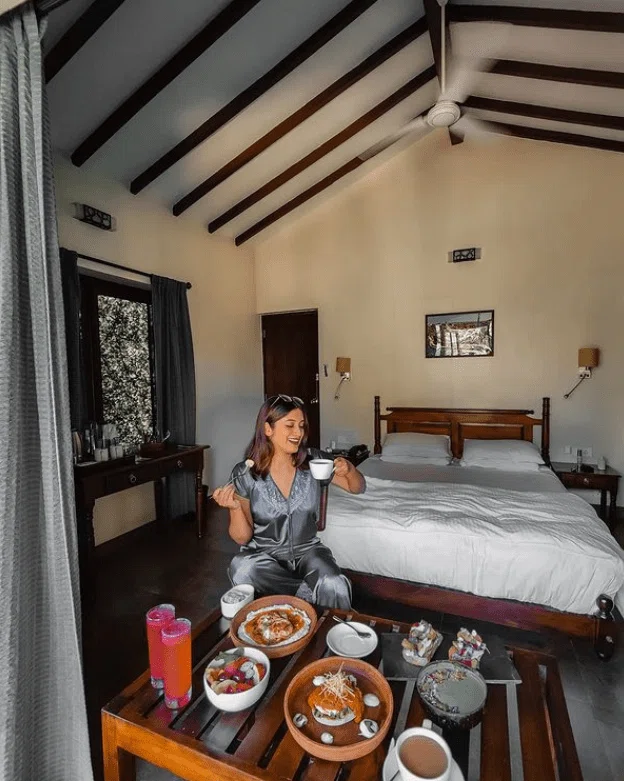 5. @dr.foodiehyd
Ask anybody in Hyderabad about the crazy food videos with entertaining background dubbing and people will easily tell you it's the infamous Dr. Foodie. With over 117k followers Dr. Ahmed Ashfaq is a celebrated food blogger from Hyderabad and what makes him unique is his creative way of presenting videos in the most iconic Hyderabadi style. His voiceovers are as great as his exploration into the cuisine in Hyderabad. "I started food blogging 3 years ago with little knowledge about food or even food blogging. I am still learning about various cuisines, how the dishes are prepared etc. I started gaining traction once I started doing voiceovers with a Hyderabadi/Dakhani twist. People started appreciating it and shared the posts or reels with their friends and family. I think the voiceovers have played a big part in my growth on Instagram," says Dr. Ahmed.
Ahmed's recommendations when one visits Hyderabad, "One of my favourite places to eat Biryani is at Shadab Hotel. Other places I would recommend are Adaa at Taj Falaknuma, Cafe Niloufer's chai, Spicy venue's Apricot Delight and of course haleem. I mean the list is endless honestly," says Ahmed
Dr. Ahmed Ashfaq, Orthodontist, Food blogger, Entrepreneur(baking)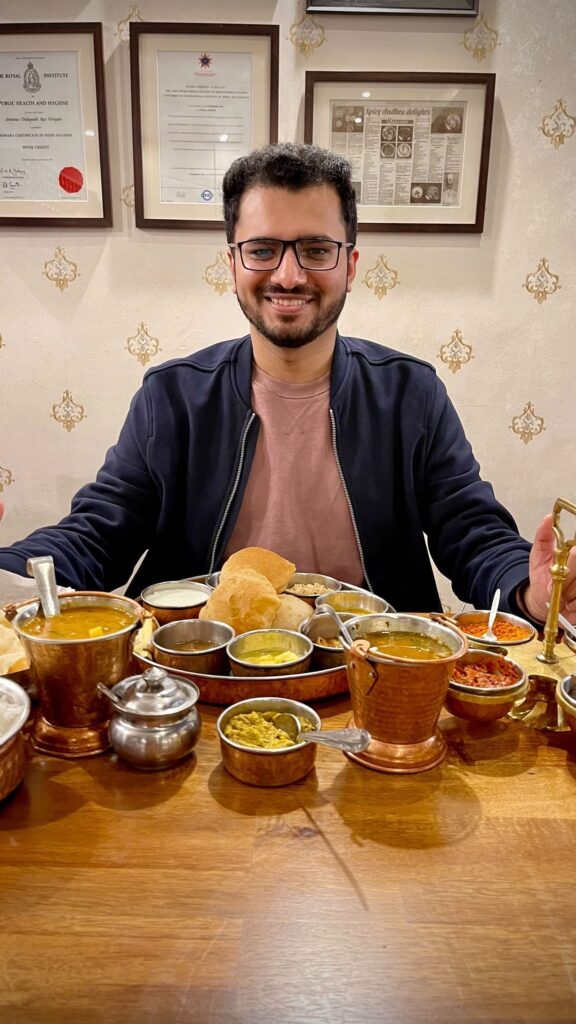 6. @avi.jit.bis_Kolkata
With a family of 50k Avijit from Kolkata is a renowned blogger exploring the food delicacies in Kolkata. "I forgot when I last saw my weight below 100. I'm a foodie from birth. From baby food to biryani, I never missed anything. As I grew up, I learnt to present my passion in documented format on Instagram, Facebook, Zomato and Google over the last 9 years in this F&B Industry. That's how my journey as a blogger started. Blogging is a huge thing, so I prefer to introduce myself as a 'Food and Photo Enthusiast,' since I believe 'With Great Powers Come Great Responsibilities,'" says Avijit.
See Also
Avijit's recommendations in Kolkata:
1. Hotel Sidheshwari Ashram,19, Rani Rashmoni Rd, Esplanade, Dakshineswar, Kolkata, West Bengal 700087
2. Laxmi Narayan Shaw and Sons, 158, Bidhan Sarani, Near Hedua, Sovabazar, Darjipara, Machuabazar, Kolkata, West Bengal 700006
Avijit Biswas, 39, Assistant Engineer (Civil) at Kolkata Metropolitan Development Authority.
7. @munchymumbai
With a foodie fam of 178k munchymumbai leaves no stone unturned in exploring the food galore. "Coming from Gujju households, we are big foodies. We started MunchyMumbai to share our love for home-made food and street food, and slowly graduated to exploring restaurants," says munchymumbai. "Back in 2015, all this was new, but it has been an unforgettable journey. They love being food influencers, and wouldn't have it any other way!" When we say they, 'mumchymumbai' is a wonderful creation of two young and talented bloggers Sagar Rupani (28 years) and Parth Kothari (28 years). Mumbai is the city of dreams and a melting pot of cultures. It's one of the best places for anyone who wants to explore a little bit of every cuisine; "There's so much love in the food you eat in this city! There are innumerable options to choose from- be it street food like chaat, pav bhaji and momos or gourmet restaurants, swanky breweries and legendary cafés; this city has it all, Mumbai is known for its culinary treasures, and you can try something new every day," says mumchymumbai. The city that never sleeps also never fails to surprise you with delicious food at every corner.
Munchymumbai's two recommendations in Mumbai –
1. Do try Mumbai's Chaat. It's unbeatable.
2. Do try pav bhaji, Misal, vada pav.
Sagar Rupani, 28, Blogger
Parth Kothari, 28, Blogger
These are some of the most famous bloggers and their dive into must try dishes from different places. Do check their Instagram pages, and we are sure your cravings will inspire you to try out all those amazing, mouth-watering dishes!