Must try Ramadan Specials in Hyderabad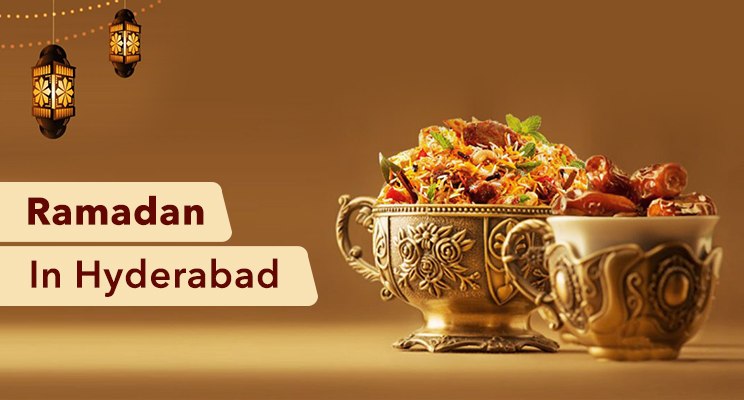 The holy month of Ramzan is here, and along with it the festivities. Both an observer and admirer, P Manisha, presents to you a list of tried and tested Ramadan specials in Hyderabad that are a delight to taste.
Ramadan, the holy month of fasting, is an ensemble of some of the most flavourful dishes of all time. It is a celebration of prayer, reflection and community at a time believed to be the revelation of sacred scriptures that guide Islam. Suhur, fasting and Iftar are followed every day from the beginning of the month of Ramadan to Eid, the closing of the holy time.
These must have Ramadan specials are a sure shot mouth-watering experience
Haleem is the obvious choice of the hour, which is the seasonal special. Haleem is an amalgamation of protein rich ingredients that includes wheat or barley, meat and lentils. The Ramadan season adds a special flavour and atmosphere that enhances the taste of this taj of Ramadan specials. Pista House, promising to serve authentic Haleem, is the first choice of all Hyderabadis to grab a bite of this delicacy. Check out the Bahubali Haleem at the Grill-9 restaurant in Hyderabad for a twist to this tradition.
Fattoush is the Lebanese origin dish serving the palette of the Hyderabadis and has found a staple place in Ramadan seasonal specials. A collection of tomatoes, radishes, cucumber and healthy vegetables with a tinge of crunchy bread pieces, fattoush is a perfect amalgamation of healthy and tasty. Try this amazing salad at Spice 6 The Arab Villagio for a perfect end of your Ramadan fast or accompany your friend for a delightful night out.
Lakhnavi Galawat Kebab is a popular Lucknow recipe that has found its space all the way down south in Hyderabad to become one of the most demanding dishes of Ramadan. Minced mutton with papaya paste and spices, this delicacy melts in the mouth upholding its meaning of "Galawat". Find this Lucknow special in Hyderabad at the Sarvi in Banjara Hills.
Delhi's Nihari, an authentic old Delhi recipe originated and served there, is one of the must have dishes in Ramadan. Containing mutton and goat bone marrow in freshly cooked stew, this is a fulfilling and flavourful dish perfect for breaking the fast. Hotel Shabad in the Old City serves the best version of this dish in Hyderabad. Try it with Kulcha or Rumali roti for an unforgettable tasty Iftar.
Lukhmi, served as a starter, is a crunchy samosa stuffed with minced lamb meat. This tender and spicy snack is best served as a street food in the Charminar market or can be tasted at Alpha Hotel and Restaurant in Secunderabad. This dish is a perfect collaboration of a Ramadan feel and snack induced with tradition and culture.
Sheer Khurma, a Persian dish that has secured an Indian touch, is a delicacy serving the sweet tooth of the Hyderabadis. This delicious dessert is infused with healthy and tasty ingredients like vermicelli, milk and dates. This dish is best served on the streets of Charminar, the Ghansi Bazaar during the holy Ramadan month. Or just ask one of your Muslim friends to grab you a bowl, as it is a must have household delicacy of Ramadhan.
Double ka Meetha, is another sweet dish served throughout the year but has a special flavour and ambience during Ramadan. Served with ingredients suiting the tastes that include bread, sugar, ghee, milk, and dry fruits, this dish is best consumed on the busy Charminar lanes during the month of Ramadan.
Dahi Vada is the only vegetarian touch as famous as the non-vegetarian dishes in the month of Ramadan. This perfect combination of the sweet and tangy flavours of curd and vada topped with pomegranate, amchur, this dish can be found at the Ghansi Bazaar of Charminar, Hyderabad.
Some dishes that deserve special mentioning and are worth a shot are Pathar Ka Gosht, Kunafa, Nombu Kanji, Kashmiri Mutton Tujji, Baida Roti, Fish Fry, Paya Soup, Murgh Paigah, Bheja Fry, Phirni, Qubani Ka Meetha and Gosht Pasinde.
Just take a walk in the streets of Hyderabad and relish these yummy dishes, filling both your tummy and heart!