A year dedicated to OTT – Feels nicer when people put faith in you: Shreya Dhanwanthary
The month of March marks a year of lockdown where everyone, willingly or unwillingly, had to stay home for the greater good. While it was a tough time all over, one of the primary sources of entertainment left to us were digital platforms, and it was indeed a year of Over the Top(OTT) streaming some engaging and enticing content. Through Bandish Bandits, Aarya, Mirzapur 2, Scam 1992, A Suitable Boy or the January release Tandav not only has a new wave of storytelling been introduced, but cinema lovers also got to witness some impressive performances by actors that have been around for a while and some surprising new talents. Shriya Pilgaonkar, Ritwik Bhowmik, Shreya Dhanwanthary, Namit Das, Sarah Jane Dias, Harshita Gaur and Ankur Bhatia are a few of the names from the list of actors who have been appreciated for their performance and were part of some of the amazing stories streamed on various digital platforms. In conversation with Sweta Pendyala, the actors talk about their experience of portraying roles that received so much love from the audience and how they feel about being a part of the OTT wave.
As the fierce journalist Sucheta Dalal in Scam 1992, Shreya Dhanwanthary surprised the audience with her phenomenal acting skills and came into the spotlight. The actor made her debut in the entertainment industry with the Telugu movie Josh and later moved to Mumbai, was seen in many web series including The Family Man. She made her film debut with the movie Why Cheat India. Shreya who will also be seen in The Family Man 2 talks about her choices and the experience of working in the country's two biggest web series and with fine creators.
Never made a conscious choice to work at a specific space
Before I moved to Mumbai, I did Telugu language films. I have also worked in Why Cheat India and, I am definitely part of some web series but it has never been a conscious choice to get somewhere. It's always been about the opportunity and what kind of content I like to be associated with. Be it a film, short film, web series or an advertisement, I was only looking for content as I love to be part of all sorts of stories. And, with the advent of web series and OTT, it is vast. There are so many stories in different languages and people are watching with subtitles. The belief is that the small screen with its bigger playground carries a greater risk than traditional cinema because the audience isn't ready. But that's not true anymore. The transition is happening and more risks are taken everywhere.
Scope for artists behind the camera
There are opportunities galore for cinematographers, writers, directors and editors. Everyone has something to occupy their mind and soul and something to work towards. It used to be small once and only a certain number of people were able to have access to such work but now it has grown and is such a nice space to be in.
When you don't get to watch them, you can create on own
Sometimes the stories you want to see are not being told and sometimes people who you want to hire for those stories are not being hired and that is when you might think of creating those things yourself. For example, Sumukhi Suresh created Pushpavalli and Biswa Kalyan Rath created Laakhon Mein Ek which was great to watch. I might also start writing in case I wish to tell certain stories or I end up needing employment (laughs).
My only reason was Hansal Mehta but when I found out about the role which was of Padma Shri awardee Sucheta Dalal and the show was based on the book she authored, I thought it was a great opportunity as an actor.
The magic of Scam 1992
I auditioned at Mukesh Chhabra's office in 2019. I was so glad that I got this opportunity as I have always been a fan of Hansal Mehta. It is great that it has become monster success and has done phenomenally well. It broke certain stereotypes that you need to have certain names, certain platforms, the story or series needs to be thriller or needs to have a certain edge in it. The great part was the audience talked about us and they became our marketing. They told their colleagues, friends and family about us. It is very rare what happened with Scam 1992 and I really do not know if I will be able to experience this again.
First web series was with Yash Raj Films
When the web started opening up, it was only TVF, Yash Raj Films and a few others who were making web series. My first break in a web series was in Ladies Room by Yash Raj Films which was the nicest thing that happened and I am eternally grateful to the web.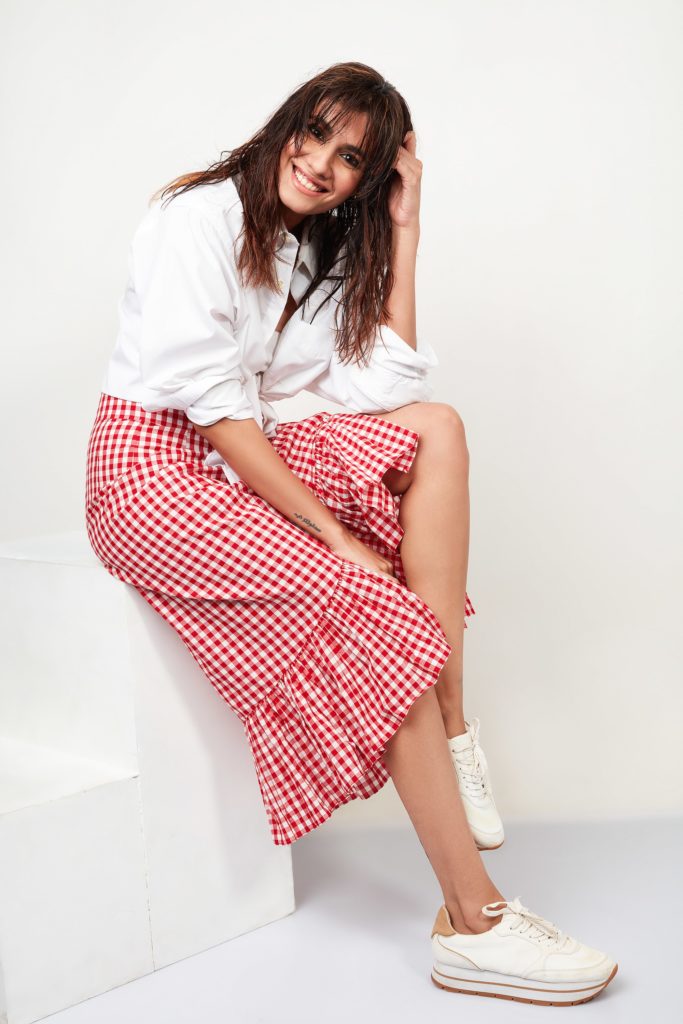 Feels nicer when people put faith in you
It is very liberating as someone puts faith in you. It was incredible for Hansal Mehta to trust me as it was a massive series. It feels nicer, you don't feel stressed and get to concentrate on your acting.
As Sucheta Dalal
Sucheta Dalal is a highly accomplished living and breathing person and an award winning journalist. She chased the job and did it fantastically well, especially in a field which was dominated by men at that time She is an amazing person and is a hero. She worked towards bringing truth to the public, not just in Harshad Mehta's case but also Ketan Parekh, Rajan Pillai and many other scams. To prepare for the character, we did the basic hygiene of going through all the articles, interviews, archival records and footage. Apart from that the whole credit goes to writer Sumit Purohit, Saurav Dey, Vaibhav Vishal, Karan Vyas as well as the director Hansal Mehta and co-director Jai Mehta. They gave us the playground and I feel art, costumes, makeup have done a great job. I just had to say my dialogues and not mess that up. (laughs)
On the Calendar: I have watched Soorarai Pottru and Paava Kadhaigal and they were amazing. I would love to be part of in Tamil, Telugu or in any language even if I cannot speak it. I am open to opportunities.
Raj & DK and Manoj Bajpayee
I actually blackmailed my way onto that project as I am a huge fan of their work. When I knew they were making a series, I just had to be a part of it and I am so privileged that I was a part of it. Raj & DK are unbelievable not just as creators but as people. They are smart, kind, witty and warm. They've become more than people I collaborated with. It's been an honour working with them and hopefully I will get to repeat that process.  Manoj Bajpayee is a legend and I cannot praise him enough. All the amazing things you will tell about a person will be ascribed to him as well. Apart from being supremely talented, he is so kind and I don't think he is aware of how amazing he is. He makes everyone around him feel comfortable. Meals on The Family Man's set used to be a big deal, we all used to sit together with him in his van or he used to make sure that a space was organised outside for us all to sit together for a meal and share stories of our lives. Not everyone does that.
Magazine Sneak Peek