Ujjwal Mishra takes a tour of of the Kiran Nadar Memorial Art Museum in Nodia, she shares her experience…
If you've been to Noida and seen the colourful murals and paintings at the Aqua line metro station and underpasses or roads, that's a teaser of what Kiran Nadar Museum of Art (KNMA) has in store. Noida Metro rail corporation and KNMA has made sure to give a glimpse of the museum that is located in sector 126, Noida. It is a paradise for art lovers!While Delhi has many art galleries and cultural spaces, Noida lacked it until Shiv Nadar Foundation opened the KNMA here. It is a private museum that exhibits modern and contemporary art from India and the sub-continent.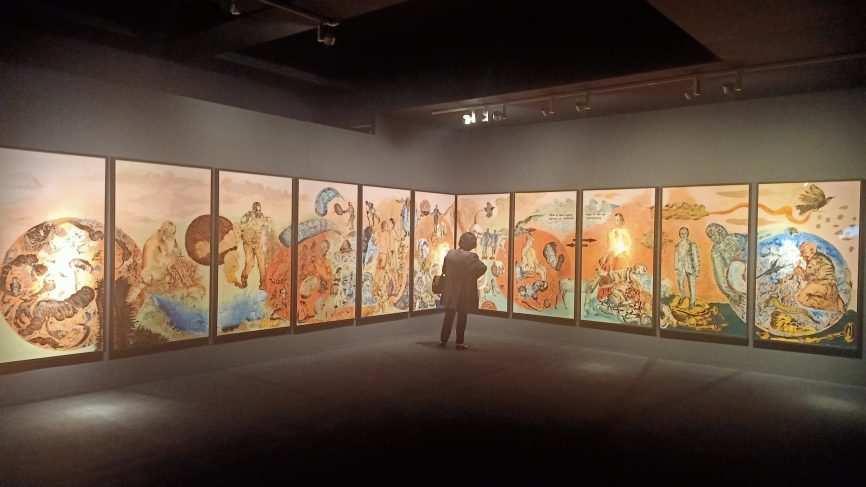 What can you find here?
KNMA is spread across a large space with thousands of square feet in area. Well-lit and air-conditioned, the whole premises is seperated into sections—art gallery for displaying art by many artists, screening rooms, workshops as well as activity rooms for kids. Once you enter the museum you will be transported to a different zone altogether. You can doodle on the walls in the given section with pencils and show your creative side too.
KNMA aspires to become a place for confluence through its curatorial initiative and exhibitions, school and college workshops, art appreciation discourses, symposiums and public programs.
Kiran Nadar Museum of Art is a private museum that exhibits modern and contemporary art from India and the sub-continent.
The idea behind opening KNMA is the social need of promoting art and instilling its deep appreciation amongst individuals and the larger public. Many educational institutes, NGO's as well as families collaborate with the museum to spread the joy of art to a wider audience.
Kiran Nadar is an avid art collector and considering this is a private museum, the collection is jaw-dropping.
Few of the sections I loved in this museum are Screenings, Artist Workshops and Open Studio Saturdays.
Artist Workshops:
Art is a process of learning new styles and techniques. These workshops at KNMA are for dance, painting and many other art forms. They help budding artists to get guidance and develop themselves, groom and prepare for the real challenges. The timing and program format for every workshop can be checked on the museum's website.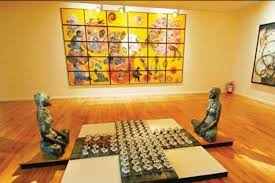 Screenings:
Some amazing storytelling falls behind in commercial cinema. At KNMA, the screening takes place for path breaking cinema. KNMA encourages budding movie makers as well as gives screen space for adventurous and rebellious work in film making. It can be documentaries, research work and even movies, of course not the commercial ones but short movies or documentaries.
Open house discussions, debates as well as brainstorming to make the art better are part of these screening programs and events too.
Open Studio Saturday's:
Many schools and families look forward to Open Studio Saturdays. It's a great way to learn as well as bond. Kids and parents can do activities together. There are various activities like Shadow Art, Kite Making, Photo Frames, Mask Making, Glass Painting, Paper Sculptures and Fabric Collage among numerous others facilitated by the museum educators. These activities not just keep all of us away from gadgets but also nurture our creative side.
Story telling sessions, polymer clay workshops are among my favourites.
Entry to the museum is free, you have to register at the reception upon entering.
Timings: 10:30 am – 6:30 pm

The museum is open on all days except on Monday and all public holidays.
For more details, you can hop on to the site https://www.knma.in/knma-noida. I am sure you might have heard of these places but didn't get a chance to visit. Now that you have all the information handy, why wait? If you're looking to take kids to a place other than malls, where they can learn and explore about culture or art, just go to any of these and your weekend is sorted.