"I don't let my family name weigh on my decisions or aspirations" Akhil Akkineni

All set for his spy action thriller Agent, with acclaimed filmmaker Surender Reddy, Akhil sits down for a candid conversation with Sinduri Vuppala. From talking about his movie, which was a gruelling experience to talking about coping with pressure and family dynamics, he is warm, unfiltered and fun in this exclusive interview….
How does it feel for you to make a comeback on screen after a hiatus with Agent?
Well, it's been quite a journey to get to this point, coming back to the screen after one and a half years with a film like 'Agent' compared to my previous work. As we approach the release, the initial excitement has faded away and nerves have started to kick in. I've had a really intense promotion schedule, but I'm still enthusiastic and grateful for this opportunity. It's been a few sleepless nights, and I'm feeling like a zombie, but a very excited zombie at that. It's keeping my nerves down, and I'm just happy to be tired
Could you share your preparation process for your role as "Agent"? I've heard that you gained 16 kgs for the role and also sustained multiple injuries. Can you tell us more about that?
I have to admit, the transformation for Agent was a grueling experience for me. I had initially thought it would take 3-4 months to gain the necessary weight for the role, but it ended up taking almost a year of pushing myself to the limit in the gym. But the discipline and focus required for the transformation really helped me grow as a person, beyond just the physical changes. The movie itself was also a challenge to make, with high-octane action scenes shot all over India and abroad, spanning over 100 days of shooting. But the whole team was dedicated to bringing a thrilling and wild experience to the big screen, and if we can even capture 50-60% of what we envisioned, it will be a real winner.
How do you cope with the added pressure of being from a family with such a long-standing legacy in the film industry? Despite your past cinema, do you still feel the need to prove yourself?
I don't let my family name weigh on my decisions or aspirations. Of course, there's added pressure that comes with it, but I try not to overthink it. There are days when I wonder if I'm carrying the legacy forward correctly or not, but at the end of the day, I'm just trying to follow my heart and do what I believe in. I don't think my grandfather or father would have wanted me to feel like I need to carry the family legacy in a certain way. They became who they are today by daring to do something different and following their own paths. For me, it's important to break free and prove myself in my own right. That's what I'm focused on doing right now.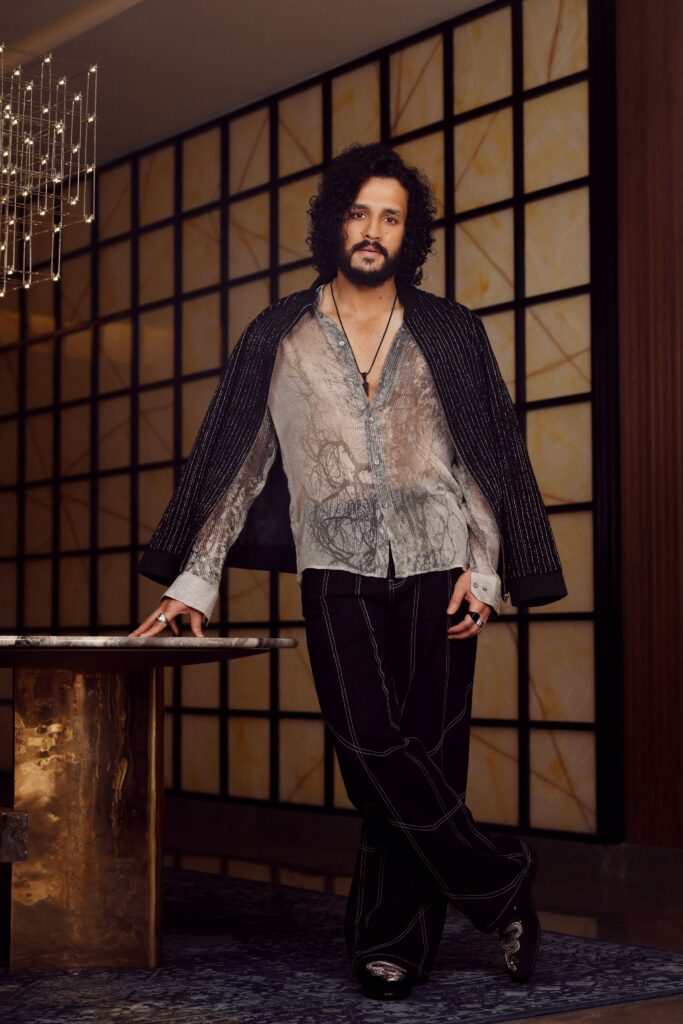 What are your thoughts on whether Agent aligns with your earlier desire for serious and meaningful cinema, despite your family's expectations for a big mass launch?
That was a decade ago during the shooting of Manam . However, over time, I realized that my comfort lies in the action and commercial genres. For me, Agent has been that film. While I do want to find space for progressive cinema within the commercial barriers, I don't want to regress and make the same old films that were made ten years ago. I need to make an effort and bring something new to the table. Agent is one step towards that.
You come from a family of acting veterans. How involved is your family? Do you go to them for advice on scripts or your choices?
I prefer to keep my major decisions in life to myself, even though I do take advice from my parents as any son would. It's a conscious decision to stay away from my family making my decisions for me. I want to be responsible for my own failures or success. Growing up from a guy to a man, I believe taking responsibility for my life is an important part of that process. Of course, there are times when I feel the pressure to please my extended family and friends who have become pan-India figures. However, I don't want to make decisions just to please them or anyone else. I want to make decisions that are true to myself and my goals.
Do you discuss cinema with your friends in the industry such as Allu Arjun and Ram Charan, given that they have become pan-India figures is there an added pressure to match up?
As for my closest friends who happen to be seniors in the industry, I don't feel like I'm falling behind because I'm following in their footsteps. I look up to them and am inspired by the boundaries they're breaking. We do hang out and talk about films, but when we're together it's more about catching up on the person behind the actor. Shooting a film can consume you and there's more to life than just my work.
You've also dabbled in producing with your production company, Annapurna Studios. Does the process of filmmaking also appeal to you?
As an actor, I have a lot of respect for my job and the field of filmmaking. Whenever I get the time, I like to spend it with technicians, directors, and other crewmembers to understand my craft a little more. I feel that the more sense of cinema I have, the better I am able to carry myself in my position. Recently, I had the chance to visit a studio that had set up a virtual production for the Star Wars TV show, The Mandalorian. It was so fascinating to see how much cinema has progressed and how many things we can do. I would definitely be interested in learning more about the process of filmmaking whenever I get the chance.
If there is one place I've seen you truly come alive, it's on the cricket field. Tell us more about your love for the game…
I think whenever I get the chance; I jump on a horse, grab a cricket bat, or hit the slopes. I am passionate about sports, and I don't just play for fun, I play to win like a psycho be it table tennis, video game, or any other sport. Sports are therapeutic for me, and I've learned many life skills and teamwork through them. Cricket, in particular, holds a special place in my heart. Playing in the Celebrity Cricket League has been amazing, as I get to play with my heroes and give them my all without any compromises.
Are there any other films on the horizon that you're considering?
So, I have two films in the pipeline. One is not confirmed yet, but the other one is and I'll start shooting in June. I want to challenge myself as an actor and push my limits. I'm looking for quality over quantity and want every film to be an experience. The upcoming film is poles apart from my previous roles, and I'm excited to explore a new world. I want the audience to know that a lot of effort went into making this film.
Quick Intakes
Whom would you to go seek advice on
Career choices and movies: Ram Charan.
Women and Relationships- Brother Naga Chaitanya.
Career advice beyond movies- Father Nagarjuna.
For Partying- Ram Charan
Financial advice: My dad as he's not just known as an actor, but also for his financial acumen, and I trust his judgment in this area. He has a great track record with managing accounts, running his own business, and making some wise investments.
What is this one thing you've learned from the given set of people-
Mother– I have to say that my mother has this amazing quality of finding something positive in every situation. No matter what happens in life, she always manages to see the good in it. That's something that I really admire about her. Even in the toughest of times, she is always able to find a silver lining. It's a trait that I would love to emulate and take with me throughout my life.
Father– My dad has a cool and composed attitude toward everything. He believes that if you approach a situation with your head held high and have faith that you can work your way out of it, then you will always have a higher power to guide you. This mind-set has helped him deal with challenges in life in a much better way.
Brother– I admire my brother's straightforward approach to life. He doesn't complicate things and is always sure of what he wants and who he is.
Granddad– As for my granddad, I truly admire him. I miss him the most now. I regret not asking him the right questions and not fully engaging with him while he was still alive. He was like an encyclopaedia of films and had achieved so much in his life. Today, I would have enjoyed having more meaningful conversations with him, both as a kid and an adult.
If you were to remake a movie from either your father's or grandfather's films, which movie would you choose?
I believe that classic movies should be left alone, but to answer the question, I would say "Hello Brother," which is my father's film.
Choices-Nagarjuna in Shiva or Nagarjuna in Hello Brother?
Personally, even though I see myself as a baby during those times, I believe that for my dad, it would be Shiva. As an actor, you get very few films that become a defining moments in your career, and for him, it was before Shiva and after Shiva.
A recent movie that you saw and thought you could have been a part of…
I really liked KGF, it was one of those films that I wish I could have been a part of. It brought a new take on commercial cinema and Prashanth Neel, the director, did a great job. I know him well and I keep telling him that this film had a shock value that was really impressive. I'm a big fan of big commercial heroism and KGF had it all.
Your favourite actor?
Yash, who is actually my senior and my closest friend in the industry.