Manish Malhotra: We need to re-write the idea of design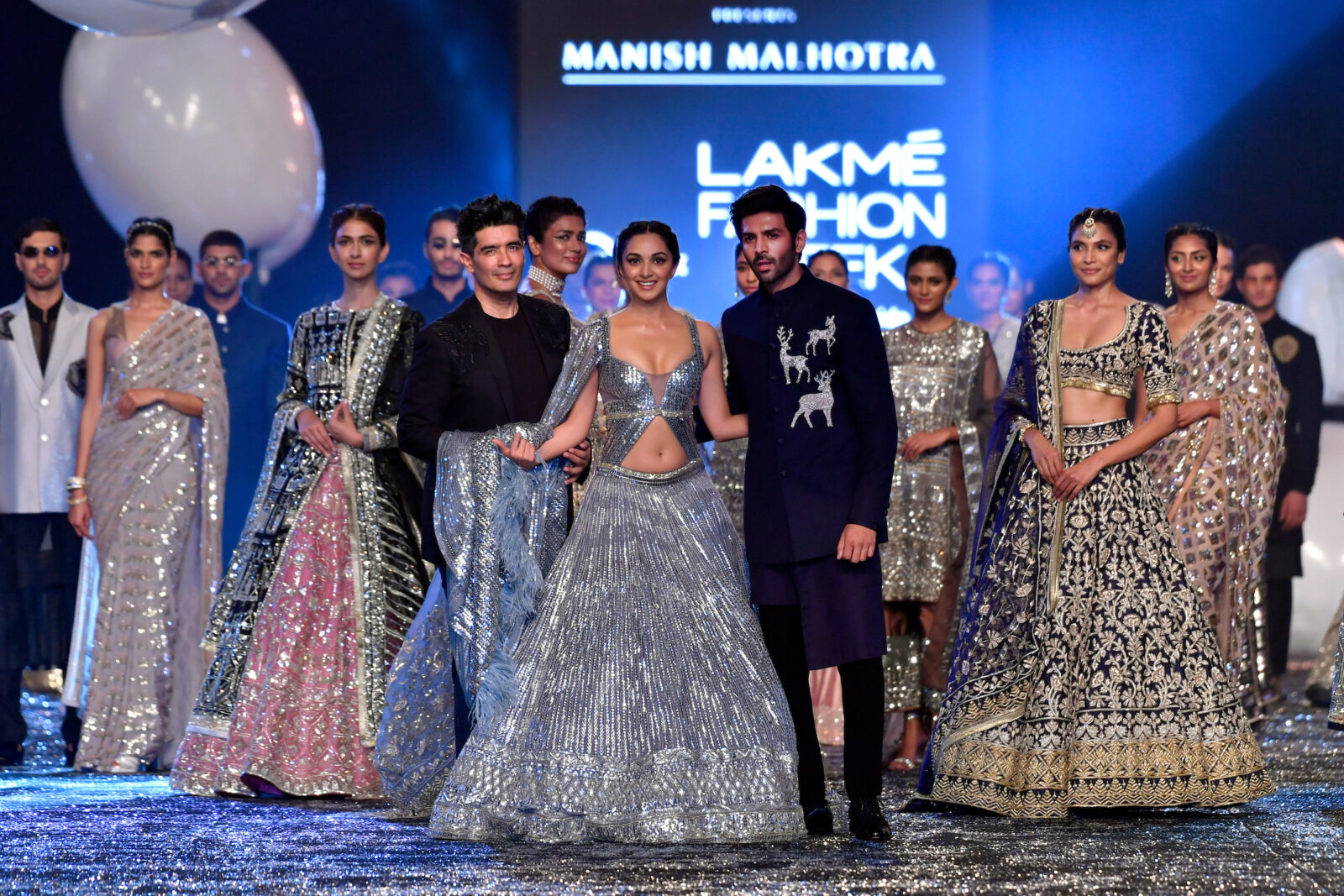 From Kajol to Kareena, and from Malaika to Urmila (maybe throw a Reese Witherspoon in there, too), anyone who is worth a mention in the Indian film industry has once adorned a Manish Malhotra outfit, becoming a part of the annals of India's fashion history. "Costumes are a key ingredient of storytelling," says Manish in this exclusive chat with Juveria Tabassum for Hashtag India. Celebrating 30 years in the industry, we get you the man behind the drapes, tap into his creative cloud, and find out how deep the well of Manish Malhotra's designs really runs.
Manish Malhotra knew he had to design for movies even before styling characters was a thing in the industry. His love for the Silver Screen coupled with his inquisitiveness about fashion set the tone for his foray into the world of haute couture and the shimmer of Bollywood all at once. Juhi Chawla was his first Bollywood muse for the movie Swarg in 1990.
After styling big names such as Sri Devi in the years that followed, Manish kept creating looks that have now become part of folklore, as synonymous with the times as The Rachel was for the 90s in the West. Think Kareena Kapoor, and the dazzling shimmer of the sharara from Kabhi Khushi Kabhi Gham flashes in front of you. A throwback to the OG Kajol only brings forth images of the stunning green lehenga from the song Mehndi Laga Ke Rakhna from DDLJ.
When Manish first graced the runways in 1998 with his eponymous collection, Reverie, he wowed one and all with a bold take on traditional cuts and colours. And that has been the Manish Malhotra brand over the years. Taking the ordinary, and with sheer creativity and craft, making it something entirely special. Manish also turned a new chapter in the fusion of fashion and film when he became the first designer to introduce a showstopper from Bollywood at his runway outings.
His years in the limelight have gifted him worldwide recognition, and endless adoration in his own land. Manish has flagship stores in cities around the country, including a massive 9000 sqft undertaking in Delhi, and one in Dubai as well. When the lockdown happened, the team launched a virtual store, in order to continue bringing high fashion to the people. Manish also released a fashion couture film, Nooraniyat, earlier this year, starring Sara Ali Khan, and featuring some truly spectacular creations.
Even 30 years down the line, when Manish showed up at the FDCI X Lakme Fashion Week this year, his collection seemed to fit right in with the times, enthralling one and all and not skipping a beat. Perhaps staying on top of the rhythm, and trusting his sense of style and fashion is what lies at the heart of demystifying the success story of this designer.
Hashtag India celebrates Manish Malhotra's journey through the years in this exclusive conversation:
1. Tell us about the collection showcased at the FDCI X LFW this year
Design is a continuous process, and we are always ideating and creating new things at my workshop. At Manish Malhotra, we keep the newness at the center of focus. I've always loved the dramatic silhouettes and things that go beyond the regular theories of bridal couture. I wanted to bring together a new composition balanced in its heterogeneous elements, much like the NEXA colors, where everything exists. The collection is created on the ethos of tradition but inspired by the present, the new world. It sits firmly with the pandemic-induced preferences but also relatable to our aesthetics and our loyalists. We need to re-write the idea of design, which is not bound to a similar thread of uniformity. Each garment is a new and individual visual expression and explores a possibility of a free monologue, thus establishing a discerning connection with the wearer.
On the film
How did the idea for the couture film come about?
With regards to the digital fashion films, I will be honest, I was apprehensive about it to begin with, but I loved the experience. I created two digital couture films – one for India Couture Week and another for Lakme Fashion Week, and the entire experience was so satisfying. The videos are done entirely under Manish Malhotra Productions, launched in 2018 with Ambani's wedding. I've thoroughly enjoyed these digital versions of fashion shows; it teams my twin passion for films and fashion. It was all me, the clothes and the characters. And the response to all my fashion films was truly encouraging.
You might be surprised to know, we did a fashion film with Vidyut Jamwal and other models long back, more than a decade ago, when fashion films weren't even heard of.
We've introduced new singers with these films, and with this, we've managed to create a robust circuit of local musicians and singers and helped them with much-needed amplification through our digital presence.
What elements have you incorporated into the film that make it stand out?
The music was handpicked by me. We've collaborated with various artists over the last year for our couture fashion films, and in a way, emboldened a community of our local singers. We've managed to create robust interaction spots for these emerging and established artists worldwide through our digital expanse. Our couture films were critically received, and the singers were given due credits and have got an equally good response from our fans and loyalists worldwide.
Besides that, there is always a story. I love sitting on the directors' chair, and it entwines my twin passion for films and fashion.
What surface embellishment techniques and motifs did you use for the collection? The cuts are unique this time around. What was the inspiration behind them?
The collection was in a medley of hues. It was a mixture of sorbet and blush shades – vibrant pink, lilac, and grey-blue and royal beige-gold. Powder blue played a major role, while metallic gold-silver shimmered with monochrome black and white. These were NEXA colours. I was myself thinking of introducing blacks and blues this summer, and it just so happened that all our like-mindedness came together.
The fabrics matched the variety of colours as pure two-toned silks and Dupion silks, with gold silks, sheer organzas, lush crepes, and elegant tissue fabrics.
We had oversized jackets and colour-blocked lehengas, but we also kept some timeless heritage offerings. Our ever-popular Kalidar kurtas, the diaphanous lehengas, dramatic gowns, swirling shararas, kurtas, palazzos, striking jackets, and of course, the traditional dupattas.
The Manish Malhotra aesthetic has always been Bollywood-inspired. How is that captured in the current collection?
Everyone knows about my love for films. I still can spend a whole day just watching movies and doing nothing else. In fact, this has always been my alternate career. When I entered the films in the 90s, I wanted to change the way movies looked. I introduced the structured role of costume, from the place when the costume wasn't even given any importance. This was not just a job for me as a customer then, but my overall love for films, scripts, and storytelling. I wanted to make characters that are relatable and one that has some realness in them. As a child, I've always been fond of movies, and some of my fondest memories of childhood are going in and out of theatres more than thrice just in a day. Practically, I've grown up in theatres.
It's not that I necessarily try to make it into Bollywood, but I do love its drama. People want to celebrate, and I enable their dreams. This collection retains the same signature of our dramatic, fashion-forward approach to bridal couture and sticks to our brand's core aesthetics.
What was the thought process behind the jewellery used for this collection?
We've an association with Raniwala 1881. I look for partners who believe in quality, on whom I can rely. Business is secondary to quality and customer satisfaction. Manish Malhotra Jewellery is entirely handcrafted in pure gold; the jewellery dazzles with flat cut diamonds, gorgeous rubies, majestic pearls, and magnificent Russian and Zambian emeralds. Most importantly, it's an extension of Manish Malhotra World.
The virtual collection
Talk us through the process behind setting up the virtual store.
Technology is at the epicenter today across every business. Just around April-May, when we were grappling with the first wave of the pandemic, we realised the importance of digital dependence. We're relying on technology more than ever. The decision to launch the virtual store was long overdue but intensified due to the pandemic. While our customers have been able to shop via our e-commerce site, we wanted to offer our brand a seamless experience, even though they can't make our stores lockdown. With this new virtual experience facility, we hope to bridge the serendipitous joy of shopping at our exclusive physical outlets. It's a result of over 11 months of research, planning, strategy, and design, and we're happy with the response of our fans and loyalists.
The man and the designer
1. You have been right at the center of the celebrity circle of tinsel town over the years. What are some of the changes you have observed in the industry fashion-wise, and how has this upheaval impacted your work?
The operations, logistics, and overall business took a great hit for sure. And I'm sure we are not alone in this. But today, if I look back, I feel the design process has become more succinct and centralised. Moreover, today's brides are open for zoom for e-consults, earlier I used to take flights every time. So, a lot of good has come out of it. Maybe this change was necessary, and it's all for good. As a person, I tend to look at the positive side of things, and post-pandemic, I'm doing more of what I enjoy.
You have been designing for the leading ladies of Bollywood, creating some timeless looks, and you've managed to create a universal impact on India's fashion landscape. What is the one trend that a design of yours has inspired that you are most proud of?
Everyone knows the fandom for chiffon sarees, which has received cult status in Bollywood and beyond. Similarly, just recently, all of 2019 and 2020 and even now, our sequin sarees have been received enormously well by people across, and almost everyone in Bollywood has worn them. We've launched the second edition of two-tone sequin sarees, and the response is equally encouraging.
There are uncountable things like these; I won't be able to capture so many here. Still, today after 30 years in costume and 15 years in the brand, I'm full of gratitude that people have admired, adored, and accepted the brand and every design from the Manish Malhotra label.
What artisan clusters have you supported and imbibed in your work over the years?
I adopted a village of Mijwan in UP to put Lucknow GI Chikankari on the global center stage. 2020 celebrated a decade-long association with this craft cluster. What started with 40 women now boasts a strength of over 400, which is growing each day. Similarly, we have also adopted clusters in Kashmir, Banaras and continually work with many other craft clusters in India for seasonal collection long before Made in India or Atmanirbhar became every millennial's language.
Through our proximity with Bollywood, we helped the craft penetrate the farthest of the circuits by having almost the entire Bollywood wear it on-ramp, red carpet, events, and other parties, which eventually created great interaction spots for these crafts.
4. What are some recurring techniques you've used in your work over the years?
A lot of people believe it to be sequins and glamour on a more significant level, and while that may be true, we also do a lot of other things. One thing we stand for really is customisation; we mean it and imbibe this in a way like no other. Today is the age of hyper-personalisation, and I've personally believed in collaborative aesthetics; I try to enable the wearer's aesthetics rather than force my design upon anyone. And hence, my collection is diverse and wide. We've staid chikankari, and on the other hand, I love the magnanimity of trails and veils. It's the age of fashion inclusivity; everything exists here, so no singular design, no singular aesthetics, and no superior style. That is the recurring philosophy of our brand.
Quick takes
The most timeless piece
All outfits are special to me. Each outfit required its own time and dedication and the number of man-hours. It's like picking one against another when everything is yours, so I would say I love everything we've created.
Things on your mind that you want to implement in the future collection
It's always continuous; I won't have anything concrete to say at the moment.
A style that you've admired from afar but have as yet to incorporate in your collections
I admire so many things, especially the cinemas. The classic aesthetics of the black and white period of the 50s and 60s is something I truly adore and wish to emulate in one of my collections.
Manish Malhotra Trivia:
Manish launched his first collection, Reverie, in the year 1998, and the first time a Manish Malhotra collection walked the ramp was in 1999.
Juhi Chawla was the first Bollywood diva that Manish designed a costume for.
Film Rangeela got Manish the first ever Filmfare for costume designing, where he'd put together outfits for Urmila Matonkar and Kajol.
Manish is a recipient of the Priyadarshini Memorial Award for Contributions to Fashion.
Celebrity Outings:
Manish crafted the wedding outfit for the Princess of Riyadh.
He was also in charge of Michael Jackson's ensemble when he visited India.
Reese Witherspoon is also on the impressive list of actresses who have adorned an MM drape.
Manish has also designed the official jersey for the Shah Rukh Khan owned IPL franchise, Kolkata Knight Riders.
"When I entered films in the 90s, I wanted to change the way movies looked. I introduced the structured role of costume, from the place when the costume wasn't even given any importance."
"I love sitting in the directors' chair, and it entwines my twin passion for films and fashion."
"The classic aesthetics of the black and white period of the 50s and 60s is something I truly adore and wish to emulate in one of my collections."
"We need to re-write the idea of design, which is not bound to a similar thread of uniformity."