Sanjukta Dutta: Bringing Mekhela Chador to the Masses
Sanjukta Dutta
A Sanjukta Dutta collection has always brought to centre stage the beauty of Indian textiles. The strong presence of Assamese fabrics has always been the leitmotif of these pieces. "Shukoolaa", her latest collection, is a nod to a fashionable and pure sanctity as a part of a grand presentation by 6 Degree. In a free-wheeling conversation with Vinay Agrawal, Sanjukta talks about her design process, her love for Mekhela Chadors, structural changes in the fashion eco-system and much more.
you are but also the mood you are in. In 2013, Dutta decided to set up two factories – Maa Durga Axomiya Pat and Muga Kapuror Boyon Protisthon in Guwahati.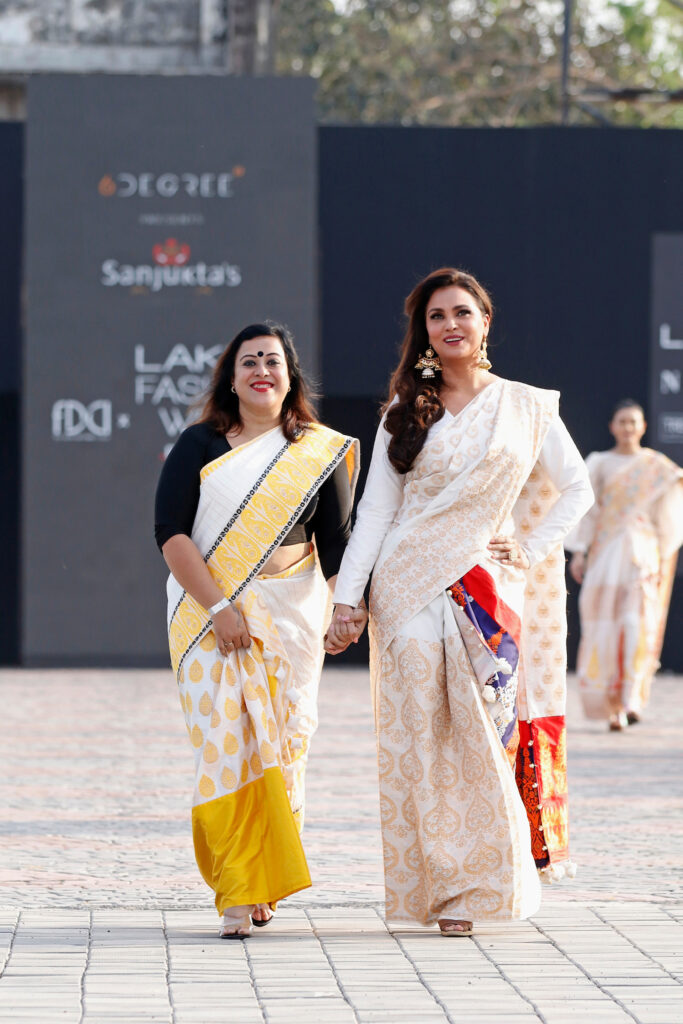 Starting off with a modest six looms, she gradually acquired 35 looms and today has over 100 looms where she produces her characteristic silk Mekhela Chadors with different varieties of colored silk threads ranging from orange, blue and yellow apart from traditional colours like red, black and muga.
With white as the primary base, her latest line, "Shukoolaa", comes highlighted with silver and gold motifs. Her signature Mekhela Chadors are also in the forefront, along with saris, swirling lehengas, floor kissing skirts, and an assortment of cropped blouses and regal gowns.
Excerpts from the interview:
Your clothes are imbued with an Assamese identity. How are you planning to expand on that aspect?
I love experimenting with colours and designs. I have worked on the traditional Assamese Mekhela Chador incorporating fabric fusion and blends of Rajasthani, Kashmiri and other traditions. 
This innovative collection of handicrafts and weaves is a combination of traditional motifs and a mixture of different fabrics and contrasting colours. This fusion of cultures and vibrant range of colours, along with influences from an array of art forms ranging from dance, music, paintings, and everything that is a witness to the rich and exotic heritage keeps me fascinated enough to keep going. Coupled with my love for the Assamese traditions and fabric, this fascination for experimenting helps me create clothes with modern accents. My latest collection at 6 Degree is a continuation of that.
How has the Vocal for Local initiative emboldened you in terms of exploring designs, patterns, and fabrics for your creations?
I find the whole movement greatly empowering for traditional handloom industries and artisans. Our folk art and its heritage need a voice to sustain in current times and market. Vocal for local provides firm support in finding more exposure for the fabric industry and weavers who are finally getting a leveled ground to display their talent.
My upbringing and all my initial interests have been centred on Assamese culture. I have been in love with the traditional designs, colours and motifs. Thus, cultivating from those roots, I feel an immense boost from movements and initiatives like these.
With fashion shows taking the digital route, how do you think the buying process will adapt to the change?
I think this opens a direct portal to all sections of consumers. The fashion shows going digital or phygital helps in creating equal opportunities to make alliances that take us forward.
Enhanced buyer experiences through buyer programmes also add to the perks. I like the progressive idea of taking this art form for a wider audience to perceive. Also, it's never about how the show is digital or physical. Both have their equal share of thrills that only adds to the creative process.
What does a new front row look like according to you?
There is no second row anymore; be it a fashion crazed teenager or a fashion critic, everybody now has first-hand experience of everything the industry has to offer. With the shows like the Lakme Fashion Week going digital, the audience and their perception of fashion has widened like never before. 
How can Mekhela Chador be popularized among millennials?
Through my boutique, I have always aimed to offer the conventional weaves of Assamese silk in a fresh, chic and modern avatar. The core driving force was the ambition to ensure a place for Mekhela Chador in every millennial woman's wardrobe. To achieve it, I experimented with multiple other traditional art forms and handlooms. Adding to the luxury and elegance are the exotic indigenous motifs of Assamese opulent heritage. I create a wholesome mélange of cuts and textures through contrasting colors to let the wearer enjoy a customized experience.