Telangana's first gay wedding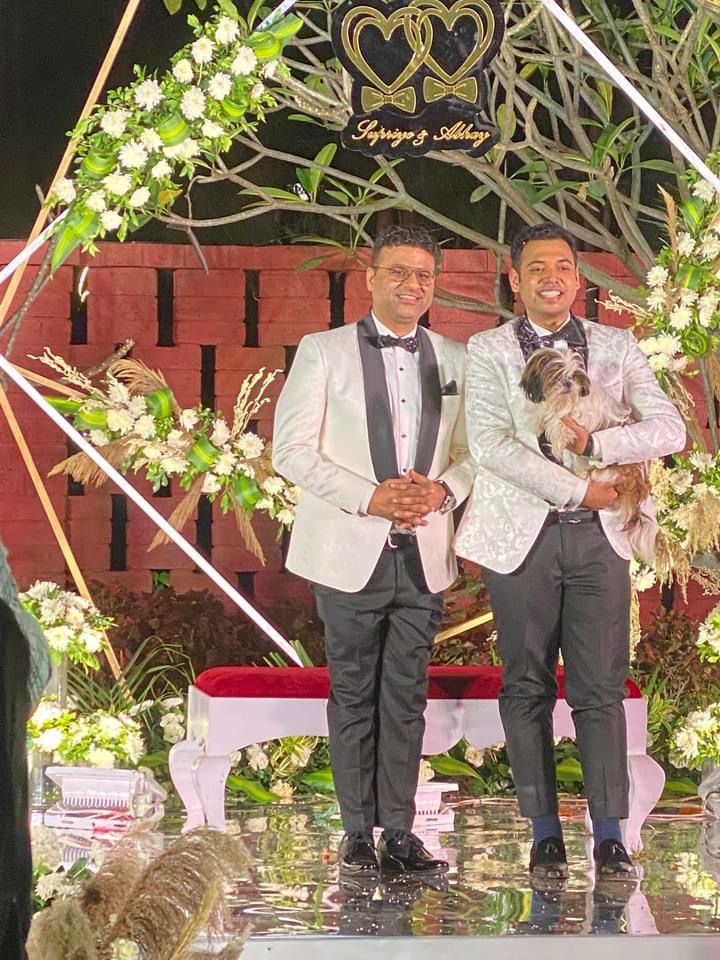 Swati Sucharita was there at Telangana's first gay wedding or their 'promising ceremony' as hospitality professional Supriyo Chakraborty and software developer Abhay Dang would prefer calling it. She presents to us a firsthand account of the ceremony, and how crucial the event stands to be in the landscape of gender politics in India.
At first look, it resembled just about any big, fat Indian wedding, held outdoors at a resort in Hyderabad's suburbs on a pleasant December afternoon. However, it ended up being perspective-altering in its takeaways. To begin with, it was the first gay wedding I was attending, but it didn't feel any different. This was true right from the time I had received the elegantly designed invite card. It could be perhaps because I knew my host Supriyo Chakraborty as one of the gentlest and nicest human being, with a sensitive bend of mind and creativity to boot.  
All his bong creativity was on display from the word go, right from the flower-bedecked entrance and podium from which the couple – his live-in partner of nine years Abhay Dang and him – were to take their wedding vows, to the little bag containing a tiny bell to be rung when the couple declared their vows, and some grains of rainbow-colored rice to shower on the duo post the ceremony when the couple would walk down the aisle. Since gay weddings are yet to be legalized in India, the welcome boards called it a 'promising ceremony.'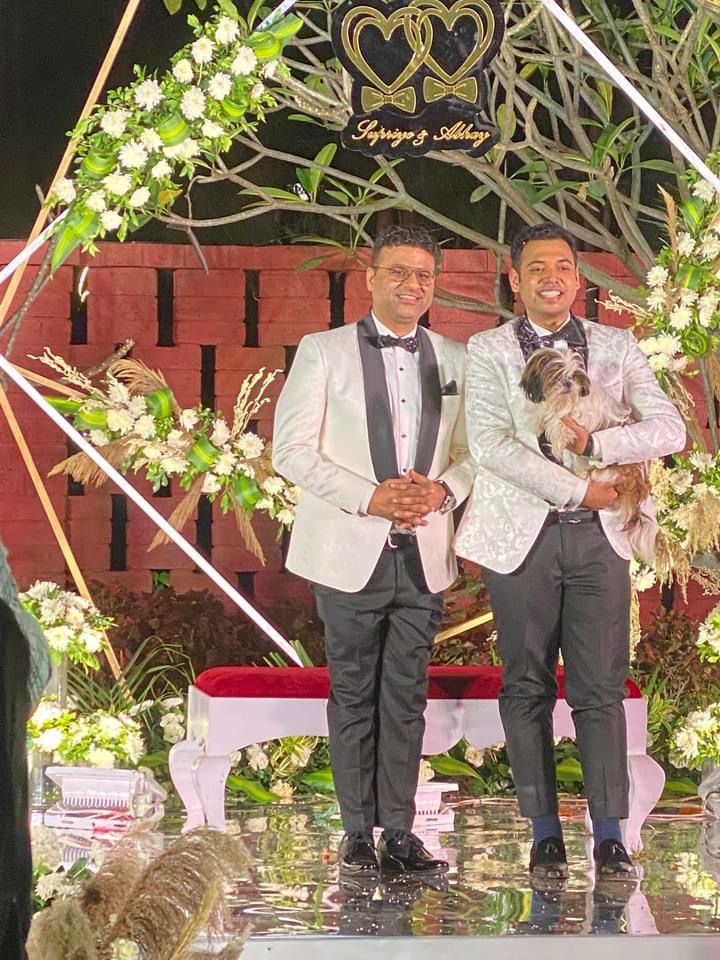 I had missed the sangeet and mehndi ceremony the previous evening, so I was keen on reaching the venue in rather-distant Moinabad on time. Yes, there had been a proper Bollywood-styled band-baaja-baarat the previous evening, with a bit of Banglaina thrown in with the topor – the head gear worn by the bride and groom in traditional Bengali weddings.
Assembled was a small but meaningful gathering, consisting of family – including the couple's parents – and friends, as well as colleagues from either side. In fact, it felt very normalized to see that there were children too, adding to the inclusive feel around the wedding festivities
Officiating the ceremony was the extremely inspiring Sophia David, leader-coach, IT consultant and facilitator. A trans woman herself, she won everyone's admiration with her anchoring skills, keeping a firm hand on both the flow and tenor of the evening's proceedings. The vows were made, the declarations of loving and looking after each other in health and sickness were announced and they were pronounced husband and husband, to a cheering and applauding gathering. Fireworks, music, and dance followed, along with raising a toast to the couple, with much happiness all around.