The Divalicious Malaika Arora Khan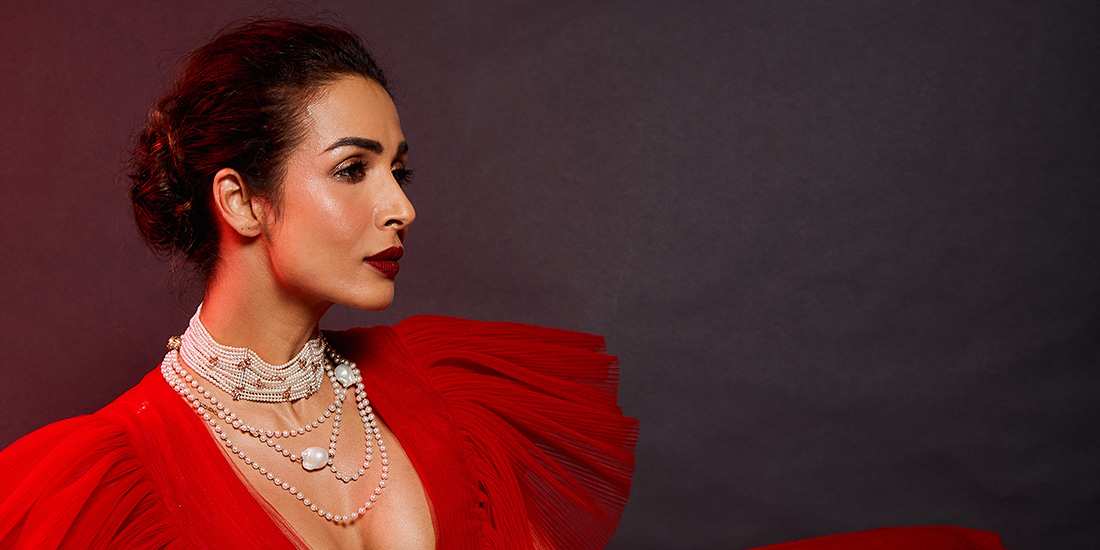 Actress-model-TV hostess Malaika Arora Khan is a head turner both on and off-screen. The October-born actress's beauty is undimmed by time. A fashionista par excellence, Malaika carries off everything she wears—whether a high slit gown or a short bodycon dress or even a traditional saree— with equal sass and panache. Her perfectly fit body, impeccable taste in fashion and charming personality make her a true diva in every sense. This month, Anita Raheja and Heena Agarwal chatted with Malaika to get tips on fashion, makeup and hair exclusively for the readers of Hashtag Magazine.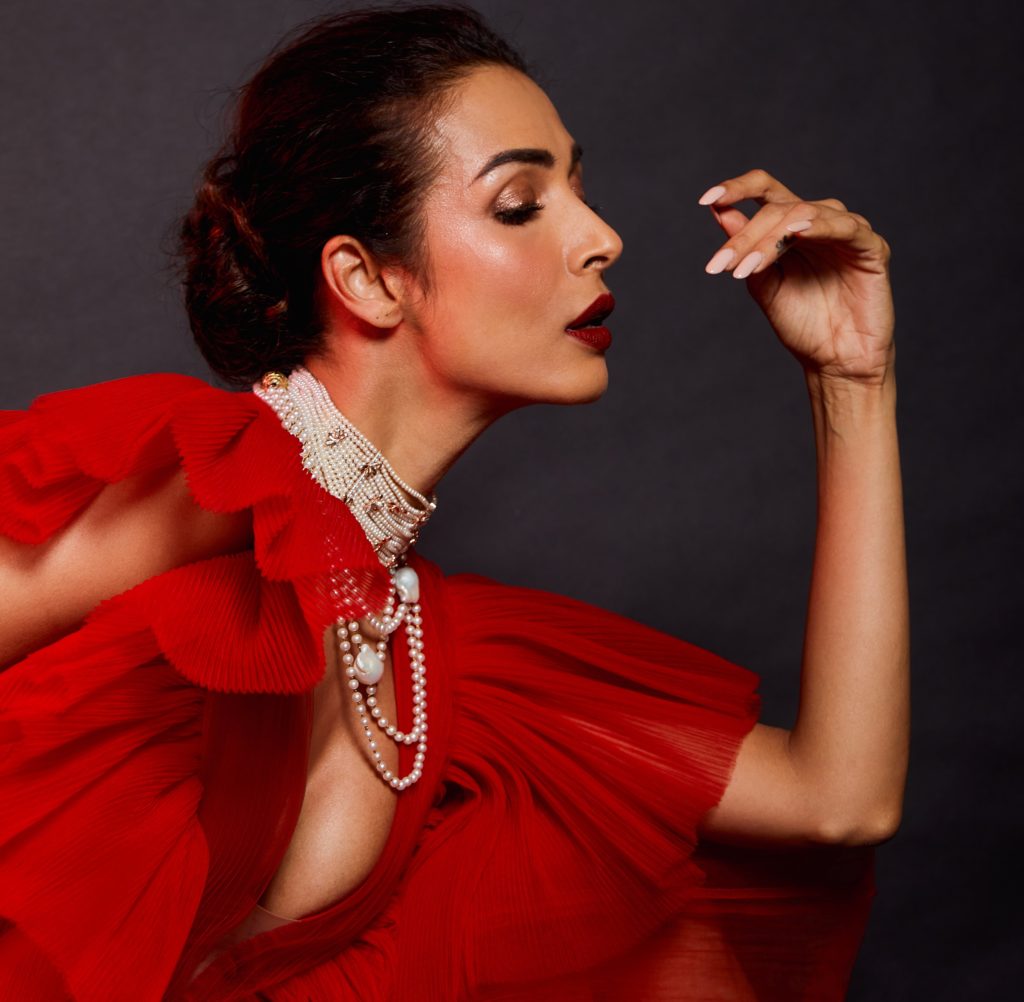 Malaika on Fashion
Favourite outfit: A pair of jeans. I love wearing jeans because I can give them a casual as well as a semi-formal look. My tops keep changing depending on my mood. I could pick up anything from my cupboard when I wake up in the morning.
Go-to for evening wear: I would choose an Armani suit or a saree if it's an award function. I love wearing sarees for film functions as I feel they look very classy and elegant. I would also sport a nice salwar-kameez for formal occasions.
Go-to for night wear: I take extra effort while picking up my night wear. It makes me feel so much of a woman.
I look best in: A saree! I can really carry it off well. I love authentic sarees like Banarasi and chiffons.
Indian designers I like: Monisha Jaisingh, Wendell Rodricks, Hemant Trivedi, Sumeet Verma and Seema Khan.
Favourite brands: Armani followed by Prada, Gucci and Versace
Favourite colours: Red, black and white. In winter, I prefer beige and neutral colours
I have a fetish for: Shoes. I have over 200 pairs of shoes! I don't pick up shoes from India as I feel they haven't mastered the art of making the perfect pair. Occasionally, however, I do pick up a pair from Rinaldi in town.
I have a fetish for shoes and I have over 200 pairs of them!
Favourite handbag brand: Dior, Gucci and Fendi
My handbag contains: Credit cards, a wallet, a dairy, my mobile and its charger. I love carrying large bags so that everything fits in.
My wardrobe is incomplete without: Colour co-ordinated clothes. Every piece I own has a history behind it. A lot of love goes behind every bag and shoe I buy.
For my first day's shoot I wore: A chaniya choli for my first film shoot and for my first MTV shoot I wore a red bustier and a flaming red-hot skirt
According to me, the best-dressed men are: Akshay Kumar, Shah Rukh and Kabir Bedi
And the best-dressed women: Besides myself, I like the way Amrita Arora and Victoria Beckham dress.
I love shopping at: Los Angeles and New York. Sometimes I pick up stuff from flea markets too. London and New York have the best uptown and downtown shops!
The most expensive outfit I have ever bought: A Gucci gown and a close second would be my black Armani suit.
Favourite perfume: Gucci Envy. I don't like to change my perfume too often.
A fashion tip for the readers of Hashtag: Create your own personal style, wear what you are comfortable in and don't try to be somebody else. One should be wear the latest trends only if he/she is able to carry it off.
Create your own personal style, wear what you are comfortable in and don't try to be somebody else.
Malaika on Hair
Length: I like my hair really long!
Hair colour: I like to experiment with colour. Red hair looks great on Indian skin. I also like nice rich chocolate tresses.
Colours I like to highlight my hair in: Bronze, copper and gold
See Also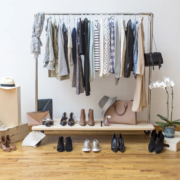 Shampoo and conditioner I use: L'Oreal products
My hairstyle at home: Simple. I like to tie up my hair while I'm home and on a regular day I hate doing anything fancy to my hair. My hair is generally very manageable so it stays no matter what I do. But when I am shooting, I experiment with my hairstyle occasionally.
Go-to hairstyle for formal functions: I like to leave my hair loose
My personal hairstylists: Kanta and Clarabelle
A man whose hair I admire: Shaan (singer). His hair is so silky, I often joke with him that he has no business having such beautiful hair (laughs)!
Haircare I follow: I oil my hair twice a week with oil I make at home myself. I don't like to wash my hair too often because it gets really dry, so I wash it only if it's greasy, with a really mild shampoo. I deep condition my hair once in a while too.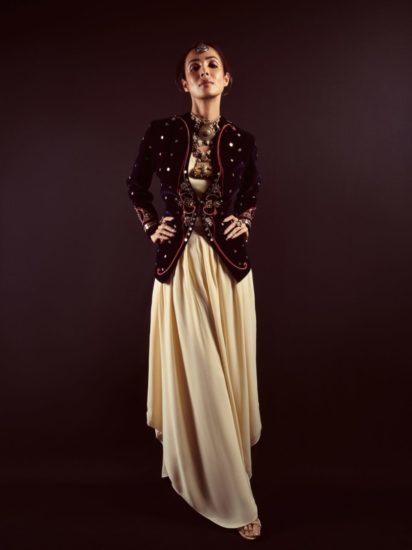 Your inner state reflects on your skin so live a stress-free life and you will glow!
Malaika on Makeup
Favourite makeup brands: Mac and Bobbi Brown
Skincare regime when I'm not shooting: I hate using make-up when I'm not shooting. I usually just use a moisturiser. I believe in a fresh, clean, natural and radiant look—it is the best. Luckily, I don't have problematic skin so go in for minimal makeup most of the times.
A feature I love to accentuate: My eyes and my lips. I love using mascara as I have long eyelashes, and a nice blusher to highlight my cheeks.
My favourite shades in make-up: Bronze/fresh pink/ peach/ orange/ brown.
A pro-make-up tip for Hashtag readers: Your inner state reflects on your skin so live a stress-free life and you will glow!