"For all Women related reproductive health issues, there is one cost-effective solution – Yoga": Yogini Srishti
Hashtag talks to Srishti Kaushik who is popularly known as Yogini Srishti, a national gold medalist in yoga who is from Uttar Pradesh shares her memories and experiences about her successful journey of becoming Yogini Srishti with Rashmi Bhumi Reddy.
About Srishti Kaushik
Srishti Kaushik is a skilled yoga practitioner who has expertise in yoga for women's health-related issues such as PCOD, menstrual problems, thyroid imbalance, hormonal imbalance etc. She has been practising yoga for the past 12 years with 5 years of experience in teaching and instructing yoga. She is also skilled in different forms of yoga such as Hatha, Yin, Restorative, Vinyasa, Ashtanga and Laughter. She bagged the national gold four times for the School Games Federation of India (SGFI) and Akhil Bhartiya Games Federations of India.
Journey of Yogini:
Born and brought up in Hapur, a small town in Uttar Pradesh (UP), in a joint family of 20 people. "Ever since I was a kid I had a natural inclination towards Yoga. I always wanted to become a Yoga instructor, and took every opportunity to go to yoga tournaments and won several medals too." Her ambitions and passion, although unique, were not as appreciated or encouraged by her parents.
It was during the time when she had passed her graduation with flying colours from Daulat Ram College, that she had finally convinced her parents to enrol her in Moraji Desai Institute of Yoga to complete her certification. This was followed by a Diploma in Yoga Science along with Ayurveda certifications.
Finally, her journey as a Yoga teacher kick-started in the year 2017. She had organized workshops in AIIMS, Delhi for doctors and patients which were sponsored by Decathlon.  This was not sustainable as she was not earning enough money to make it a full-time job.  As she made a decision to live independently, she decided to secure a corporate job in Gurugram by initiating an Online Yoga Studio.  As soon as she shifted to Gurugram, she started getting a lot of opportunities to work as a yoga trainer in some of the best gyms after approaching all the fitness studios nearby her new locality.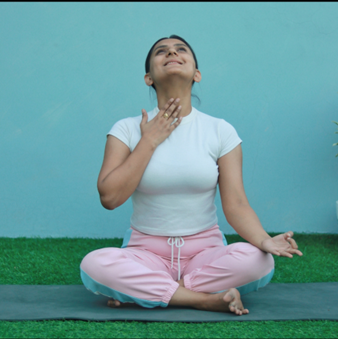 Challenges /Obstacles :
Unfortunately, the COVID-19 pandemic put a temporary brake on her journey, as all the fitness studios were shut down. After three months of the onset of the pandemic, the company which she worked for started laying off most of the employees without any compensation. Since then, she focused on her Instagram page 'Yogini Srishti' in an attempt to educate people about Yoga and Ayurveda.
Later Srishti along with her partner Shivam launched a Virtual Yoga Studio. She started tutoring people of all ages through virtual classes. In the beginning, she started her virtual classes for just 2 students and within a year the number of students was increased to a total of 2000.
Talking about what inspired her to start teaching yoga, especially for women's health-related issues, she says, "I learned so much during this period about Yoga and disease management because I was teaching people from all walks of life, people who were dealing with different issues and I wanted to help them manage these issues and live a normal life."
She also shares her personal health issues, and says, "I was struggling with some issues of my own, because of having a retroverted uterus. I used to face a lot of complications during my menstrual cycles and went through a lot of pain every month. What most people don't know is that women with retroverted uterus tend to have high chances of contracting Urinary Infections and for me, these UTIs were so common that I rely on medication for consecutive months. Like all the problems in my life before this, I found the solution in Yoga."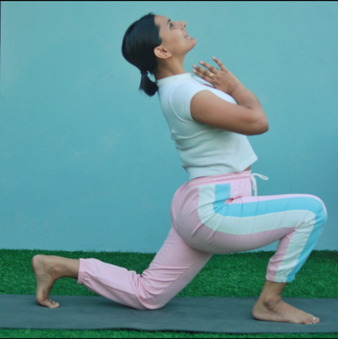 She adds, "With the help of knowledge gained from books and self-experience, I realized that there are certain asanas such as Baddhakonasana, Malasana and many more that can tremendously help with managing these issues. During this time I also learned the yogic management of other women's health-related issues such as PCOS, PCOD, Thyroid imbalance, irregular periods, low fertility and hormonal imbalances."
5 Yoga Poses for curing PCOD/PCOS
Baddhakonasana:  It is also known as the Butterfly pose. This pose helps women in relieving menstrual cramps and back pain during menstruation and pregnancy. The steps for doing the pose are carried out by tucking both the feet close to the groin. The feet should be clasped tightly with the hands. The movement of legs during the pose gives us the appearance of a butterfly flapping its wings.
Malasana:  It is known as the Garland pose. It helps to open the hips while strengthening the pelvic floor and abdominal core. It also enhances circulation and blood flow in the pelvic region as well as improving metabolism and digestion.  The pose is carried out by putting your feet slightly wider than hip-width, with toes pointing out while your elbows should push the inner thighs outwards. It is followed by the palms in Anjali Mudra to draw the knees apart. While stretching the spine upwards, push the sit bones together towards the floor.
Bhramari: This pose will help in calming down the mind from anxiety, frustration or anger and agitation. It also helps in self-healing. Practice this pose 3-4 times every day. When you are doing pranayama, make humming sounds like the bee.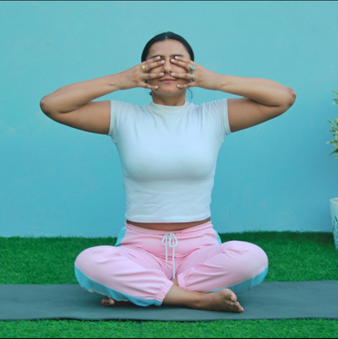 Savasana:  It is also known as the corpse pose. It helps you relax your mind and keep your cortisol levels in balance. Yoga for PCOS can help you de-stress because stress is one of the primary causes of PCOS. With the legs comfortably extended and arms relaxed alongside the body which is followed by the palms facing up. The body should face up while lying on the ground.
Ustrasana: This asana is also known as the camel pose. It helps you to overcome menstrual discomfort. Squeeze your thighs together and keep your hips above your knees. Inhale and reach your tailbone toward your knees, generating space between your bottom vertebrae. Lift your sternum and bring your elbows back toward each other behind you on another inhale.
Her current goals:
Having received stunning responses from the women living across the country, she decided to turn it into a regular program that happens almost all year round and it has been such a great success that she has been able to help thousands of women so far.
By recollecting one of the best satisfying experiences of her career, she smiles and says, "By this time I had built a strong and supportive community of women on my Instagram page. I also knew how many women are going through these issues every day, and decided to start a Virtual Care Program to help women manage these conditions and live a healthy and fit life."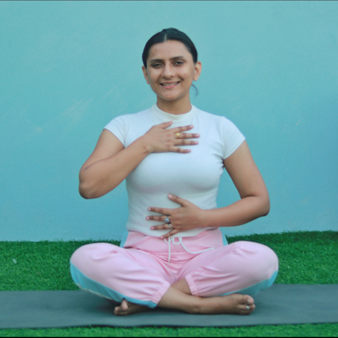 Future goals:
Her long-term objective is to normalise period communication so that women don't have to be embarrassed or ashamed about discussing their periods. Due to a lack of period talks and hygiene constraints, the situation is considerably worse in rural places.
Finally, she says, "Yoga is not magic but the impact it has on my students' lives is nothing short of magic for them because they are able to conceive naturally, reverse their symptoms of these conditions and manage their hormones to the extent that their doctors are advising them to stop the medication as there is no further need for it."