Eco-Lodges in India: Where Luxury Meets Responsible Travel
In the heart of India's diverse landscapes, a new kind of travel experience awaits. One that combines luxury, adventure, and responsible living. Eco-lodges have emerged as the perfect blend of comfort and sustainability, allowing travellers to immerse themselves in nature while treading lightly on the environment. Dhanush Kumar lists some of India's most sought-after eco-lodges, where conscious living meets unforgettable journeys.
Shakti 360 Leti, Uttarakhand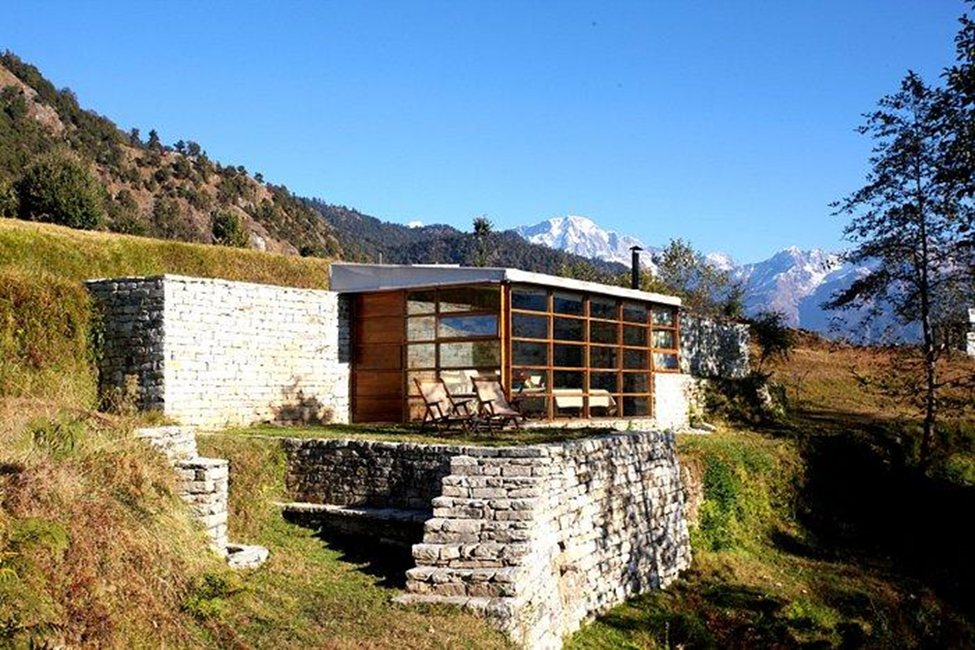 Tucked away in the serene Himalayas, Shakti 360 Leti is a Himalayan haven representing luxury in nature's harmony. With only four guest cottages, this remote eco-lodge promises an intimate escape. Solar panels power the lodge, while local materials were used in its construction, ensuring minimal environmental impact. Guests can explore the region's beauty through guided village walks and hiking trails, all while indulging in organic, locally sourced cuisine.
CGH Earth's Spice Village, Kerala
Nestled in the lush spice plantations of Thekkady, Spice Village is a model of sustainable hospitality. Built using indigenous methods, the cottages seamlessly blend into the landscape. The lodge actively promotes wildlife conservation and offers guests opportunities to engage with local communities. Traditional Kerala architecture, organic farming, and energy-efficient practices make this eco-lodge a serene sanctuary for both body and soul.
The Leela Kovalam, Kerala
Overlooking the Arabian Sea, The Leela Kovalam seamlessly integrates luxury and sustainability. This eco-lodge prioritizes waste reduction, energy conservation, and water management. The architecture fuses modern design with traditional Kerala aesthetics, offering guests a luxurious coastal relief.
Sujan Jawai, Rajasthan
In the heart of Rajasthan's wilderness, Sujan Jawai offers a luxurious escape with a commitment to conservation. This eco-lodge was conceptualized to protect the region's leopards and local communities. With just ten lavish tents, the lodge ensures a minimal footprint while providing high comfort. Water is sourced from a nearby lake, and solar power fuels the lodge's energy needs. Guests can embark on leopard safaris, contribute to local schools, and savour gourmet cuisine from locally grown ingredients.
Banjaar Tola, Madhya Pradesh
Located at the edge of Kanha National Park, Banjaar Tola provides a unique vintage point for exploring India's wildlife. This eco-lodge comprises tented suites that blend into the surrounding forest. The lodge operates on solar power, minimizing its ecological impact. Guests can embark on exhilarating jungle safaris to spot tigers and other wildlife, all while contributing to local conservation efforts.
Glenburn Tea Estate, West Bengal
Located in the Himalayan foothills, Glenburn Tea Estate combines tea heritage with eco-conscious living. This lodge is set amidst lush tea gardens and offers a glimpse into the world of tea cultivation. The estate employs local villagers and promotes sustainable farming practices. Guests can partake in guided tea tours, riverside picnics, and leisurely walks through the estate's gardens.
Conclusion
In India's ever-evolving travel scene, eco-lodges have emerged as beacons of sustainability and luxury. These havens offer a glimpse into a future where responsible tourism is the norm, where indulgence and environmental consciousness go hand in hand. As you plan your next getaway, consider these eco-lodges for an unforgettable journey that respects the planet.