Kirti Kulhari striking the perfect balance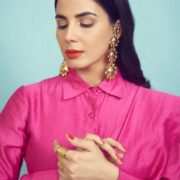 View Gallery
Raw and real, flawed yet strong are what Kirti Kulhari's characters from Pink to Criminal Justice: Behind Closed Doors resonate with. The actor who has been delivering incredible, swoon-worthy performances, is now geared up for the next season of the popular Emmy-nominated show on Amazon Prime Four More Shots Please! Talking about her work, web space and how lockdown helped content creators and audience, Kirti gets into a conversation with Sweta Pendyala for Hashtag India. 
You have been working in OTT and films that have theatrical release. What is the major difference in the experience you have had?
As there is no censorship over OTT platforms yet, it is liberating for the filmmakers to tell the stories the way they want to and for actors to be able to deliver without thinking about censorship. It gives freedom to perform and improvise. The world is opening up and this change has a lot to do with OTT. Boundaries are being blurred for the better. The best part about web shows is that it gives you time to tell elaborate stories. The shooting schedules are longer. On the other hand, there is no better feeling than watching a film on the big screen. I have been fortunate enough to work with people who are making good projects; telling stories that need to be told. Even the films that I have been a part of Uri: The Surgical Strike and Mission Mangal have been appreciated by the critics and the audiences alike; these films have made me a household name.
For over 10 months, OTT was the only platform people were consuming content from. Do you think this will help bridge the gap between the content screened in theatres and produced on the web?
I believe that trend exposed people to diverse content and allowed the audience to better accept that medium and appreciate good content. Filmmakers on OTT platforms also realised that the audience was looking for a certain standard of content, and have been working towards it. However, being kept away from the big screen for so long will definitely make them appreciate films in theatres even more.
How exciting was it preparing for your character in Four More Shots Please!?
Four More Shots Please! has been a joy ride, it's like being home. Playing Anjana is one of my favourite things mainly because our approach has been to show what is real. Every human being is flawed in a way and that is real. It is what I think even the audience liked about the show. It has a universal appeal; it resonates not only with women but all genders and types of people.
After being nominated for an Emmy, do you feel an added responsibility or pressure to keep up with viewers' expectations in the new season of Four More Shots Please!?
It is an international recognition; something from India that has been recognised is the most important thing for me. I am not someone who feels or takes the pressure. I don't take things personally or get too excited. I certainly enjoy the moment, enjoy the glory it brings and let it go. I do my job with utmost sincerity and because I love acting and it is the greatest joy for me. Awards and recognition are bonuses, I do not pressurise myself for anything.
Quickfire
How do you keep yourself away from stress? Knowing when to disconnect helps. If a certain amount of stress is interfering with my health I just disconnect by taking a break to travel, cutting off on social media or just not being available for phone calls.
Cheat meal: Ye or Nay? I don't do hardcore dieting. I eat balanced food, avoid junk, and do intermittent fasting. I can have a cheat meal or cheat day any time I want (chuckles).  
What makes up your me time: Listening to music, watching what I like, meditation, reading, exercising, taking walks and cooking.  
One word for your journey so far: Gratitude. I wouldn't have gotten so far without going through the good, the bad and the ugly.  
Your wardrobe must haves: White shirts and t-shirts, denim and comfortably short dresses.  
Kirti in three words: Simple, honest and at peace
Could you throw some light on how Anjana's character is going to evolve in the coming season? What can the audience expect?
Anjana is someone who widens your horizon and makes you look at the whole picture. The essence of the character will remain the same. Although the third season will see different layers of Anjana's personality, she will retain the same energy and vision. The response of the audience has been overwhelming and I hope they keep showering their love on Anjana and the series.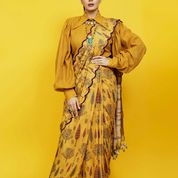 Which role has been most challenging for you? Would you accept roles you don't necessarily resonate with?
By far Anuradha Chandra in Criminal Justice has been the most challenging in terms of dark space, pain and angst the character goes through. Anu Chandra was a victim, a person with no voice and it was very difficult to play a character like that. The feeling of being so lost is not something which has been easy to feel and enact. It isn't a character I would personally resonate with, but I took it as a challenge because I was open to exploring that world.
How do you deal with the stress of playing intense characters?
Playing intense characters is definitely challenging. It's quite a task to understand their world and their issues. I am someone who gets in and out of a character very easily; I don't take it home with me. However, I am sure some traits of each character subconsciously stay with me.
What specifically in Criminal Justice: Behind Closed Doors grabbed your attention that you chose to play such an intense character?
There were a few reasons, but the central theme touched a chord with me. I thought it's a very important subject that needs to be discussed and it has been dealt with maturity and sensitivity in the script. I absolutely wanted to talk about the issue through the series. Apart from that, playing the role of Anuradha Chandra who is a victim of marital rape and abuse seemed challenging to me as an actor and that's why I wanted to do that. Sharing the screen and working with actors like Pankaj Tripathi, Deepti Naval, Mita Vashisht, Anupriya Goenka, Aashish Vidyarthi, Shilpa Shukla and Kalyani Mule was an exciting prospect.
How do you choose a script?
See Also
It is an effective storyline above all else that compels me to settle on a script. Of course what I would be doing and how important my character is to the story also matters. I then look at how I can make a difference to the script as an actor, and how that character can make a difference to the world. The director's vision also counts for a lot in the process.
Personal life has become a myth for public figures thanks to social media. Have you put in conscious effort to strike a balance?
Acting is what I love. It's my passion. I believe in taking things the way they are, not overthinking or overdoing them. I have not been a social media person, I joined Instagram only in 2019 and have started liking it. I think it's how you take it. I believe in showing my real self to the followers because that is who I am and I don't shy away from that. I think to strike a balance all you need to do is to be true to yourself and everything else will fall in place.
I have not been a social media person. I joined Instagram only in 2019 and have started liking it. To strike a balance all you need to do is to be true to yourself and everything else will fall in place.
You were exploring places and travelling during lockdown. What was that experience like?
I love traveling, whenever I get a few days off, I make sure I travel. Staying at home during the lockdown was not very difficult for me, I loved being at home. I spent quality time with my family and myself. As soon as the travel options were opening up, I decided to travel while observing all the safety precautions. I would not say liberating, as being at home or working both are liberating as well but traveling after so many months made me happy.
What is in the pipeline for 2021?
Girl on the Train, Shaadistaan, season 3 of Four More Shots Please!, a few short films, a feature film and a few more projects which I cannot name right now but all will be releasing this year end.
How do you look at your journey so far?
I look at my journey with a lot of gratitude. Had it not been for all kinds of experiences—good, bad and ugly, I wouldn't have been here where I am today.
What kind of role would you like to explore that you haven't yet?
A sports biopic, a period film as I am very fascinated by Maharani Gayatri Devi's story and an action film top my list right now.