"I want to shoot pictures of a snow leopard," Raveena Tandon, The Globe-Trotter
"I loved it!" exults Raveena Tandon who has just returned after a two month stay in Dalhousie, Himachal Pradesh where she was shooting for a web series. The actress who was bitten by the travel bug from a very early age, has imbued a passion for travelling in her children too. In an exclusive with Hashtag Magazine, Raveena shares photographs of her jaunt at Himachal, and her travel diary with Anita Raheja and Heena Agarwal.
How would you describe your holiday experience in Dalhousie?
I loved spending two months in those beautiful locales and wish to go back soon again. Since there were only a handful of tourists, the beauty of the place seemed untouched. When my children joined me we camped in the snow peaks. In my free time we did river rafting and other fun activities. The magic of Himachal is both in the beauty of the sights and the people. The pandemic may have hit the economy but it hasn't made any difference to the beautiful people of Himachal. They are warm, friendly, and passionate.
You posted many pictures of you reveling in the snow. Are you fond of mountain resorts?
My favourite winter destination is Kullu-Manali and since my husband and children love skiing, I love to be with them in Verbier and St. Moritz.
I have seen snowfall in many places like Kashmir and Switzerland but we saw the heaviest snowfall in Himachal. The snowflakes were fluffy and as big as my palms. It was a beautiful, memorable sight.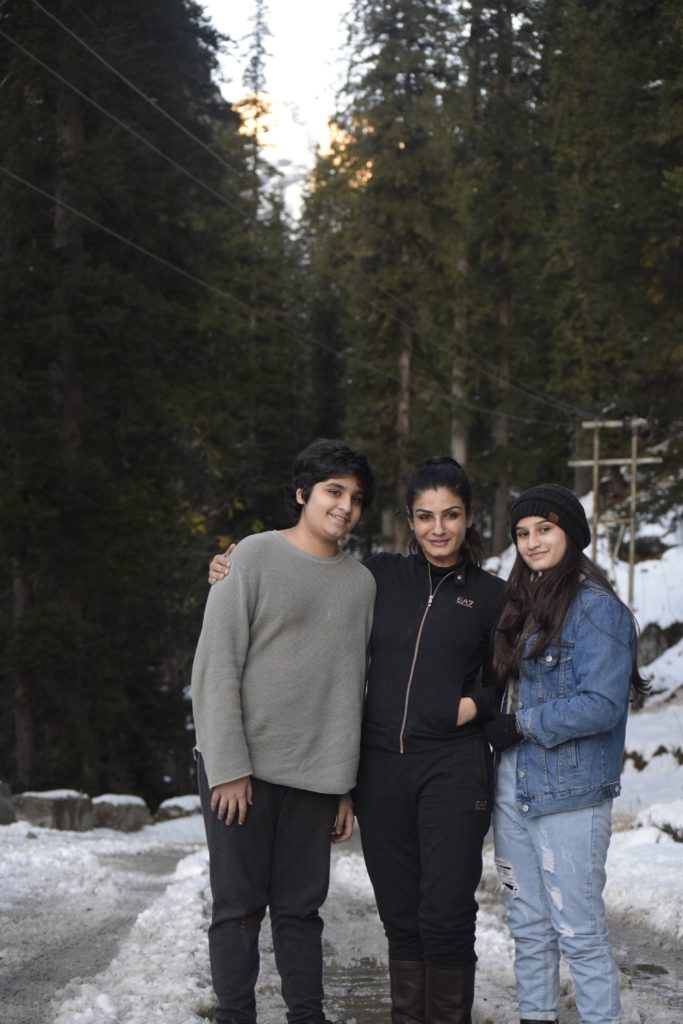 What local cuisine did you enjoy in Dalhousie?
The locally made bread (siddhu) stuffed with walnuts and masala is to die for. The dhabas served mouth-watering makkai and bajre ki roti, saag, vegetables, and gurdh(jaggery). The ghee-soaked rotis and the khichdi – you know when you eat hot ghee and gurdh in a snowy clime, you really relish it. And Himachal is known for its apples and kiwis.
Where all has the passion for travelling taken you?
My work is such that I get to travel to some really gorgeous places all across the world. But wildlife interests me. I've been to Jim Corbett in Uttarakhand, Kaziranga National Park in Assam and many others. I aim for two jungle trips in a year. I am very keen to visit the Pench and Kanha reserve. I love wildlife and I hope we are able to save our wildlife, forest and environment. My kids share my passion. I started as a novice wildlife photographer but with time I realised the wealth of memories I could gather by shooting pictures. When I see majestic creatures – the tigers, lions et al – I can feel the magic in the air.
I want to capture a photograph of the snow leopards so I am looking forward to a trip to the Himachal again.
Which has been your favourite location while shooting for a film?
My favourite shooting location until now has always been Switzerland, for sure.
Your most memorable holidays?
I loved my time at Ranthambore with my kids. My children don't shirk from roughing it up. We have lived in 5-star hotels as well as lodges and dak bungalows. We love being close to nature and when at a forest reserve, we are up and ready to explore the place from the break of dawn. Sometimes, we find creepy crawlies in the bathrooms and even on the bed! But that's the jungle life and we make the most of it.
Is travelling a feasible idea in these pandemic-struck days?
People have started travelling but the lockdowns are being imposed again so nobody knows what the situation will be like from one day to the next. I am game to travel in and around India because what I hear from my friends abroad in the UK etc, India is more careful compared to most countries, and much better facilities are being provided to us by the government. So, I am being very picky about an international trip—I don't want to get stuck there. After a holiday, I love coming back home.
Where would you like to travel to in 2021?
I would like to travel mostly to the forests of India. I still have to cover the Assam side and, like I said, Madhya Pradesh. I would love to go to Greece someday; it looks beautiful!
Travel Takes:
Who do you like to travel with?
See Also

I like travelling with my family. We always make time for our getaways together.
To Shop or Not to Shop
I love shopping, and retail therapy is a must for me when I travel.
Who does your packing?
I pack my bags each time because I am very particular about the things I would need and lug them along.
Must-haves in your bag
Sunscreen, a camera, and some really comfortable shoes so I can explore the sights in a relaxed mode.
Your favourite mode of travel?
Not many know, but I'm a big fan of road trips. Driving around to your favourite place is awesome.