Riding Their Way Through Success
Started by an above knee-amputee, Aditya Mehta Foundation works tirelessly in order to aid fellow para-athletes and identify and address their financial, moral and training needs. Indira Penubolu tells us all about the organisations work and journey so far.
Aditya Mehta Foundation (AMF) is the brainchild of paracyclist Aditya Mehta, an above knee-amputee who lost his right leg in a gruesome road accident at the age of 22. Instead of bringing him down, this accident helped Aditya rise like a phoenix from the ashes and with the help of a specially designed prosthetic leg, he soon discovered a passion in cycling. Following his passion, Aditya participated in multiple cycling competitions and events, and won many laurels for our country.
Lemons to Laurels:
Aditya was the first Indian to win double silver medals at the Asian Para-Cycling Championships held in 2013. He was also featured in The Limca books of Record (2013 edition) for fastest 100kms with an artificial limb, and for his ride from London to Paris in Limca Book of World records 2014. "Over the period of time, I realised that it is very hard for para-athletes to sustain themselves. There are hardly any sponsors to support them and also the equipment is very costly," Mehta says.
I have a Dream…
At this turn in life, Aditya started nurturing a dream of helping other amputees overcome their disability and face life with new hope and help them discover the joy of the sport. "I fall I rise, I spread and shine just like my name," says Aditya Mehta. To accomplish his dream, he started a ride across India from Kashmir to Kanyakumari (3800 km) on November 7, 2013, from Srinagar and ending on December 13, 2013, at Kanyakumari. The 36-day trip of riding which included four rest days and flag off at several major cities by high profile personnel made him the first para-cyclist to ever attempt this route which covered 36 Indian cities. During his ride, he met a lot of people who now encompass his "extended family", as well as Divyangjan who further inspired him.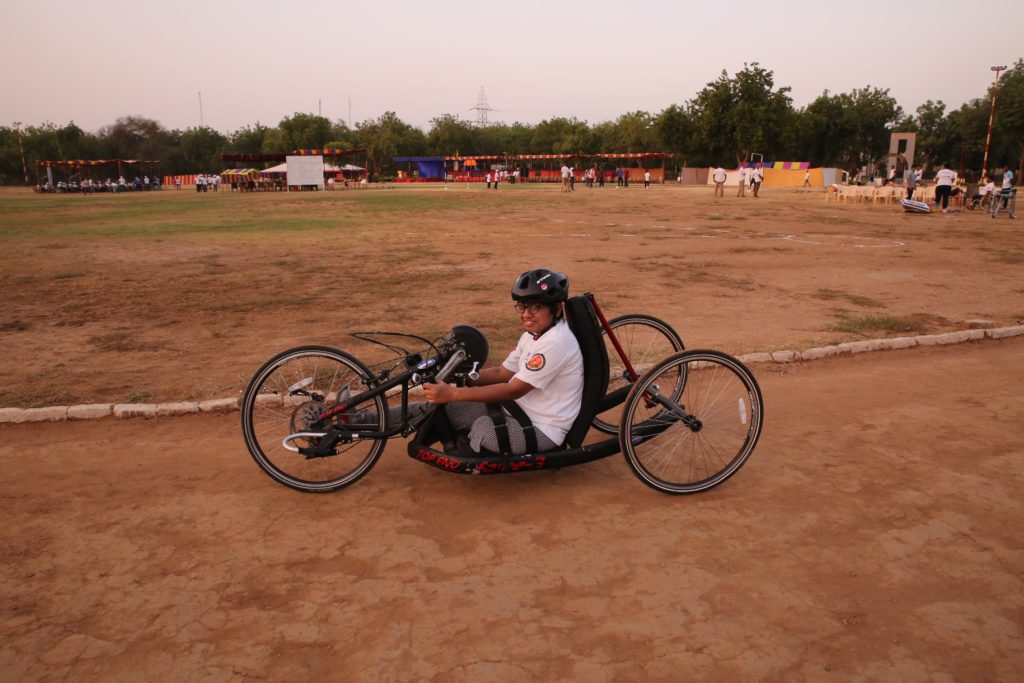 The Lemonade:
Aditya Mehta Foundation was launched along with J.K Mehta, Pallavi Mehta and other close associates, in December 2013 with a noble intention of aiding fellow para-athletes and identifying and addressing their financial, moral and training needs. The organisation has been working tirelessly since its inception with the objective to "Care, Concern, and Change" and to "Rise, Raise and Revolute the lives of para-athletes.
The organisation has been working tirelessly since its inception with the objective to "Care, Concern, and Change" and to "Rise, Raise and Revolute the lives of para-athletes.
Action Speaks Stronger…
Currently, team AMF raises awareness and funds for para-athletes via rides and motivational talks, as they believe that sport can help a beaten down person gain confidence and lead a wholesome life. Within a short span, owing to his two rides from Kashmir to Kanayakumari in 2013 and Manali to Khardungla, in 15 days (India's highest motorable road at 18,380 feet under the toughest road and weather conditions) helped AMF raise enough money to distribute two top of the line racing bicycles and a prosthetic sport's limb, worth Rs 4.0 lakhs, to three para athletes. Srinivas Naidu, an above the knee amputee swimmer from Vijayawada, AP; Alok Mandal, a para-cyclist from Kolkata with 60% disability in his right leg owing to a polio attack, and a bronze medallist at the Asian Cycling Championship; and Abhishek, a para cyclist with 90% disability in his right leg. Ever since then there has been no looking back!
As of today, AMF has moulded 1000's of athletes from grass root level to champions by racing forward with 90 international medals in a span of just five years. They are also associated with all Central Armed Police Force – CRPF, CISF, BSF, SSB and ITBP for counselling and training personnel who have lost limbs in the line of duty.
AMF also launched the first Infinity Para-Sports Rehabilitation and Training Academy in Asia recently and it was inaugurated by Dr S.K. Joshi, IAS, ex-Chief Secretary, Govt of Telangana. The foundation has now constructed a training academy which will be training Divyangans from across the nation from basic level in 28 para-sports in the Academy including para-cycling, para -archery, para-shooting, para-skating, para-powerlifting, rowing and canoeing, para-judo, para -badminton, para-boccia, para table-tennis, para-volleyball, para-triathlon, para-athletics and para-swimming.The academy is located in the heart of Hyderabad, Begumpet, on a 5,000 square yard area with all the required equipment for each para-sport. It is sponsored by a charitable trust wherein the person with disabilities will be provided with rehabilitation followed by screening for para-sports. Thereafter, they will be provided accommodation and food along with the basics to professional para-sports training at the boarding academy. The aim of this rehabilitation centre is to provide a platform for the upcoming para-athletes to excel in sports and bring laurels to the nation at national and international levels.
Support:
AMF has always had the staunch support of eminent actresses Amala Akkineni and Lakshmi Manchu. The Board of Trustees include Shri S.K. Joshi, past Chief Secretary and Advisor Telangana State Government, Smt. Stuti Narain Kacker, IAS, Chair person, National Commission of Protection of Child Rights, Ms. Shilpa Reddy, Former Mrs. India, Shri K. Durga Prasad, retd IPS, EX DG CRPF, Ms. Regina Cassandra, film actress, Shri. Shobu Yarlagadda, film producer of Baahubali fame, Smt. Vanitha Datla from Ellico, Mr. Akhil Akkineni, actor, Mrs Pallavi Mehta and Shri J.K Mehta.
Future Events:
Infinity Ride 2020 – Kashmir to Kanyakumari
AMF's funds are currently raised during a major signature ride every year, 'The Infinity Ride'. ​These funds will be raised from personal networks of the able-bodied riders and events that a rider may choose to organise. AMF will provide all the support it can in terms of information and resources to support riders to achieve their goal. All the expenses during the ride—for their food, accommodation and support during the ride along with medical assistance—will be provided by AMF in partnership with BSF.
This year, the Infinity Ride 2020 is from Kashmir to Kanyakumari, the longest ride so far. Starting mid-November 2020, this ride carries a strong message that para-sports is very important for the Divyang Yodhas in the society as well as to stay fit in the current covid situation, under the #fitindiamovement. AMF is celebrating its 7thanniversary and trying its best to reach disabled people in rural areas through this ride.BSF Divyang Yodhas who have lost limbs in line of duty along with other AMF para-athletes and AMF team members will be cycling from Kashmir to Kanyakumari as part of the Infinity Ride 2020.
Inspired…
I remember very clearly the first time I met Aditya Mehta, it was on a trek up to Bhongir fort with Society to Save the Rocks. The one and only thing that struck me was RESPECT! On chatting with him I found out that he had ridden his bike from the city, 50 km away, and was now trekking up the monolith. For me this was simply unbelievable and so amazing! At that time, I couldn't imagine even attempting to cycle such distances with both my legs intact. Soon my interactions with him increased and inspired by his story and the cause of the foundation, I started doing my bit towards AMF and in the process also got re-introduced to cycling which has now become my first love! As a result of the inspiration, I cycled from Bengaluru to Hyderabad—a distance of 575 km in 2015— to raise funds for AMF which to me is the ultimate embodiment of "When life gives you lemons…Make Lemonade." AMF is just that …"Lemonade" for every thirsty para-athlete.
Join us and be inspired:
AMF is looking to grow and spread its wings and is looking for volunteers. Come volunteer or sponsor and rise raise revolute the life of para-athletes or simply reach out and RIDE!
Please email: adityamehtafoundation@gmail.com or via Facebook: Aditya Mehta FoundationWebsite: www.adityamehtafoundation.org