Tasting Life Thoughtfully
Working towards making social media trends such as 'vocal for local', 'eco-friendly' and 'sustainability' more than mere cliches, these young brands and their dynamic owners have taught us how to create a lasting impact. Surela Mukherjee bring you six brands from Bengaluru who have made conscious living a reality!
Flames of the Forest
One glance at the exquisite collection of semi-precious stone jewellery designed by Mrinalini Cariapa will take your breath away. It is earthy, rustic and timeless. She travels extensively to collect semi-precious stones and gems like Coral Fossil, Jaspers, Solar Quartz, Lodolite, streaked Turquoise, unpolished Aquamarine and raw Emerald and then designs around it to create versatile masterpieces that complement both ethnic and western wear.
Mrinalini started handcrafting jewellery during her student days with wood and glass beads, encouraged by her mother and to earn pocket money. It became her passion and she went on to specialize in jewellery design and semi-precious stones. She started Flames of the Forest in 2005, and since then has been creating these classic heirloom pieces.
The edgy and contemporary collection has a wide range of chains, rings, bracelets, necklaces, pendants, cufflinks, enamels, earrings and signature earrings to choose from.
As a conscious artist, Mrinalini ensures the stones are not treated unnaturally. She informs, "I rarely use dyed stones but if I do, I will mention it. The artificial dyes that I use on the stones are minimal." Some of the dyed stone jewellery like the purple turquoise look marvellous and that little splash of colour accentuates its charm. When it comes to sustainability, she does not source the semi-precious stones from influential people and follows fair practices during production.
What makes this unique handcrafted stone jewellery collection stand out? Mrinalini informs, "It is more about the stones that I use like meteorites and fossils which have a character of their own. I mostly design around the stone which is an art piece by itself. The fits of my earrings are made to the ear measurement. Even if the earring is big it is still comfortable to wear. If you have an ear issue, I can make the earrings to suit your requirement. It is customized for ear fit."
https://www.flamesoftheforest.in/
https://www.instagram.com/flamesoftheforestjewellery/
https://www.facebook.com/FlamesOfTheForest
9880673144
Asmi by Mayank Modi
The Asmi collection of women and kids wear designed by Mayank Modi delivers clean lines that exude beauty in symmetry. Mayank breaks the monotony of the regular churidar kurta or shirt and trouser combinations by creating an eclectic blend of tops and bottoms that can be worn for work and a dinner date post work. Having designed menswear under his eponymous label for the last five years, Mayank created Asmi especially for women and children, and his signature style of giving traditional wear a contemporary twist is reflected in his pieces.
Being a Bangalorean he has captured the pulse of the city in his chic collection. He explains, "Bangalore is a place where people attend a party, dinner or outing post-work. They don't go home to change, and keeping that in mind I designed the collection. One can just wear a nice printed jacket in Chanderi or switch the pants for more relaxed and trendy dhoti pants with a top." The same outfit can be worn during a boardroom meet and as evening wear for a cocktail dinner or a friend's sangeet depending on how one accessorizes it. As the festive and wedding season lingers on, women can choose from lehengas in printed Chanderis and Ikat. They can also wear harem pants in pure Ikat silk with geometric patterns and motifs and embroidery done on the waist that complements beautifully with a corset-like short top which can also be worn as a sari blouse. He is experimenting with new weaves, patterns and vibrant colours while creating this festive collection which is trendy and fun.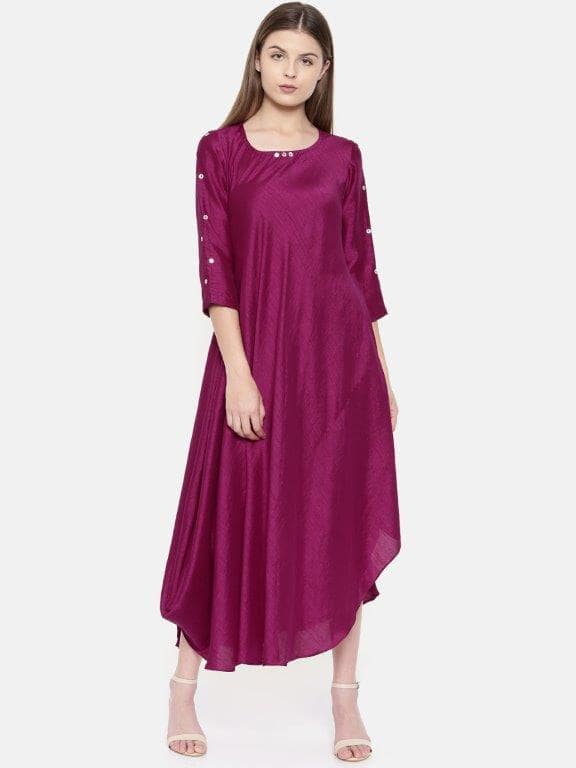 For the fast-approaching summer, one can mix and match tops and bottoms in stylish cuts and solid colours like mustard, red, yellow, bottle green and parrot green in malai cotton. Since work from home is here to stay one can attend a call in a top with a matching bottom which is not a regular trouser and switch into a dressier top with the same pants for loungewear. The embroidered dhoti pants, harem pants and high waist pants with short tops perfectly fit into the concept of transitional clothing. One can opt for dungarees and kimono outfits which are summer-friendly.
When it comes to sustainability Mayank has tied up with a few artisan clusters to source the fabrics. He uses those fabrics that are environment-friendly and easy to procure. There is zero-wastage while production as all the leftover fabric is used to make potli bags, clutches, bow ties and now masks with embroidery done on it which is usually given as gifts and not retailed because they cannot be replicated.
https://www.instagram.com/asmibymayankmodi/
080-41305642/9845097742
Saltpetre
This is a well recognized conscious lifestyle brand founded by Pooja Monga with the motto of making sustainable products accessible to people. She explains, "I think the key issue is that it is not like people don't want to adjust to a sustainable lifestyle. It is just that the products available in the market are either too niche in terms of design, pricing or usability. This is the reason why we started. I believe our vision is our USP. We are one of the very few brands who are doing this in India."
Saltpetre was established in November 2017 and is well known for its contemporary and functional fashion that is minimalistic and can be worn anywhere. While most earth-friendly collections are for women some are gender-neutral and can be worn by men if styled appropriately. They plan to include menswear and kidswear eventually.
There are naturally sourced beauty products like soothing eye balm, beeswax lip balm and beetroot tinted balm gloss. These balms come in care pots which are handcrafted with mango wood and the aluminium cartridge inside which acts as a barrier to prevent natural oils from getting absorbed in the wood, which is recyclable. One can maybe reuse these wooden care pots later as trinket boxes. The beeswax is sourced from beekeepers of Punjab. While the products are definitely natural but not organic. One can look forward to moisturizers and sunscreens made of natural ingredients in the beauty section. The fabric used to make the serviettes and sarisare handwoven by artisan clusters. The elasticated waistbands used for bottom-wear are Oeko-Tex certified.
At Saltpetre, sustainability is built into design. Clothes come without adornment that are not functional, the materials used are either natural or organic certified and the packaging is completely biodegradable which can be used as a planter for germinating herb seeds that come with it. Efforts are directed to create earth positive products.
For instance, they will soon introduce clothes hangers and clothesline clips in wood so that people can avoid plastic ones.
Production happens in small batches and apart from adding new designs they are planning to upgrade the present ones in terms of colour and flattering hemlines.Their new collection will be up by February end.
https://www.instagram.com/iamsaltpetre/
+91 9380598199
Angelo Vegan
This unique artisanal vegan cheese brand was started by Aditya Angelo Fernandes in June, 2020. It all started with a kitchen experiment by Aditya who has been vegan for the last five years to make vegan mozzarella with cashew nuts and peanuts. It turned out extremely well and his parents who are not vegan loved it too. They were pleasantly surprised to know that the delicious mozzarella was vegan! Encouraged by the response he started making vegan mozzarella commercially. It is healthier than dairy, versatile in use, and delicious.
There are two flavours to choose from: classic and the truffle. The classic mozzarella has an extra-virgin olive oil, garlic and herb marinade while in the other variant the mozzarella is marinated with white truffle oil sourced from Perugia.
Aditya elaborates, "Vegan mozzarella is a unique product that no one else has tried so far. It is healthier than dairy mozzarella as it is low in saturated fat. One can slice it and put it on toast or pizza, in salads and pastas, or use it as a spread or bake it as in a lasagna, or have it on a platter. This vegan mozzarella can even be enjoyed with dosas and jowar rotis. It comes in a glass bottle and can be stored in a fridge for 2-3 weeks."
He works with his mother and team to experiment with different kinds of cheese and they are planning to introduce hard cheese and cheese crumble or powdered cheese with a crumbly texture much like vegan parmesan. The pasta and lasagna kits in his collection were curated through collaborations and there are specific days one can order them. Customizations can happen in terms of choosing the flavour of cheese and adding a note in the hamper which comes along with a recipe card. These kits are a sure shot way to ensure a hassle-free preparation of a delicious vegan meal. It serves two to four people and is perfect for parties and cookoffs with friends and family. Since there are not many vegan cheese platters and hampers Angelo tries to fill in the gap. He works with only those brands that value veganism and make products which are minimally processed.
The ingredients are organically sourced and the finished product is packed in reusable glass bottles. These glass bottles can be sent back to get a discount on the next order. The production has been streamlined to ensure zero water wastage and all the excess water goes back to making cheese. Thinking sustainably, the packaging is minimal. A simple label printed on eco-friendly paper is tied to the jar with a compostable jute rope. While stickers are being introduced to comply with FSSAI rules, the glass jars are reusable and recyclable.
Aditya explains, "I felt it was one thing to be vegan and another thing to help people make vegan choices and make the transition to veganism easier. For non-vegetarians and vegetarians to regularly consume our vegan cheese; it means so much to us. Food habits are changing, less animals are being harmed, and healthier choices are being made. I count all these as victories for myself and my brand."
https://www.instagram.com/angelovegan/
+917348816800
Bottled
Have you ever seen a dual tone ravioli or pasta laminated with edible flowers on your plate? Can you imagine the riot of colours greeting you before you take the first bite! Bottled by Arthi Singh Rathore, Rajesh Veedu and Ganesh Srinivasan takes artisanal pasta a notch higher. They also have a unique spread of all-natural sauces, pesto and preserves with unique flavours.
Arthi explains, "The answer is cliched but true that my two toddlers are growing up eating food that is carefully procured. While I was always particular about the food I ate pre-pregnancy, I became more conscious of my food choices during pregnancy. Eventually, when the children were born, I was responsible for their nutrition. That's when I discovered food available in the market had preservatives and some sort of sneaky chemicals in it. Thus, there was a lack of good food for children in the market. I also love cooking and was making them at home for them. There was an opportunity when it came to food which I realized and that inspired us to start Bottled." Bottled came into operation in September, 2020.
They offer pastas like ravioli, fettuccine, pappardelle and gnocchi in variants like multicolored which is named Kaleidoscope, green or Popeye and laminated pastas which come with edible flowers and herbs. They have combined vegetable colours to create a rich and velvety purple pasta that looks mind blowing. The colours of the rainbow fettuccine will surprise you every time you receive the box of pasta from Bottled much like looking through a Kaleidoscope, unless, of course, it is customized for a theme. The colours are made fresh and sourced from flowers, fruits and vegetables. For instance, the green comes from spinach, parsley and coriander depending on the shades of green being used, red is sourced from beetroot, black from charcoal, purple from blueberries and blue from the Blue Pea flower grown organically at home in lakeside mud. They are the first brand in India doing art on pasta. Both vegan and egg pastas are available which is again customizable.
The pasta kit is tailored to the customer's preferences and makes for ideal gifting options. It comes with a box of pasta, an accompanying sauce, a clear instruction card with recipe and storage details, a thank you note, two candles and a bunch of flowers. It is sprayed with rose water and ribbon tied before being sent out. They also take party orders for big events.
There is constant experimentation to bring in new flavours and products. New pasta sauces like Arrabiata and the Vodka Tomato sauce will be introduced soon. They will soon launch salad dressing and granola. Being an earth-friendly and customer-centric brand, they put the same effort to ensure all practices right from sourcing to packaging is sustainable. They are big on supporting local organic farmers, and they avoid using plastics during packaging. They partner only with brands who value the environment. One percent of their total turnover goes to planting flowering plants that attract bees and sparrows and create an ecosystem, helping them to thrive.
https://www.instagram.com/bottled.in/
9945685182
Mason & Co.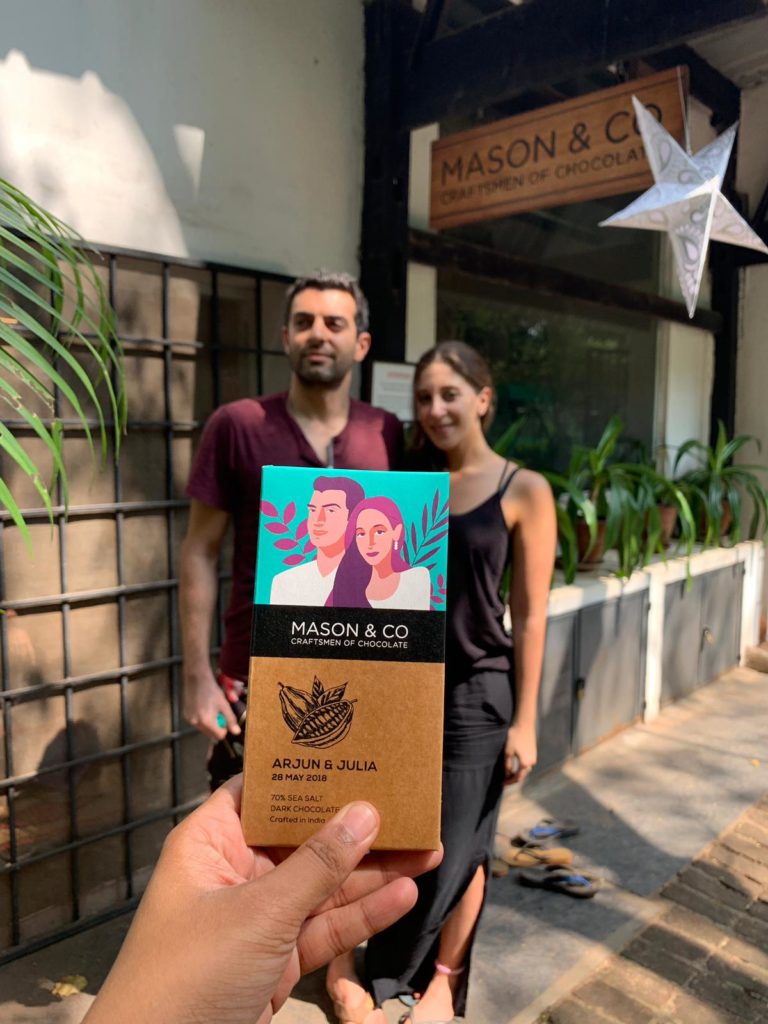 They are India's first bean to bar single origin chocolate brand with sustainability as their driving principle. Based in Auroville this chocolate store has branches in 120 cities in India. The chocolate is pure and vegan, thus free of dairy, emulsifiers and other chemicals.
Mansi Reddy, the spokesperson for the brand explains, "While cacao is not an indigenous plant, it is grown widely in Karnataka, Tamil Nadu and Kerala. No high-quality bean to bar chocolate was available in India and the imported options were not the best quality. The idea of starting a premium bean to bar chocolate brand was born."
This haven of chocolate offers vegan bars in unique flavours like Peppermint and Sweet Nibs Dark Chocolate, Sea Salt Dark Chocolate, Rosemary and Sea Salt Dark Chocolate, Chili Cinnamon Dark chocolate and Sourdough Sea Salt Dark chocolate, to name a few. They have collaborated with Blue Tokai Coffee Roasters for the sinful range of coffee-chocolate combinations. They have also tied up with Tea Trunk, and Bread and Chocolate to curate products such as Chocolate Earl Grey Tea, crunchy chocolate granola, crunchy nibs peanut butter spread and chocolate peanut butter spread. The gift packs that come in sets are a perfect choice to win over chocolate lovers. Individuals or brands can customize the cover design for their special occasions after choosing from existing flavours.
Apart from chocolate products, Mason and Co. has partnered with Bare Necessities, a zero-waste company based in Bangalore to make lip balms and dry shampoo. As a brand, they partner with those who share their level of consciousness.
The cocoa seeds and pods are versatile and can be put into use in many ways. The cocoa beans are used to make chocolate bars, nibs and fine chocolate powder for baking and drinking. The fruit that covers the seeds can be used to extract juices to make jams and it releases biogas when fermented. However, the potential of this fruit is yet to be tapped. Excess cacao shells which are waste materials are distributed amongst farmers in Auroville to be used as mulch in the compost to give nutrients back to the soil.
Mason & Co. sources organic cacao beans directly from farmers. Being organically grown ensures it is chemical-free and safe for consumption, and farmers get a better price for produce which they don't have to share with intermediaries nor seek external validation and get incentives for growing the plant with utmost care.
Where packaging is concerned, Mansi mentions, "The cacao nibs and powder currently have a plastic film in its packaging as it needs to be air-tight but we are trying to make it into a paper box with degradable plastic on the inside. The chocolates have no plastic packaging. Even the glass jars are wrapped in paper bubble wrap and not plastic ones." Their approach to sustainability is holistic, as they give back both to the environment and community they are directly working with.
https://www.masonchocolate.com/
https://www.instagram.com/masonandco_chocolate/