The Wooden Toy Village of Andhra Pradesh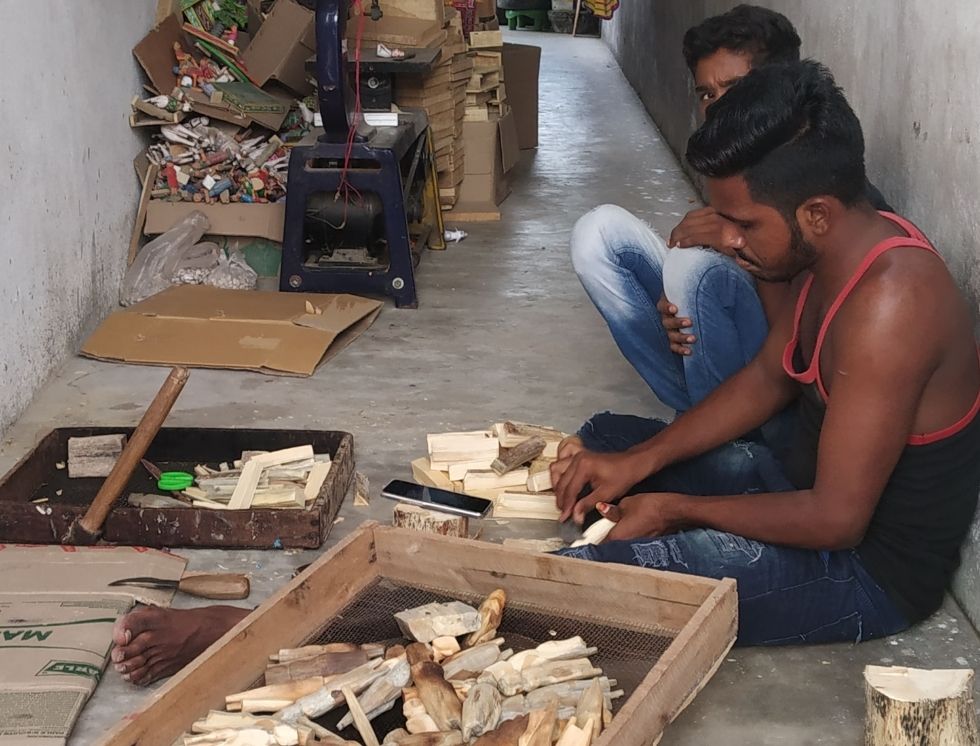 View Gallery
Do you know about the iconic wooden toy-craft of Andhra? Known for their special light-weight wood and precision of artistry, Kondapalli toys make for exquisite art pieces. Manjulika Pramod travels to Kondapalli to discover some of the facts about softwood, the gorgeous toys, their uniqueness, the colours used, GI Tag and the legacy of the artisans. 
Kondapalli toys are heartthrobs of Andhra. Interestingly, these life-like, thematic sculptures convey many stories and sentiments. They are predominated with a bright colour scheme and their reflection of the native rural life is absolutely adorable. In their vibrant painted form, these earthy and rustic wooden toys lend the perfect blend of aesthetics and colour to any dull room. In addition, the outstanding detail and precision in their build make them a winner anywhere and everywhere. Big or small, each toy is a gem and speaks for the artistry legacy of this village, which once thrived under the powerful influence of the Sultans of Golkonda.
Where is Kondapalli?
In the Krishna district of the Indian state of Andhra Pradesh, Kondapalli is a humble town where these gorgeous toys are created. Alternatively, it may also be termed the industrial suburb of the city of Vijayawada. One of the most beautiful green belts of Andhra exists in their vicinity and there is also a marvellous 14th century fort in the heart of the region.
Though Kondapalli has stood through testing times, the village still retains its world-famous toy-craft. The villagers have been practising woodcarving and toy making generation after generation for many decades. In the year 2006-07, they were recognized for Geographical Indication tag.
What is so special about these toys?
Tella poniki ('Jiuotia Rotteri Fromis' in botany) is the lifeline of Kondapalli toys. This soft wood, one of its kinds, found only in Kondapalli forest reserves wins hands-down. There is no alternative to this wood. Once, it used to be abundant but now it is becoming scarcer by the day.
As far as the Kondapalli toy making process is considered, it is elaborate and calls for detailing. The wood is soft and thus can be chiselled to perfection into numerous different objects to narrate many stories of the Andhra region and its people.
The rough surfaces are then painted with tamarind, wood and sawdust to serve as a base. Once the paste dries up, it is painted in many vibrant colours. Another noticeable feature about these toys are that these colours are eco-friendly and hence perfect for children. The naturally sourced materials like marigold, pomegranate, palm leaves and indigo are used to create yellow, red, green and blue. Vegetable dyes are used to create other hues of colours.
All of this put together makes for these perfect biodegradable and nature friendly toys.
Kondapalli Toy Makers
The magical hands that create the toys are truly passionate about it and this fact is evident in the end result. The irresistibly attractive figurines are exemplary of all the hard work and the patience that goes in the making. There is no iota of doubt that these toys are gems of South India but the toy makers really have to struggle to sell their products.
The story goes that the artisans who make these toys have a mention in Brahmanda Purana. Colloquially, the toy-makers are referred as Aryakhastriyas, and are believed to have migrated from Rajasthan. Some also believe that that they are descendants of a sage, Muktharishi who was adept in art and craft due to the blessings of Lord Shiva.
For years, the artisans have been doing this to make their ends meet. To ensure it becomes a secure and a sustaining business, middlemen were eradicated and many local schemes were launched. For all major functions, these toys are used as memorabilia. The area has already won a GI tag to recognize the passion, legacy of the handicraft and to popularize the art. A concept of wood bank is also being worked upon to help the artisans with a continuous supply of the soft wood.
Despite these efforts, there has been a downslope. The artisans deserve more. They need more orders and job opportunities. The easy accessibility and low price of plastic toys pose pressing competition to this dying craft. Certain propositions need to be put into effect to attract and encourage younger generation to take up the craft and keep the 'art of Kondapalli Toys Making' going in future as well. Local love and global exposure are the need of the hour.
Pro Tip – The Killa road has a stretch of 8-10 shops where one may buy these handcrafted toys. Once you are in and around Kondapalli, do visit the fort as well.