When marriage took her from Hyderabad to Washington, the one thing thing Lakshmi Babu made sure she packed in her bag was her passion and love for dance. She started Kuchipudi Dance Academy almost 24 years ago in Maryland USA and today has trained more than 200 students across 5 centres of her academy in the US.Hashtag Magazine talks to the dance exponent and guru on her journey so far…
Tell us a little about yourself…
I grew up in my ancestral home in West Marredpally, situated in the expansive community that arose in the 1930's in Secunderabad Cantonment. It was in the 90's that I got married and left India to start a new life with my husband, in Maryland USA. This was a big move for me as I lived all my life until then in Hyderabad. I was born at Shenoy Nursing Home, went to St. Ann's High School attended Bhakta Ramdas College of Music and Dance for Kuchipudi lessons and then went on to Kasturba Gandhi College for my undergraduate studies. These were the popular Marredpally landmarks in those days. The one and only big reason I stepped out of my comfort area in those days was to attend dance classes at Srinivasa Kuchipudi Art Academy in Domalguda Hyderabad.
The two-wheeler maneuvers in the thick of rush hour grew on me, so did my love for Kuchipudi and adoration for my Guru. When it was time to leave to the USA, I gathered many bits and pieces of my life and the one thing I took along with me was my love for Kuchipudi. It was my first love that became a part of me in the two formative decades of my life. It was the one thing I couldn't imagine being separated from.
Tell us about your early memories of dance and how you started KDA close to 25 years ago.
I started my first dance lessons at Bhakta Ramdas College of Music and Dance in Marredpally, one street up from home. With a great sense of excitement, on my way from school one day, I walked into the new institution that had opened up in my neighbourhood. I went in and filled the admission form for Kuchipudi classes. As a young girl, I used to love Indian movies for the depiction of dance and the emotions portrayed through it. At the very moment I enrolled in the dance classes, I knew this was going to be a big part of my life. My exposure to classical dance was increasing one step at a time and I soon became aware of the Vempati Parampara of Kuchipudi Dance. This is where I met with Guru Dr Sobha Naidu at Kuchipudi Art Academy Hyderabad. From here on for the next six years Kuchipudi became a big part or my life. Understanding my love for dance, on the very first weekend after landing in the US, my husband took me to meet the director of the Indian School for Music and Dance. This was a Deja vu moment for me.
It is the dance form that keeps me going—the rhythm of the movement and emotion in Kuchipudi.
After five years of fervently teaching at the Sunday school, I started my own brand, Kuchipudi Dance Academy. This sole proprietorship has survived 25 years in the cultural hub; the suburbs of Washington DC. There are many immigrant survival stories here like mine. Real stories with real people, artists (and non-artists) who brought freshness, passion, and culture to the region that was just beginning to grow. Many of us still live here and have built lasting friendships over a common area of interest and expertise.
How do you feel when you look back at the 25 years you have dedicated to dance?
Seriously, there's no looking back because you have to just keep marching forward. The past reminds you of the winning moments, sacrifices, hard work, painful challenges and big strides. I tried to grow as an artist and as a teacher too. I am mostly satisfied with my journey and for the role I played. I know this divine art form is meant to thrive through generations even beyond borders. I don't measure my success in terms of students enrolled, programs participated or productions composed, but instead with the lasting impact I might have created.
How easy or difficult was it for you to introduce the concept of classical dance in a Western world?
The winning moment was when my daughter compared me with a surgeon she was shadowing when she was a medical student. I learned quickly that with priorities in the right place and a supportive family, you can overcome any challenge. The biggest challenge I faced was to place and hold the continued trust of my family and friends. The western world is very accepting. If not for their welcoming attitude, my survival would not be possible. Tradition and culture are always accepted and appreciated when presented with a respectable approach. We performed at schools, universities, temples, churches, malls, work places and cultural stages.
Tradition and culture are always accepted and appreciated when presented with a respectable approach.
Your favourite rendition or on-stage moment?
Dancing on stage with the US Capitol as the backdrop during the Fiesta Asia festival among a diverse audience was absolutely mesmerising and one of the best moments of my life. The rendition on demand was dancing on the edges of a brass plate. The Tarangam (an episode from the opera on the life of Lord Krishna composed by Saint Narayana Teertha) or riding the waves of the ocean.
Both your daughters have joined you in this journey of dance and expression. Tell us a little about them and how they have been a part of your journey.
I've often asked my girls if this is what they wanted to do and they wouldn't have it any other way. The dance school is like their sibling as they were born into it. They've played a huge role in the building of my personality. When we dance together, it is a satisfying and proud moment for me. Both have chosen professions that grew out of their love for dance. Sriya is a first year resident Podiatric Knee and Ankle Surgeon in NYC while Sneha is a UI/UX Designer in Washington DC.
See Also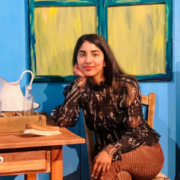 Quick take:
What keeps you going and who is your biggest inspiration?
It is the dance form that keeps me going—the rhythm of the movement and emotion in Kuchipudi. My biggest inspirations are my dance guru and my students. I often feel like a bridge between the two, an ambassador of the art form.
Future plans
I founded Lasyam Creative Media & Production House in 2017. Through this, I'm hoping to bring classical dance back to Indian films. We have a few stories scripted and waiting to be sponsored.
Dancing or watching your students perform?
My first love is dancing, but the joy that springs in my heart when I watch my students is incomparable.
This section is dedicated to NRI's and their success stories as we believe that it takes a lot of determination and effort to achieve success in a country that isn't your motherland. Every achievement, whether big or small, deserves to be celebrated and by sharing your story you are inspiring others to follow in on your footsteps. To share your story, mail us at editorial@hashtagmagazine.in