Blog what you eat: trending food bloggers in India
Food has always been our favourite and these talented bloggers have turned their food cravings into a wholesome series of blogging. In a conversation with Avanthika Reddy, trending food bloggers across India share their success stories.
India's most loved food bloggers
ROHIT SHARMA
INSTAGRAM: @foodiee__gabbar
YouTube: @foodiee__gabbar
This resident of Delhi NCR has over 15k followers on his blog, where he is lovingly referred to by the eponymous name Foodie Gabbar! "I have always been a foodie; whether it is homemade food, restaurant-style or even street food, all of it has always been an important part of my life. The art of culinary photography and trying different delicacies has gradually interested me in being a food blogger," says Rohit. The fact that his subscribers and followers cherish his content a lot is one of the main aspects that keep Rohit motivated and interested in exploring new cities and their delectable cuisines. For Rohit, "being called in for reviews on taste and ambience by top restaurants makes me highly proud of myself and completely obliged". Recently, his YouTube channel of the same name hit 50k followers, a cause for a feast of celebration!
Rohit's cup of tea:
"Being a typical non-veg lover, my all-time favourite is Mughlai cuisine," says Rohit. Other favourites include Butter Chicken with Naan, Changezi Chicken and Gol Gappe.
ESHA SHROFF SHAH
INSTAGRAM: @foodholic.mumbai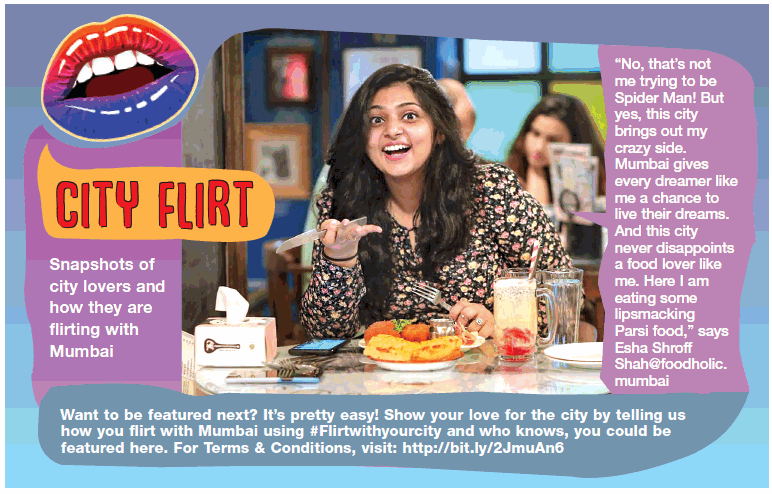 With over 90K followers, this food and travel blogger began with blogging when it was a niche area. "When I started blogging, It started with my love for food and cuisines; back then there wasn't even a thing like blogging, but my love for food got me this far," exclaims Esha. Her fondness for travelling and food were some of her biggest motivations to get going with blogging her journey and exploring culinary delights. "One of my biggest achievements is getting people to recognise me for who I am. Being the reason for people to follow their passion for food blogging makes me feel really happy and that's what keeps me going," says Esha.
Esha has proudly made her mark as a vegetarian blogger. She has been featured in various news articles, Instagram pages and has also received the 'TOP INFLUENCER AWARD'.
Esha's cup of tea:
Pizza, Chinese, Vada Pav, Chaat.
DEEPAK BELEL
INSTAGRAM: @foodengineering
From his mother saying, "Don't waste your time in all that, it's good for nothing" to "When is the next food hamper coming home?" the blogging journey of Deepak Belel has come a long way. Professionally an engineer, and passionately a foodie, this talented blogger from Hyderabad boasts of over 18K followers. He has been a food critic for over 4 and a half years now and is never tired of his work. Being born in Hyderabad and his parents being from Kolkata, Deepak has experienced the best of both cuisines.
Deepak says "To be honest I didn't have any clue what food blogging or reviewing meant but one day a very good friend of mine gave an idea of starting something which was related to food and fashion. My knowledge about fashion is still not great but somehow the food part worked. After many ups and downs, sacrifices, taunts, and obstacles I made my way and here I am, with a great knowledge about cuisines, their history, and eighteen thousand Instagram family. Nothing happens overnight!" exclaimed Deepak.
Deepak's cup of tea:
"Being a Hyderabadi, Mutton Biryani will always be my favourite," says Deepak. Prawn Malai Curry and Samosa always top the list alongside Awadhi Cuisine.
RITIKA RAINA
INSTAGRAM: @themanritlife
This food blogger from Jammu & Kashmir has been a food buff from her childhood. Her interests ranged from regional Indian cuisine to Italian. "I have always loved to explore food. It has helped me a lot with my cooking skills," exclaimed Ritika. The 24-year-old MBA student is a happy-go-lucky person who never misses a chance to get to know more about food and her passion to do so has now turned into exclusive food blogging. Ritika says "Khaate raho aur muskurate raho will always be my tagline". Constant motivation from her family and friends keeps her going and makes her want to never quit.
The recognition Ritika gets from her blogging is something she respects the most. She adores the internet family she has created, where strangers have become her constant supporters. "When people recognise me and praise my work, I feel extremely elevated and blessed," she says. Some of her proudest moments include when she was interviewed by the well-known local news channel J&K Media and was invited as a special guest at a cooking show. With over 5K followers, Ritika is one of the budding food bloggers in India.
Ritika's cup of tea:
Rajma Chawal, Kalari. Ritika recommends, "These are the best dishes of Jammu, so whenever you decide to visit, definitely try these". Dogri, Kashmiri cuisine and Momos are her go-to picks.
MOHAMMED ZUBAIR ALI
INSTAGRAM: @hyderabad.food.diaries
One man that never fails to make Hyderabad proud with his blogging escapades is Zubair, a renowned food blogger with over 110K followers. This is not just a passion; Zubair holds a degree in Hotel Management, with an extensive knowledge of the retail sector. Zubair says, "My story with food began while I was training at a star property. Curiosity of knowing cuisines kept me glued to food and now after 10 years here I am with Hyderabad Food Diaries."
After learning immensely about food and beverages, the curiosity to explore new lounges, cafes, restaurants, and clubs in Hyderabad transformed his passion for food into his everlasting profession. Whether it is street food from the back alleys of Charminar or Continental food festivals at five-star properties, South Indian breakfast spreads or midnight buffets, Hyderabad Food Diaries covers it all.
His accomplishments are vast, and Zubair is rightly proud of what he has achieved. The blogger has been named as the 'Best Travel and Food Influencer of the Year- 2021' by WIBAINDIA. Having also received other awards such as 'Best Food Blogger of Hyderabad' and 'Best Influencer of Hyderabad', Zubair has been successful in making Hyderabad Food Diaries a trending brand.
Zubair's cup of tea:
Tahari (Hyderabadi dish), Biryani, Qurbani Ka Meetha.
VIRENDRA BUNDELA
INSTAGRAM: @bundelaofficial
Virendra's cup of tea:
"Being a Delhi blogger, the first thing that comes into my mind is Choley Bhature." Other favourites include Chicken Lollipop and Parathas.
PRUTHVI GARLAPATI
INSTAGRAM: @hyderabadfoodbowl
Pruthvi's cup of tea:
Mutton Biryani, Mudda Avakaya Pappu, Taro leaf Parcels.
AYESHA SULTANA
INSTAGRAM: @watchucraving
The 21-year-old MBA student has over 5k followers on her blog "I am definitely a food lover, and a nature and travel enthusiast," says Ayesha. Her motto for life is to 'Slay your demons while you are awake so that they don't get you when you are asleep'. She has always been interested in café hopping and loved documenting what she explored. Her interest in the flow of time was nurtured into her creative blog. "I think when you do something you love you just keep going, your passion for it is enough motivation to continue," says Ayesha. From attending food events, meeting new people, and being featured in a lifestyle magazine, Ayesha says the best experience so far is her learning outcome.
Ayesha's cup of tea:
Lebanese grilled chicken, Cheese kunafa and anything prawns. "I am a big-time prawn monster," says the blogger.