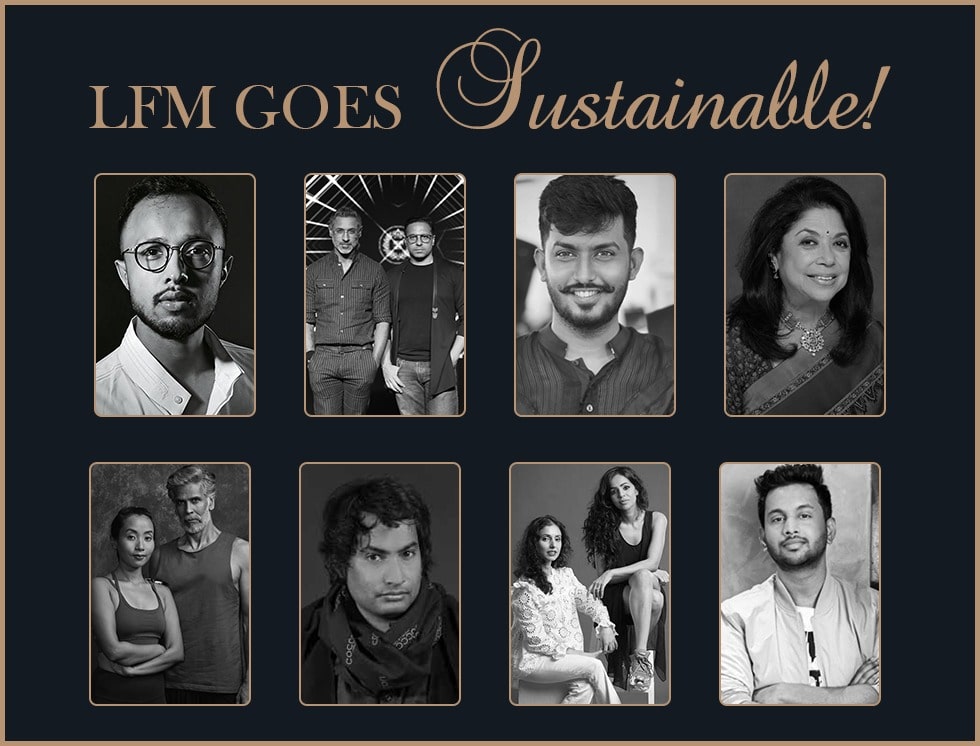 Lakme Fashion Week 2021 was all about hailing new beginnings after the upheavals of last year, with an eye towards sustainability. From a brilliant mix of the green horns and the established, the designers lit up the event with their creations that often swung between opulent and eclectic. The event, backed by Lakme India in partnership with the Fashion Development Council of India, was a "phygital" gathering of craft, innovation and workability. Designers participated from all around the country via spectacular visual art films and live walks. Juveria Tabassum picks eight of the best designers on show through the five days.
Designer: Akshat Bansal
Label: Bloni
Hashtag USP: Local artisanal techniques on marine plastic waste textiles.
Delhi-based Bloni's Akshat Bansal's creations were the perfect celebration of the theme, for the event. The designs were showcased as part of the Emerging Talent Category. Fabrics sourced from marine waste and generated through technology were adorned with the age old tie-and-dye craft. Furthermore, the collection, termed Bloni, was gender neutral, which gave them an added edge. Crochet and knitting made an appearance and the designs left an impact with its tasteful use of neon green and shimmery silvers between blacks, whites and greys on eco-friendly, hybrid textiles. The film deployed futuristic elements and was striking in itself, with models standing knee-deep in waters.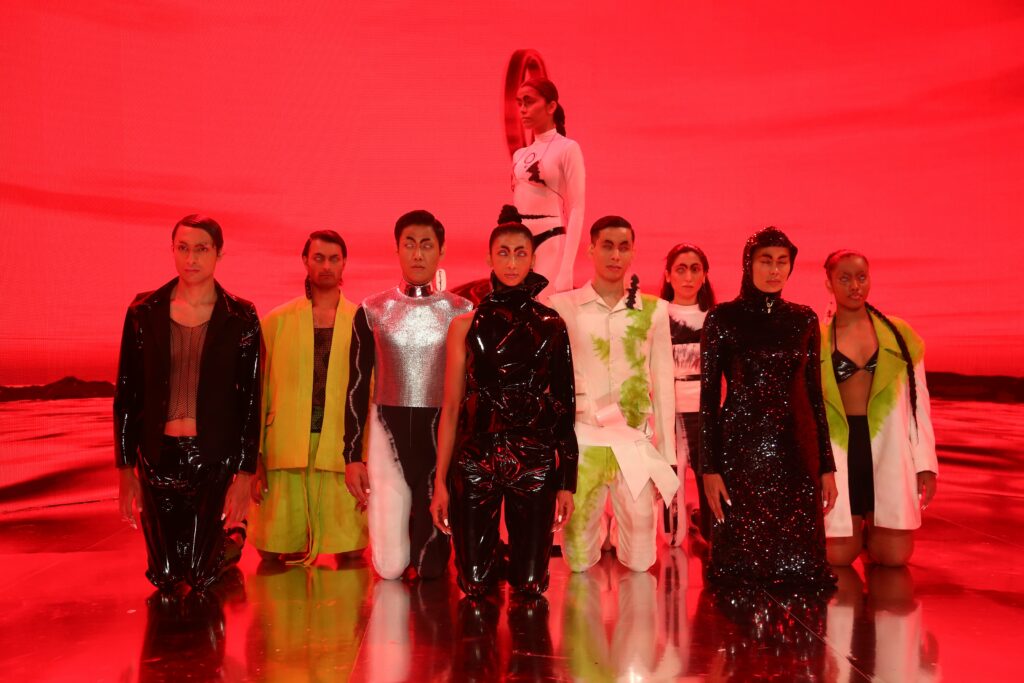 Designers: Shantanu and Nikhil
Label: S&N
Hashtag USP: Safari chic that can well become the new-age celebration wear.
The designer duo has become a vintage name in the industry with their new-age celebration wear which is transforming what we wear at festivities. Their Safari collection was driven by the idea of "celebration on the move," paying a tribute to the ceaseless lives of today's youth. The designs were a smooth mix of casual chic and traditional cuts, satisfying the fashion stipulations of the youth. The collection experimented with cuts and silhouettes in kurtis and jackets for women and shirts and sherwanis for men. Also on the roster were some classic tees and sneakers which lifted some rather conventional garments to a ubiquitous contemporary appeal. The designers said the idea behind the collection was "delineating the belief of celebrating oneself, the journey and the destination."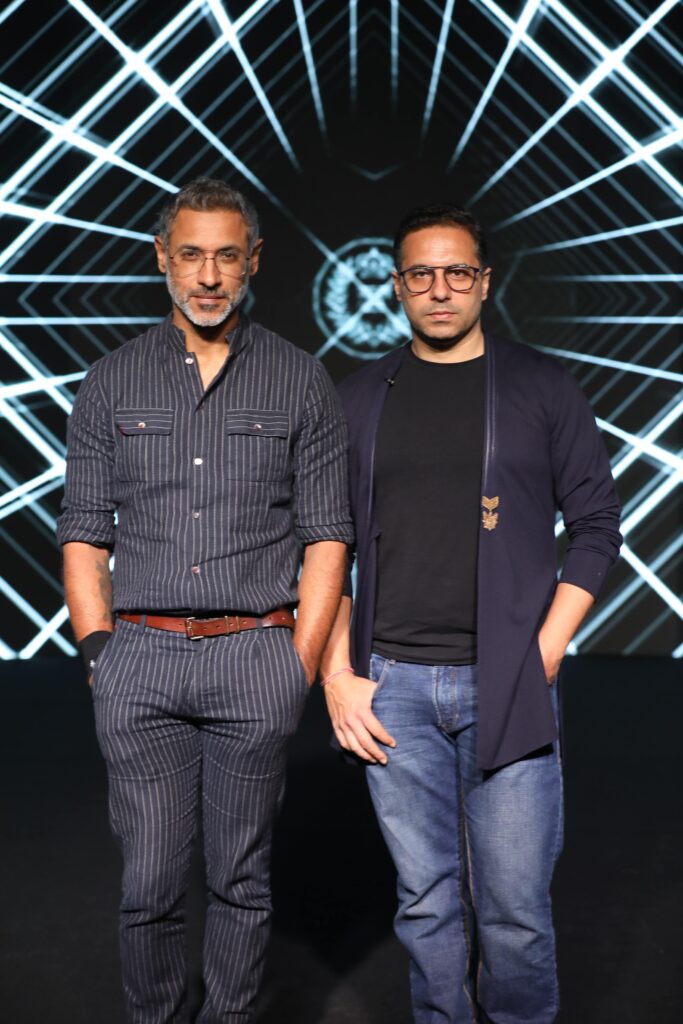 Collection: Crafts in the Forefront
Designer: Rahul Dasgupta
Label: Label Rahul Dasgupta
Hashtag USP: Shibori on sherwanis could well become a staple
Presenting as part of the GenNext show by INIFD, young designer Rahul Dasgupta, who launched his label in August 2020, sparkled with his stylish collection for men at the Lakme Fashion Week. Sherwanis, kurtas and jackets infused in Shibori and occasionally splashed with bundi made for a cool collection which might well find a place in many a man's wardrobe this festive season. Created with organza and cotton, the garments dabbled in blues and grays and delivered a final stunner in red. The mix of Shibori and selvedge of fabric was cut and dyed, then detangled and later stitched together to create a great masculine look. Another stunner was the cotton dori dyed in Shibori, for the jacket that was lined elegantly with Shibori and worn with a silk organza bagalbandi style kurta.
– Collection: Spring/Summer '21 – Ritu Kumar x TRESemme:
Designer: Ritu Kumar
Label: The Ritu Kumar Label
Hashtag USP: Soya fabric sarees that embrace the classic and the contemporary
Designer Ritu Kumar was supported by haircare brand TRESemme in this edition of the Lakme Fashion Week. Boho and minimalism went hand in hand with his collection as he blended floral prints and patchwork with a spread of yarn dyes, laces and geometric designs. The collection embraced both the classic and the contemporary feminine as it swung between suits and drapes and dresses. The soya fabric saris created a stir when they appeared in the most unconventional and unique styles with a colourful fantasy of colour and prints. Ritu Kumar kept the hemline at the midi level to allow the fluid silhouettes to swirl around the models. The scarf was the prime accessory in prints, plain or tasselled and appeared around the neck or the waist in a variety of styles. Participating via a film, the collection used natural fibres and incorporated a plethora of contemporary everyday styles donned by the modern woman.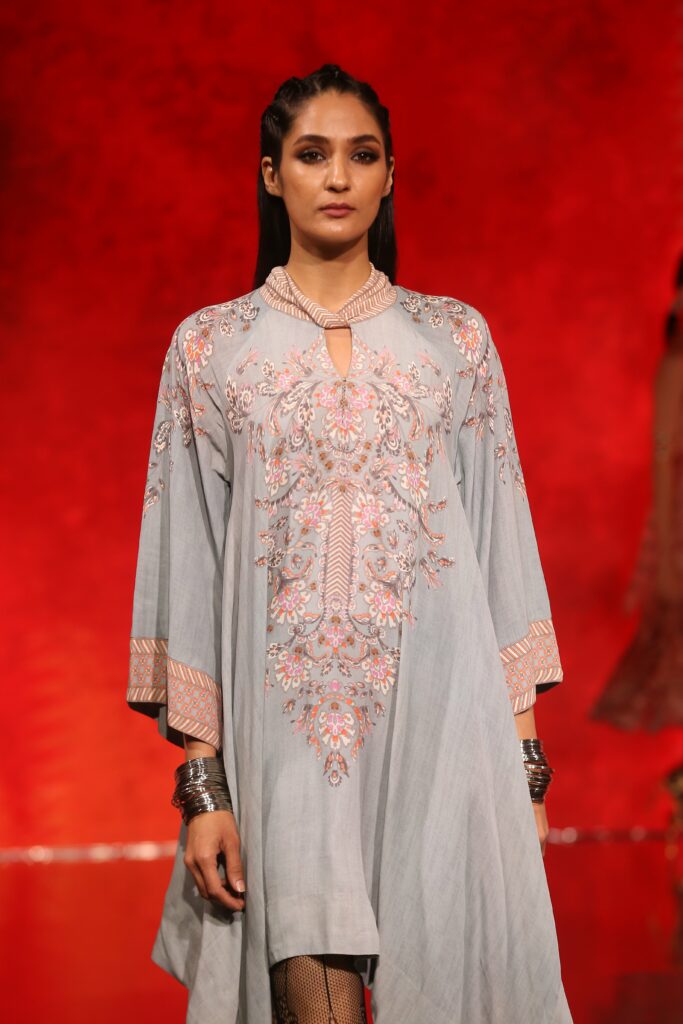 – Collection: Look Book of Conscious Leather Free Creations by PETA India
Hashtag USP: Cruelty-free fashion that ticks all the boxes
Day 2 was Sustainable Fashion Day and the People for the Ethical Treatment of Animals (PETA) India presented a Look Book of conscious leather-free creations that were curated from numerous top brands. PETA ambassadors Milind Soman and Ankita Konwar donned the creations which ranged from office wear to date night looks. The couple looked gorgeous in the staggering film which was directed by Ravi Shanker and shot at Sofitel Mumbai BKC. Ankita's red, halter, trapeze-style mini dress was especially striking. The suits, trousers, jackets, and a gamut of dresses were Vegan—all created without fur, leather, wool, exotic skins, cashmere, mohair or silk. Coconut leather was used as an alternative option to conventional leather, and Brands featured included Proyog, Daisy Days, Urvashi Kaur, Outhouse, Papa Don't Preach by Shubhika, Countrymade and many more.
– Collection: Purn Vritt
Designers: Chandra Prakash Jha and Georg
Label: Cocccon
Hashtag USP: Peace organic silks that employ zero waste techniques and conscious Sericulture
German-based designers Chandra Prakash Jha and Georg came together in 2012 to form a luxury fashion label that utilises peace organic silk. The Purn Vritt collection, which marked their first outing on Indian shores, featured fabrics created with strict organic methods employing zero waste techniques. The designs on show were futuristic and made from biodegradable materials which deployed the principle of "Ahimsa" or peace silk where the silkworm is allowed to complete its life cycle. For the presentation, the collection resembled the indigenous performing art of Jharkhand, which spoke about conflict between circular (Jeevan Chakra) and linear (Jeevan Rekha) lifestyle. Voluminous sleeves and shoulders added a spectacular oomph to the cuts. The colours were vibrant and the drapes ranged from summer dresses, sarees to draped lungis, embellished with geometric block prints on bright hues. The collection blended in well with the theme of the event, Mismatched, and created quite an impact with its geometric patterns and summer block prints on these environmentally-conscious garments. The interesting silhouettes appeared comfortable. It says quite something about the times that we live in that "luxury peace silk" not only sounds inviting, but also looks pretty damn gorgeous.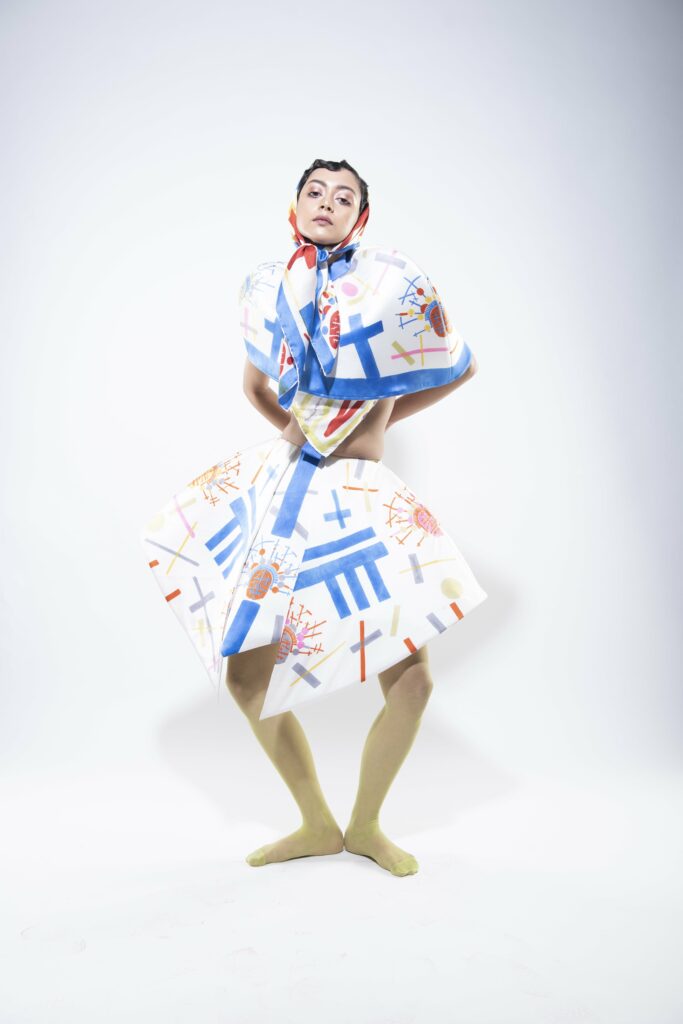 Collection: Marie Claire in Collaboration with Gauri and Nainika : Fall 2021
Designers: Gauri and Nainika
Label: Bata India
Hashtag USP: Florals never looked more elegant
Bata India managed to make a mark at the Lakme Fashion Week with Marie Claire, a women-centric fashion footwear brand that falls under their umbrella. In collaboration with designer duo Gauri & Nainika. The designs play with floral prints inspired by greys, greens and blues—the shades of the earth. Frock dresses, gowns in chiffon set alight by trendy necklines gave a serene illusion to the collection. The leg-of-mutton, long-sleeved, ruffled, collared dress was captivating in its voluminous troughs and crests which were set off beautifully by the Marie Claire kitten heels. The designers stuck to organza and chiffon which maintained the refreshing, floaty, flowery feel of the film. A black, printed addition with a high neckline was a great contrast against the pretty pastels of the collection.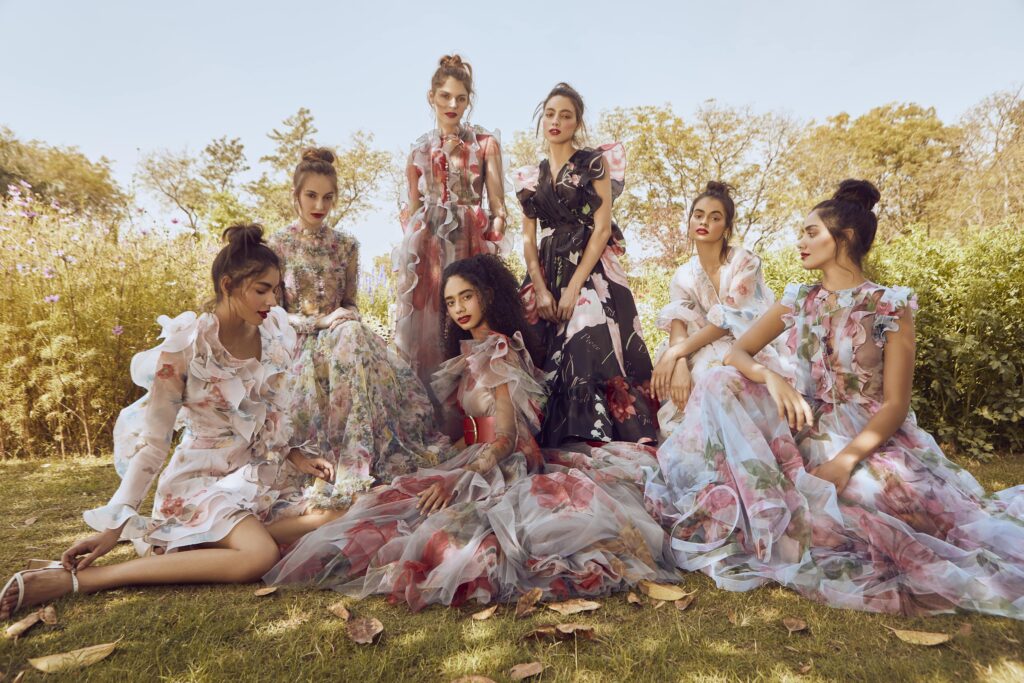 Designer: Varun Chakillam
Label: 6Degree
Hashtag USP: Reimagined traditional festive wear Part of an ensemble by online multi designer store 6Degree, Varun Chakillam managed to hold his own and stun with his reimagined use of classic festive-wear colours and styles. The "Art Nouveau" line for Spring/Summer 2021 aimed at the sensuous, mysterious woman. Sequins and intricate embroidery came splattered on maxi skirts, pre-stitched sarees and trendy kurtis. The colour card featured dainty pinks, greens, mustards and teal set off by hand embroidered garments of voluminous skirts, gowns and other drapes. The collection, stimulated by 18th century art brought finesse and elegance to traditional Indian festive wear. An embroidered kurti over draped lungi and the ruffled dupatta teamed with corset style choli and lehenga brought innovation and elegance to an age-old combination. Showstopper Pooja Hegde looked scintillating in a white embellished lehenga. Her stylishly cut choli set off the look brilliantly.