Into the Woods for the perfect Workation – Greenlust Camps and Resorts

Hunting for a perfect workation spot, Nikita Biswas and Abhishek Dubey stumble upon a veritable paradise nestled in the Himalayas. 30 minutes from the city of Nainital, Greenlust Camps in Jeolikote appears to be the ideal spot to mix of work and vacation with an ambience that soothes and enables you to work while the night views and music instills liveliness for a chill celebration.
As full time travellers and freelance writers we have been setting out to find locations that make work from home just a little breezier. We zeroed in on a place away from the city's hustle, nestled in the lap of greenery with a panoramic view of the Himalayas. Greenlust Camps and Resorts in Jeolikote, near Nainital is an ideal getaway for people who wish to work from mountains. We took a bus from Birla Ghat, Haridwar at about 11:30pm for Kathgodam. The bus dropped us at our stop early morning around 4.35 am in Kathgodam. We took a cab from the Kathgodam Bus stop (we were glad that cabs were still running early that morning) and kick started our adventurous journey towards our workcation. We called Maryam Ilyas Khan, the owner of the resort, and were pleased to find that though the place is located in the heart of the woods, the GPRS works perfectly.
Exhausted after the long journey, we were escorted to our designated Swiss tent. The strains of the pandemic still pull at us, and we washed up thoroughly once we arrived, and went to bed. We woke up to hypnotising ASMR-esque sounds of rain pattering down on the roof of our tent.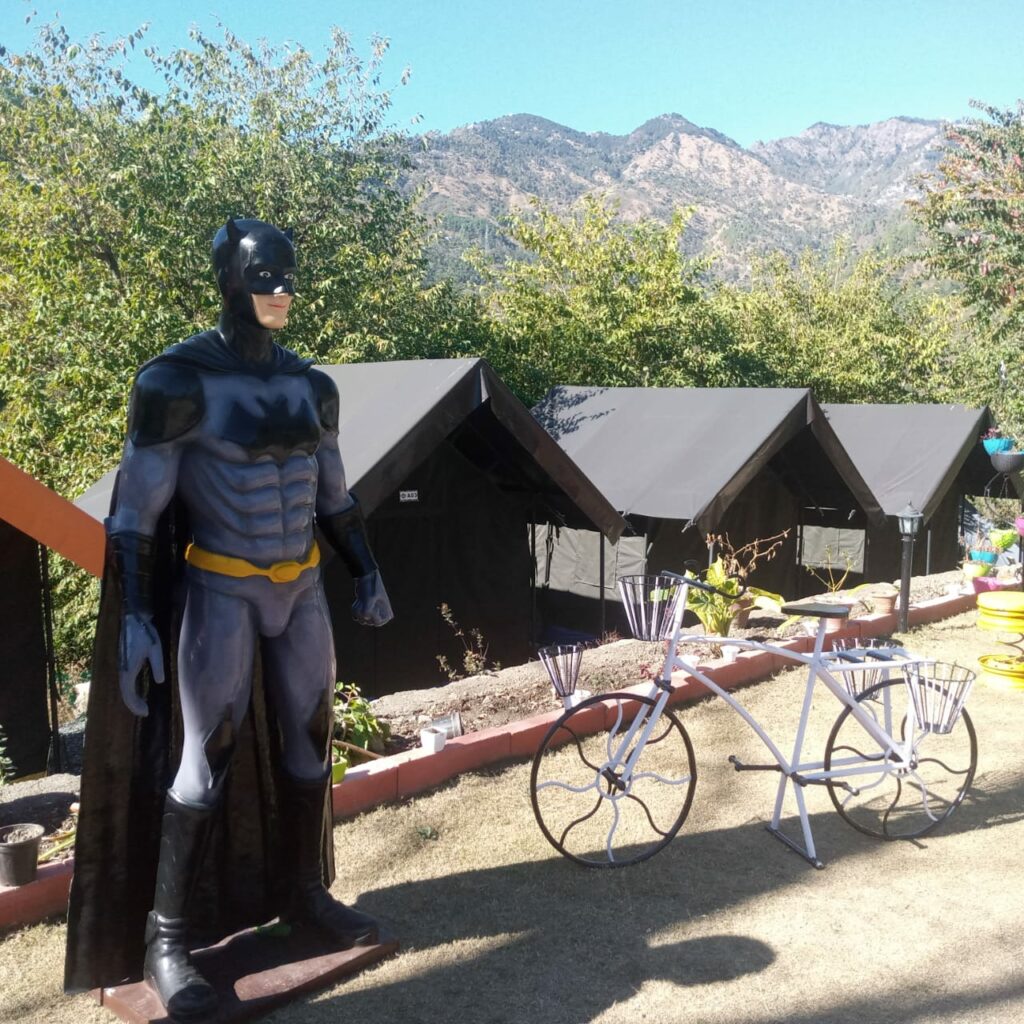 The place has 13 tents and a cafe as well. 5 of these are Swiss camps and the rest are Alpine camps, all double layered. The beds are comfy and the sheets and blankets are enough in number to keep you cozy and warm. The panoramic 360 degree mountainous view is sure to take your breath away. Maryam is a young entrepreneur whose strong will, an acumen for hospitality and love for her village, Bhuyali, made this feat possible. The lady is a bundle of joy, whose welcoming presence made us extend our stay. She has the supervision of the place down to a science.
The food was a delicious spread of vegetarian and non-vegetarian items. The view, the serene location, the soothing climate, the fairy lights from the Nainital mountains and the bonfire at night added endless charm to the place. The ambience adds to the wild vibe as there are loads of mannequins of superheroes including Superman, Hulk, Batman, Motu, Patlu and Bheem. The dart game, the lighting, the dummy guns and the rustic decor goes the distance in making a stay here quite the fete.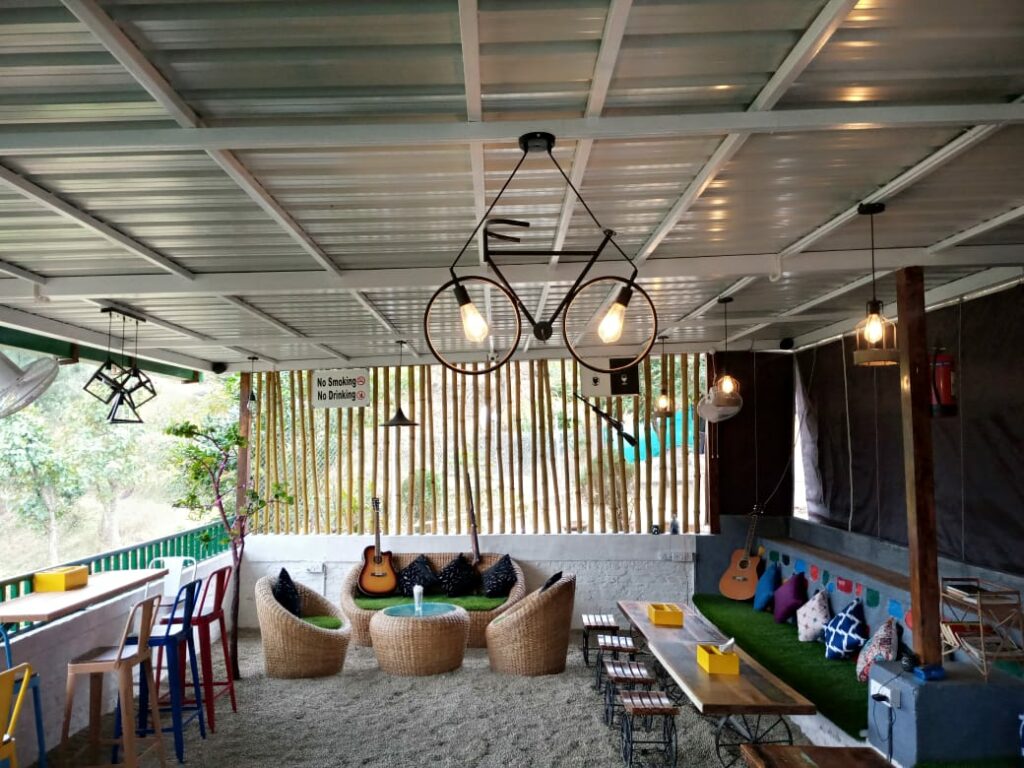 Address: Greenlust Camps & Resorts and Sukoon Café, Jeolikote, Nainital
Timings: 8.00am to 11.00pm
Cost for two:
Café – Rs. 400(approx.) food
Swiss Camp – Rs 2500 including food
Alpine Camp – Rs 1800 including food
How to reach –
You can either choose to travel through flight, train or bus
Flight – You can take a direct flight to Pantnagar Airport and take a cab from Pantnagar directly for Jeolikote or you can choose to take a bus till Kathgodam and take a private cab to reach the location.
Bus – All buses drop you to Kathgodam bus stop from where you can take a cab to Jeolikote directly leading you to the property
Train – The train shall drop you at Kathgodam railway station from where you can take a cab directly to the location.
Nearest Attraction – Nainital Mall Road is just a 30 minutes drive. You can also choose to hike for an hour to see the downhill beauty early morning. Experience the local life and people.
In conversation with Maryam Ilyas Khan – The owner of Greenlust Camp and Resorts, I was born in a conservative family after two brothers, and was always asked to prioritize marriage over career. It was a challenge to leave my hometown for studies. I went to Delhi and started an adventure trip firm where I used to organise tours to the mountains; I enjoyed that and found myself more alive. Now that I knew a bit about the field, I thought of building a place that offers comfortable camping with good food to mountain travelers and tourists. In 2018, I came back to Haldwani, and started looking for the right piece of land and funds. Greenlust Camps and Resorts took two years to finish.